Brexit Bulletin: On the Brink
(Bloomberg) -- Today in Brexit: After seeing her deal resoundingly rejected by Parliament, Theresa May faces a fight to save her premiership.
The U.K. stands at its most dangerous crossroads in decades after Theresa May's Brexit deal suffered a humiliating defeat on Tuesday, leaving the prime minister facing an uncomfortable vote to oust her government.
The landslide loss on Tuesday evening, the biggest for any government in modern history, leaves May's divorce agreement with the European Union all but dead and opposition leader Jeremy Corbyn trying to force a general election. While May believes she will survive Wednesday's no-confidence vote, it's unclear how long she — or her Brexit strategy — will last, as Bloomberg's Robert Hutton, Kitty Donaldson and Tim Ross report.
May's divorce accord, painstakingly brokered with the EU over 18 months, was rejected by 432 votes to 202, a historic defeat laid bare by the graphic below: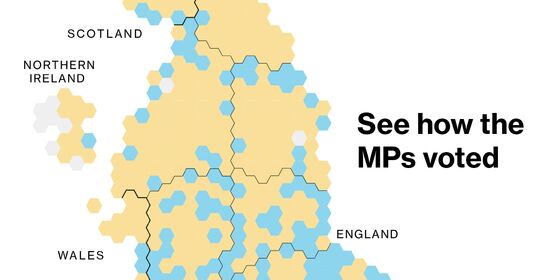 With the U.K. due to leave on March 29, there is growing alarm that May will fail to end the impasse in time to avoid the potential economic catastrophe of departing the EU without a deal. Any alternatives, including calling a second referendum, would likely require the EU to extend the departure deadline.
In trying to find a middle ground acceptable to Parliament, May's proposal instead alienated both those who favored a Brexit free of EU rules, even at the cost of of leaving with no deal, and those wanting to stay in a customs union with the EU or to hold a second referendum. That paradox was reflected in the cheers outside Parliament after the defeat by  demonstrators on both sides of the debate.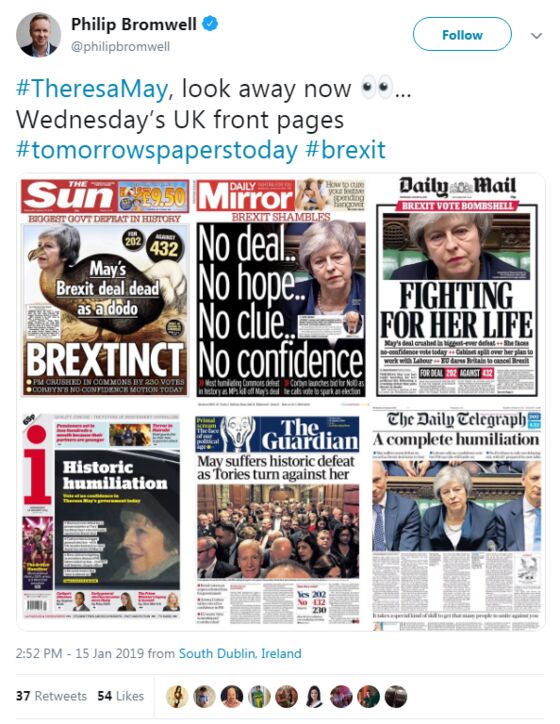 The prime minister said she will start cross-party talks this week to try to reach a compromise, but there's little consensus about what should come next. On Wednesday morning, more than 100 Labour MPs will call for Brexit to go back to the people in another referendum — a position not necessarily shared by the opposition's leadership — while even May's own cabinet is split about the path forward.
If May loses the confidence vote, scheduled for 7 p.m. in London, Britain will be on course for its third general election in four years. The early signs are that she'll cling on once again. Northern Ireland's Democratic Unionist Party, which props up her government, has indicated it will support her, as did many of the 118 Conservatives who voted against the Brexit deal.
Still, the scale of division exposed in Parliament suggests that her government can't survive long regardless. Out of May's 317 MPs, only 196 backed her. A loss like that would finish off a prime minister in normal times. But these aren't normal times.
While EU diplomats were shocked by the scale of May's loss, they said there is little more they can do to help the prime minister. They fear that the U.K. tumbling out without a deal in March has now become a real prospect, Bloomberg's Ian Wishart reports. The consensus seems to be that it's now the U.K.'s problem to sort out: European Commission President Jean-Claude Juncker told the nation "time is almost up," while EU Council President Donald Tusk called on lawmakers to speak up for the "positive solution" of staying in the bloc.
Writing in the Telegraph, former Brexit Secretary David Davis called on the U.K. to "maximise the strength of our negotiating position" after May's defeat. He resigned over an earlier iteration of May's proposal.
On an hour-long conference call yesterday, Chancellor of the Exchequer Philip Hammond sought to assure business leaders that their no-deal nightmare scenario could still be avoided, Bloomberg's Joe Mayes, Alex Morales and David Hellier report. The call came as business groups were quick to voice their dismay at events in Westminster. Carolyn Fairbairn of the Confederation of British Industry warned that "every business will feel no deal is hurtling closer," and the British Chambers of Commerce's Adam Marshall said there are "no more words to describe the frustration, impatience, and growing anger" among firms.
On the Markets | The pound reversed losses Tuesday night as traders bet the probability of a worst-case Brexit had diminished. The currency traded at around $1.2853 after earlier declining as much as 1.5 percent after a choppy Asian session, as market players debated what comes next. Hedge funds, meanwhile, played it cautiously.
Carmakers Brace | Car companies across Europe are sounding increasingly concerned about the chances of a no-deal Brexit, and the impact that could have on their supply chains. Speaking in Detroit yesterday, the chief executive officers of Aston Martin and Bentley Motor both described how their companies have been preparing for the worst, while Germany's BMW responded to May's defeat by saying that the uncertainty is now "greater than ever." 
Carney Speaks | With chaos reigning in Parliament, Bank of England Governor Mark Carney is set to have an immediate chance to soothe some nerves when he testifies before the Treasury Committee on Wednesday. He is scheduled to appear at 9:15 a.m. London time, in theory to talk about the BOE's latest Financial Stability Review, although he's likely to spend most of his time talking about Brexit.
Court Ruling | Away from Westminster, Vote Leave, the official pro-Brexit campaign from the 2016 poll, lost a bid to sue the Electoral Commission, which said in a July report that the group broke electoral law. The group wanted to challenge the watchdog's decision to publish the July report, but Judge Jonathan Swift said in court on Tuesday that he was refusing the application.
Portugal Prepares | The Portuguese government will provide loans of up to 50 million euros to help companies that need to adapt to a possible no-deal Brexit by changing their internal procedures or diversifying export markets.
Stocking Up | Consumers are taking matters into their own hands as the risk of a no-deal Brexit grows, with one out of every six Britons in a Kantar Public survey saying that they have begun, or are likely to start, stockpiling food and medicine. Sales of cupboard food and jarred vegetables have already jumped, the survey found.
Spending Falls | A wider measure of consumer spending fell by the most since April last month as shoppers became more cautious in the run-up to Brexit. Expenditure fell 1 percent in December from a year earlier, Visa said in a report Wednesday, with retail spending in stores coming under particular pressure.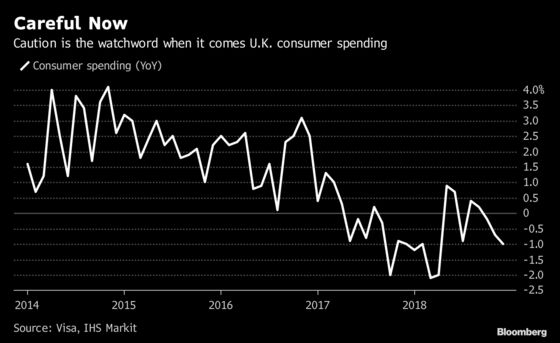 Brexit Catch-Up | If you want to re-live yesterday's twists and turns, look no further than our Brexit Update from throughout the day, and live blog of the dramatic events in Westminster on Tuesday evening.
Want to keep up with Brexit?