Diverging Brexit Scenarios Send Pound Down After Whipsaw Session
(Bloomberg) -- The pound fell in Asian trading as investors started to weigh a worst-case Brexit after Prime Minister Theresa May's plan was roundly defeated by U.K. lawmakers.
Sterling weakened against most its Group-of-10 counterparts, while traders said flows were thin as most investors were staying on the sideline after Tuesday's whipsaw session. While May is expected to survive a vote of no confidence that will take place on Wednesday, uncertainty over how she will put together a new deal is spurring risk aversion.
"Tuesday night's vote may have increased the chances of a second referendum but it also increased the chances of a no deal Brexit," said Sue Trinh, head of Asia foreign-exchange strategy at Royal Bank of Canada in Hong Kong. "Both tails are now a bit fatter and GBP volatility has risen accordingly."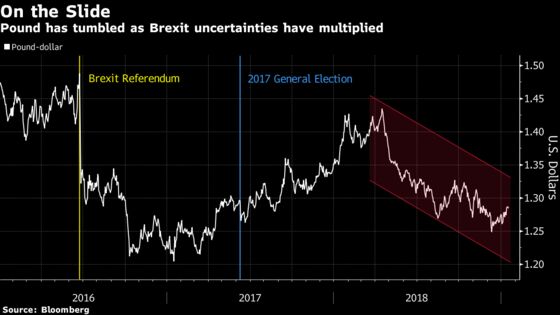 The pound dropped 0.1 percent to $1.2848 as of 12:50 p.m. in Tokyo after sliding as much as much as 1.5 percent on Tuesday before erasing all those losses. Sterling was little changed at 88.73 pence per euro.
The U.K. currency's volatility is rising again as traders brace for Wednesday's confidence vote that was tabled by Labour leader Jeremy Corbyn. One-week implied volatility climbed 0.76 to 14.6450 after dropping the most in almost month on Tuesday. One-month volatility increased 0.17 vol to 13.025.
The pound has weakened almost 14 percent since the day before the U.K. voted to leave the European Union in June 2016 amid concern the departure would hurt its economy. Bank of England governor Mark Carney has said a no-deal outcome may lead to a quicker pace of interest-rate increases to control inflation.
The opposition Labour party says all options, including campaigning for a second referendum, remain on the table if there isn't a general election. That would be the best case for sterling, boosting the currency to $1.35, according to a survey of analysts. Leaving with no deal would see the pound drop to $1.15.
"While markets see a delay to Brexit as a tactical buy for the pound, politicians in the U.K. and the EU are not underestimating the risk for a disorderly Brexit", Philip Wee, a foreign-exchange strategist in Singapore, wrote in a research note.
Here's a selection of analyst views:
Aberdeen Standard (pound to be volatile)
I'd expect sterling to be volatile until the result of the no-confidence vote is known, says Stephanie Kelly, a political economist in Edinburgh
With the DUP saying they'll back the Conservatives, the no-confidence vote is dead in the water unless there's a big rebellion within the Conservative party
If May wins the no-confidence vote, then we are going to essentially be in the same place as if the vote had happened four weeks ago but with a tighter timeline to Article 50 ending.
Standard Chartered (sterling will be supported)
The pound will be broadly supported as market assigns a high chance the government will survive the confidence vote, a strong possibility Article 50 will be extended and a low prospect of a disorderly Brexit
Expectation of a no-deal Brexit is low; if this happens, it will hurt GBP and risk sentiment, says Mayank Mishra, global macro and FX currency strategist in Singapore
GBP can see a relief rally if there is a formal announcement of Article 50 extension or an increased possibility of a second referendum
Columbia Threadneedle (Not seen the worst)
The market hasn't yet seen the worst for the embattled currency, as GBP/USD is still in line with the past month's average level around $1.28, says Ed Al-Hussainy
"On a volatility adjusted basis, being short USD vs GBP is still unattractive from my perspective, even though the payoff can appear asymmetric in favor of GBP"
Investors are still heavily short and they will "cover aggressively in every instance where we are able to reduce the odds of a hard Brexit"
National Australia Bank (Low to mid $1.30s)
"I don't see GBP rallying much until markets are sure the Conservatives have seen off the confidence motion," says Gavin Friend, senior markets strategist
"Assuming it is, we continue to see GBP gradually climbing as Parliament moves on"
"We have GBP moving into the low-to-mid $1.30s in the coming weeks"
Nomura (reenters short EUR/GBP position)
Re-enters short EUR/GBP position at 0.8880, Jordan Rochester, G-10 currency strategist in London, writes in note
The pound will benefit as the U.K. government is expected to survive no-confidence vote and markets will look forward to softer Brexit outcomes
Market views Parliament to have a softer Brexit majority and one that is also against a no-deal Brexit
Admitted the long GBP trade is quite risky; a loss for the government could send GBP gapping down by 3% or lower