Bizarre Communist Folly to Be Reborn as Albanian Education Center
(Bloomberg) -- It looks like a fantastical skate park or an abandoned modernist shopping mall, with its huge sloped concrete surfaces defaced by graffiti and its grimy glass panels, but this decaying edifice is one of Europe's most important surviving monuments to communism and it's about to undergo a transformation.  
The Pyramid of Tirana was erected to celebrate the Albanian dictator Enver Hoxha immediately after his death in 1985. It took three years to build on the city's main boulevard and opened with much ceremony in October 1988. It was the creation of four architects: Hoxha's daughter, Pranvera Hoxha, her husband Klement Kolaneci, plus Pirro Vaso and Vladimir Bregu, according to InfoAlbania.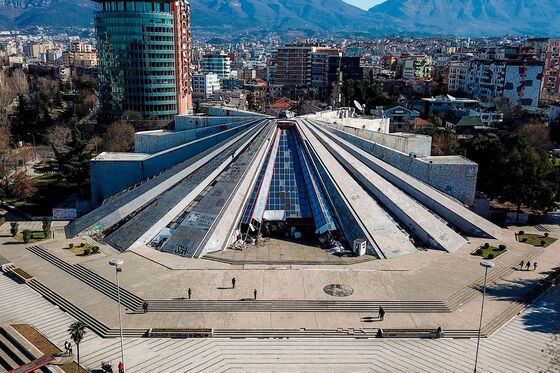 Covered in white marble tiles and topped with a red star, it was a striking structure. The interior was of course dominated by a statue of the great man and the building was a place of pilgrimage in a hardline communist state with a personality cult. The opening ceremony was a proud moment for Albania, with film of the event showing officials walking through ranks of the schoolchildren of the communist youth movement.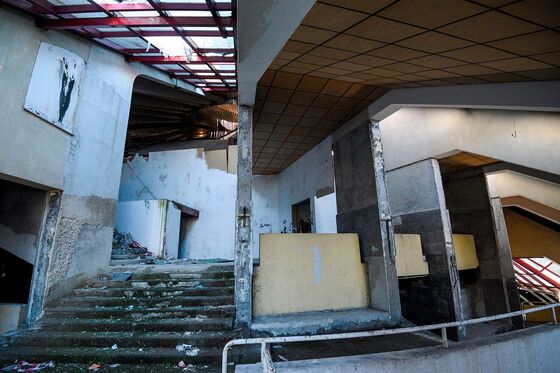 There was just one little problem — the communist regime collapsed in 1990, two years after the Pyramid was completed, and Hoxha's reputation crumbled with it. The building closed and then went through a variety of incarnations: As a conference center; a national jazz festival venue; a lecture hall; a theater; as NATO HQ during the war in Kosovo; as home to a TV station; and even as the site of a nightclub.
It's long been abandoned and closed to the public, and the city council even decided to demolish it in 2011, but it was saved after an outcry and now, finally, there are plans to put it to good use, according to Joni Baboci, Tirana's general director of planning and urban development. It will be reborn as an education center where tourists will also be welcome.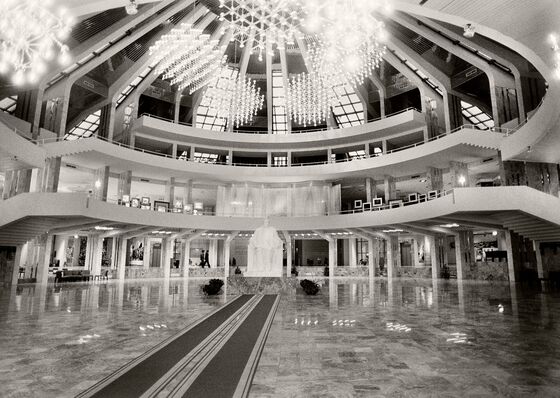 Work may start as early as next month and is expected to take 1 ½ years. (The budget hasn't yet been announced.)
"I was active in the movement to stop it from being demolished to make way for a new parliament," says 32-year-old Baboci. "Although it holds bad memories, for my generation it is iconic. It was completed in the year of my birth, and growing up, it was one of the few buildings in Tirana you could immediately recognize where you were. We'd climb up and slide down or rollerblade in front."
The Rotterdam-based MVRDV architectural practice was commissioned to reimagine the building as a multifunctional technology education center for young people, opening up the sides and turning the interior into a giant atrium filled with trees and light. Even the roof will be accessible, with steps to a platform offering views of the city.
In its reincarnation, the pyramid will be known at the Tumo Center, the seventh location of an Armenia-based program that seeks to offer teenagers training and workshops in technology and design. There will also be an open plaza with public spaces, including a library. And there will be units that startups can hire, especially those that are complementary to the Tumo program.
"The pyramid will function as a not-for-profit center whose total leaseable area inside is 6,500 sq meters, out of which 3,000 square meters will house Tumo Tirana and the other half will be dedicated to arts, media, visual arts and the ICT  (Information and communications technology) community," according to the Albanian American Development Foundation.
There's a lot of work to do. Baboci gave me a tour of  Tirana's most famous white elephant and it is indeed in a sorry state. The interior is dark and dank, with broken stairs and tangled cables. There's rubbish and graffiti and pools of water. Even bits of ceiling hang loose over deserted walkways, damage from a recent earthquake just adding to the effect of years of neglect.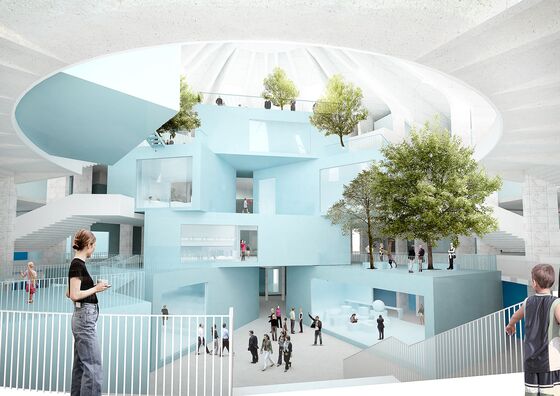 "Today the building stands as the most famous Albanian architectural carcass — yet it conceals the potential to become — through revitalization — one of the most vibrant and interesting structures in Eastern Europe," Baboci said.
For a first time visitor, Tirana is a surprisingly clean and ordered city under a progressive administration that is encouraging enterprise and innovation. But one thing has yet to change: The late dictator's villa still stands unused 35 years after his death, apart from occasionally hosting lectures and events — no one can decide what to do with it.