Yum! Brands Gets a Boost as Taco Bell Delivery Catches On
(Bloomberg) -- KFC and Taco Bell have again propped up parent Yum! Brands Inc., whose total sales topped estimates last quarter, but the company's Pizza Hut chain is another story. The shares fell the most in almost three months.
The chicken and Mexican businesses helped drive Yum's same-store sales up 4 percent in the period, topping projections for 2.7 percent growth from Consensus Metrix. Pizza Hut's sales by that measure were flat for a second straight quarter.
The rut in its pizza business is showing no signs of abating, even in the U.S. where Yum has been remodeling stores and pushing digital and to-go to attract more customers.
Yum is also facing increasing pressure from rising food costs, especially for key proteins as China's swine fever tightens supplies across the globe. But it's been working hard to counteract it, with margins improving at all three chains in the quarter.
Like others in the industry, the company has been using discounts to draw diners in a fiercely competitive market. Pizza Hut has a $5 menu now, and KFC has a two-for-$6 deal similar to a McDonald's Corp. offer. Chief Executive Officer Greg Creed says the results lay a "healthy foundation to help us achieve our 2019 guidance."
Yum jumped into the home-delivery market last year with an investment in GrubHub Inc. that appears to be helping sales. Taco Bell started national delivery through the service earlier this year and has been trying to reduce the time it takes to get burritos to customers.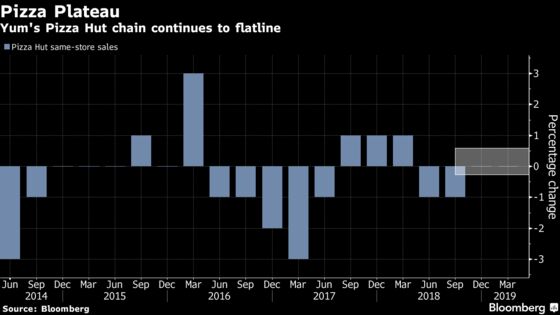 The shares fell as much as 2.8 percent to $101.50 in New York Wednesday, the biggest intraday decline since Feb. 7. Yum has gained 14 percent this year through Tuesday's close, compared with an 18 percent increase for the S&P 500 Index.
For details on the results, click here.
For the company statement, click here.