Wendy's Sinks as Price Competition Takes a Toll on Earnings
(Bloomberg) -- A key sales metric for Wendy's Co. fell for the first time in about eight years in the third quarter, a sign that the chain is getting caught up in the fast-food industry's prolonged price war. The stock fell in extended trading.
The burger chain's same-store sales in North America declined 0.2 in the quarter, while analysts had forecast a 1.7 percent gain.
The fast-food chain has joined the industry's discount wars with offers like any-size French fries for $1. With rivals McDonald's and Burger King luring diners with discounts, the competition has created what Chief Executive Officer Todd Penegor says is a "challenging sales environment."
The competition is clearly taking its toll: Wendy's now expects same-store sales in North America to be up 1 percent for the year, slashing its forecast from a gain of as much as 2.5 percent.
Wendy's highlighted labor costs in the report, saying they ate into restaurant margin. A lack of workers has been a growing complaint in the industry.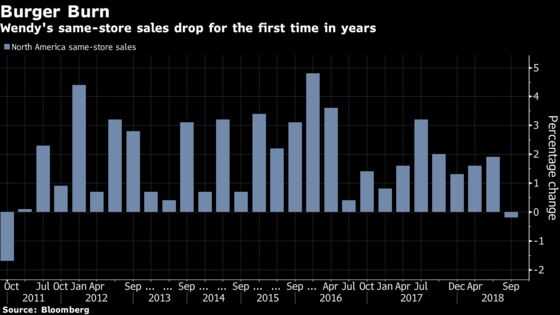 The shares slipped as much as 7 percent to $15.89 in late trading. The shares had gained 4 percent this year through the close of trading on Tuesday.