Starbucks Sales Beat in Key Regions Even as China Growth Crawls
(Bloomberg) -- Starbucks Corp. has put its recent sales slump behind it, beating analyst estimates in the key Americas and Asia-Pacific regions in its first quarter.
Comparable sales -- a key metric for retailers -- rose 4 percent in the Americas. Same-store sales in China gained 1 percent, marking the second straight quarter of growth after a rare decline last spring sparked concerns about the region and weighed on the shares.
In China, where Starbucks has big growth plans, new stores have been eating into sales of older locations. Even though comparable sales in the quarter were up slightly, transactions fell, suggesting higher prices -- not more visits -- are propping up results.
The world's biggest coffee-shop company has been under scrutiny after turning in slower sales growth last year. This year, it's trying to streamline the company with layoffs, office closures and by turning over some markets to licensees.
The company is looking to delivery to help it maintain its sales momentum in the U.S., a market saturated with restaurants and coffee shops on every corner -- especially in urban areas. After a test last year, it recently expanded a tie up with Uber Eats to deliver in San Francisco and other major cities.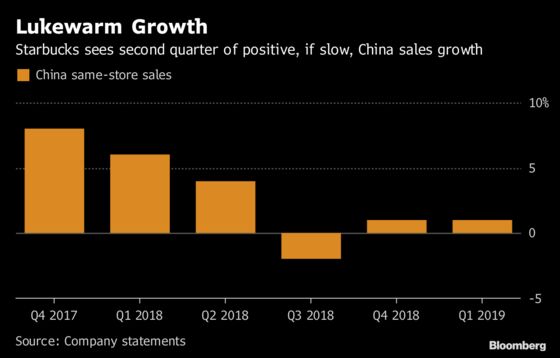 The shares climbed as much as 4 percent in late trading in New York are little changed so far this year through Thursday's close.
Read more here.