Shake Shack Drops in Late Trading With Guest Traffic Slowing Again
(Bloomberg) -- Shake Shack Inc. dropped the most in more than two years as its aggressive expansion plans crimp foot traffic in existing locations.
Traffic slipped 2.6 percent at the burger chain last quarter, even though total same-store sales beat estimates. Guest visits had already fallen 4.2 percent in the first three months of the year at the New York-based burger chain, spooking investors who had hoped for a turnaround.
"We believe at times, the traffic in our existing Shacks may be impacted by the opening of new Shacks near them," Chief Financial Officer Tara Comonte said on a Thursday night earnings call.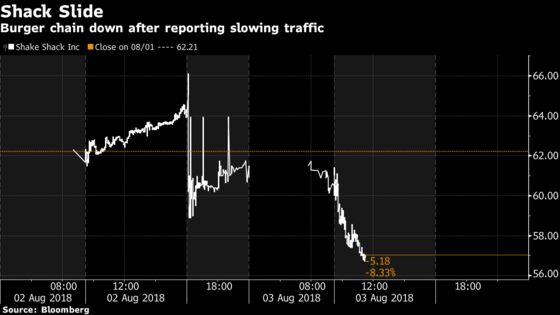 Shares fell as much as 11 percent Friday, the biggest intraday drop since March 2016, eating into their 48 percent gain this year through Thursday's close.
Sales growth has been under pressure lately as Shake Shack expands beyond its foothold of the U.S. East Coast -- and New York City in particular. During the quarter, the company opened five domestic company-operated locations plus six international licensed sites, and it's on track to open as many as 35 domestically this year.
"Building U.S. company-owned stores, with a goal of 450 units, will be a primary growth driver, yet site selection must improve," Bloomberg Intelligence analysts Michael Halen and Matthew Moros wrote in a note.
The company also reaffirmed its full-year revenue guidance of between $446 million and $450 million. That's in-line with what it has been saying, but some analysts had been expecting Shake Shack to raise its outlook. The stock remains heavily shorted.
Shake Shack this year has tried to expand its popularity and draw a more health-conscious crowd by offering a grilled chicken sandwich and veggie burgers. Still, higher labor costs after minimum-wage hikes and an increase in beef prices have been pressuring margins.