Yum China Sales Beat as Pizza Hut Finally Breaks From Its Slump
(Bloomberg) -- Yum China Holdings Inc.'s efforts to turn around Pizza Hut are starting to pay off, as the pizza chain posted same-store sales that rose for the first time in five quarters. Still, it continues to lag the KFC chain.
Pizza Hut's comparable sales grew 1 percent in the quarter that ended March 31. Analysts estimated a gain of 0.7 percent, according to Consensus Metrix. The overall company's same-store sales rose 4 percent, double estimates.
Yum China has been attempting to overhaul its Pizza Hut chain with store remodels, new ice cream and faster delivery times. Those appear to be bearing fruit but there's still plenty of room for improvement ahead. The company called the results "very encouraging" and said the brand's "revitalization" was still ongoing.
KFC is drawing more diners with breakfast and a big push into delivery and digital. It gets harder from here: the Chinese breakfast market is becoming increasingly crowded as Burger King, Tim Hortons and Starbucks Corp. also expand quickly. The chain will also face higher costs, with "poultry inflation" expected to weigh down margins for the rest of the year.
Shanghai-based Yum, which has a presence across 1,200 Chinese cities, has been pushing into new technologies. Digital payments accounted for 87 percent of the company's sales in the quarter -- a rate U.S. companies would love to have -- and delivery made up 19 percent of sales.
The shares rose as much as 4.4 percent as of 4:39 p.m. in late trading in New York. They have advanced 33 percent this year through Monday's close, almost twice the gain by the S&P 500 Index.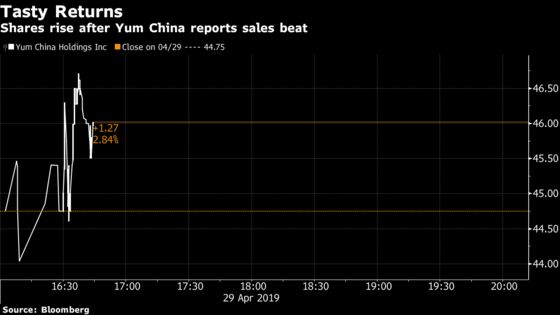 For more on the results, click here.
For the company statement, click here.