Fried Chicken Feeds Yum China's Sales Gain Again as Pizza Cools
(Bloomberg) -- Yum China Holdings Inc. is still having trouble gaining traction at Pizza Hut, but KFC is more popular than ever.
Same-store sales rose 2 percent in the company's latest quarter. Analysts had estimated a drop of 0.4 percent on average, according to Consensus Metrix.
The fast-food company is seeing success in luring diners to KFC with discounts, breakfast and coffee, as well as new dessert items including ice cream and milk tea. It's also investing in delivery, which helped push KFC same-store sales up 3 percent.
Yum China has struggled to turn around Pizza Hut and this quarter is no different, showing efforts to discount, push delivery and remodel stores haven't helped yet. Same-store sales fell 4 percent at the pizza chain, excluding currency effects, a little worse than analysts' projections.
There may be light at the end of the tunnel for Pizza Hut, however. While the chain's sales "remained soft," Chief Executive Officer Joey Wat said traffic rose on a same-store basis.
The restaurant brand is the latest to call out "market softness" in China, with Chief Financial Officer Jacky Lo noting that the "first quarter of 2019 will be a tough lap" compared to past performances.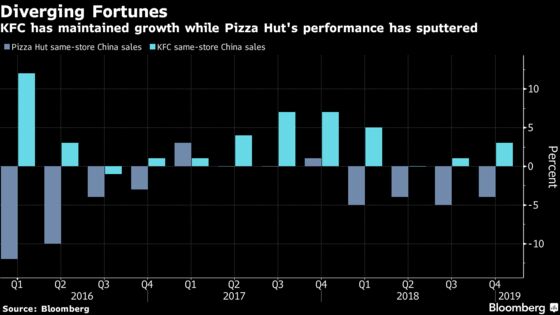 Yum China gained as much as 8.3 percent in late trading in New York after the results were released. So far this year, the shares have climbed 8.7 percent.
For more information, click here.