A Post-Lockdown Preview of the Future of High-End Restaurants
(Bloomberg Businessweek) -- When guests are seated at Michelin-starred Arcane in Hong Kong's Central business district, they will find discreet envelopes on their table into which they can insert their face masks. They must be wearing masks upon showing up at the front desk, which will use a non-contact, infrared thermometer to take their temperatures. And they'll have had to answer these three questions:  1. Have you traveled in the past 14 days? 2. Have you come into contact with anyone who has shown symptoms of coronavirus? 3. Have you experienced any symptoms yourself?
If everything in order, the customers can set down their mobile phones and personal hand sanitizers on the white tablecloth  and begin enjoying carpaccio of Hokkaido scallop, lamb with Jerusalem artichokes, toasted peanut ice cream (with a chocolate chip cookie) and other dishes from chef Shane Osborn's kitchen. As masked waiters whisk out the elegant plates, the customers can be confident that they are separated by the city-regulated 1.5 meters (about 5 feet) from other visitors in the dining room. If they've chosen to eat at the counter of the open kitchen, each diner will be separated from neighboring customers by plexiglass panels as masked cooks hand out the beautifully plated food.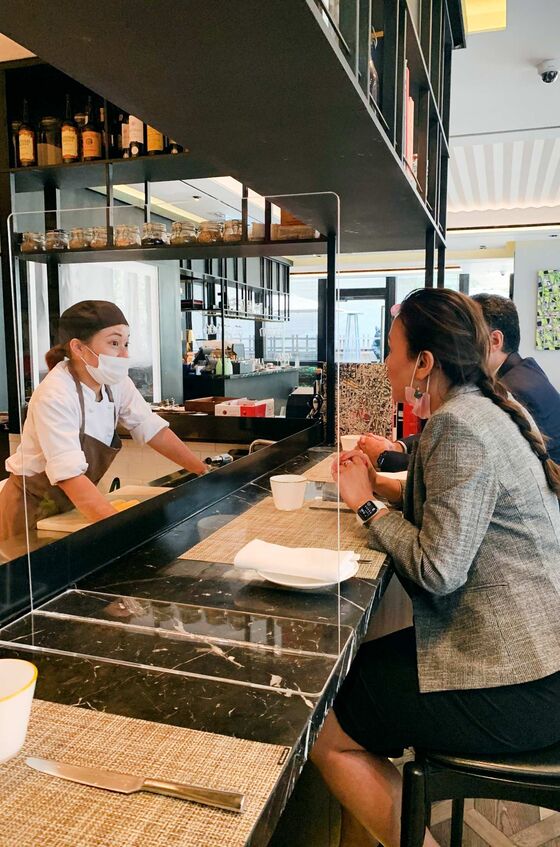 Is this the post-lockdown future of the world's fine-dining restaurants?
Arcane is dealing with Hong Kong's new requirements. Similar rules are being contemplated in London, New York and other cities with food cultures just as intense as Hong Kong's—with much hand-wringing about how masks and temperature guns will alter the high-toned atmosphere that is intrinsic to the appeal of these restaurants. "Servers with face masks? I just don't see that is what we are all about," says Clare Smyth, chef-owner of Core in London's Notting Hill. Similarly, in New York, legendary restaurateur (and Shake Shack founder) Danny Meyer says he isn't even contemplating reopening the renowned Gramercy Tavern and Union Square Cafe. "There is no interest or excitement to having half of our dining rooms full while everyone is taking temperatures, wearing masks for not much money," he says.
Arcane isn't making the money it did before the crisis. It is, however, seeing its tables filling up at lunch and dinner, albeit at a seating capacity brought down by more than 40% to comply with Hong Kong's new rules (which were relaxed from a much more punishing 50%). The sense of safety is key for customers, says the Australian-born Osborn, who won two Michelin stars for London's Pied a Terre before he left for Asia. "You need to show you are being very proactive just to let them relax." He says that even regulars were anxious when they walked into the restaurant "but they are more comfortable now because they can see how much we care about safety and hygiene. When they go to the washroom, we sanitize the door handles when they come in and again whey they go out." There are hand sanitizer stations in every corner of Arcane. And Osborn says, "some customers spray the cutlery and the wine glasses with their own sanitizer."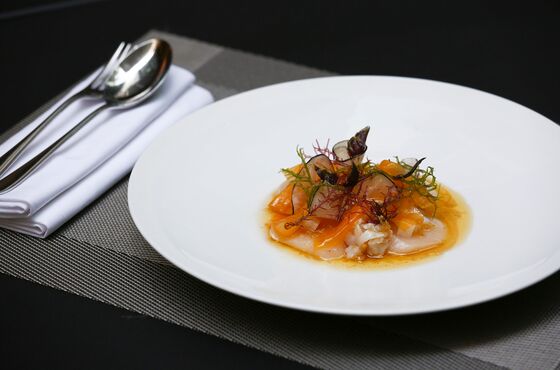 Of course, restaurants in Hong Kong have an advantage. People there—like much of Asia—are used to masks. "If you have a cold or anything, you wear one to protect other people," says Rainer Becker, the owner of Zuma, the plush and posh Japanese restaurant also in Central. "It's not a problem and you get used to it." At Zuma, the entire staff wears masks. "We check the temperatures of guests as they arrive. We haven't put in screens but we have spaced our tables and comply with all the regulations." Becker says the business is down 30% compared to the same time last year. 
Yet there's another attraction that restaurants everywhere still possess—their ability to satisfy the need for people to get out and enjoy good food and good company. Enrique Olvera, chef of Pujol in Mexico City, concedes that, to reopen, restaurants will have to comply with new health regulations. But, he says, "most of us realize the joy that a good meal brings to our life. Socializing is not only necessary, but healthy.  Fine dining should become a refuge for people that crave those things. Good food and good conversation will always have a central space in our societies."
The desire for conviviality may be just the thing to keep restaurants going. Many well-regarded, foodie-meccas in London and New York have kept up a measure of lock-down commerce  by resorting to takeaway and delivery to satisfy their fans. In Manhattan, chefs Jeremiah Stone and Fabian von Hauske Valtierra have combined their popular but shuttered Contra and Wildair restaurants into a delivery service called Contrair. In London, chef Jeremy Chan of the African-inspired Ikoyi is thinking of a hybrid operation once the city allows restaurants to reopen: sit-down dining in a room with fewer tables plus takeaway that preserve the nature of his cuisine. "We would most likely only do two seatings for dinner and at least half our regular capacity," says Chan. "In this way we can still offer ambitious cooking in a safe format."
Still, it won't be easy, as Osborn realizes as he runs Arcane and his more casual Cornerstone (which does have plexiglass panels separating tables). "In March, our business at Arcane was down 65%. In April, it was 45%. Those are huge losses. We had to let a couple of staff go and all the staff had to take unpaid leave in March and April to see us through. We are talking now to our landlords about rent."
And he's had to change business hours to deal with what his customers need. "People still want to go out to eat but it's harder to get reservations," he says, because the regulations have cut down the number of tables dramatically and because it takes longer to clean up after each table is vacated. "So people are willing to eat earlier. We are opening earlier now at Arcane, 6 p.m. instead of 6:30 p.m." For lunch, customers are also willing to eat later, at 2 or 2:30 pm. In the meantime, he says, "we've reduced down our menus, with fewer dishes. Hong Kong imports 95% of produce, so prices have gone up massively. It is much harder to get produce in. We used to offer six starters and six mains, but now that is five and five. We used to run three or four specials and it's now one or two. We are trying to run on a skeleton staff." 
But Osborn—who's competed in Netflix's The Final Table—isn't giving up, despite the changes in the market and the limits placed on the restaurants by new regulations. "We are certainly planning on operating under these restrictions at least until August or September," he says when they might be further eased. And, he adds, "We are in for the long haul on this."