Subway May Name First Non-Family CEO in Its Half-Century History
(Bloomberg) -- Subway Restaurants, facing a deepening sales slump and historic retrenchment, has another task ahead of it: finding a new leader.
Chief Executive Officer Suzanne Greco stepped down and will officially retire on June 30, the company said earlier this month. While there's an interim CEO in place, the franchising giant is likely to -- for the first time in its history -- choose someone who's not a member of the DeLuca family. But enticing an outsider to lead the beleaguered chain won't be easy.
"In terms of getting a Cadillac CEO, I personally don't think that will happen until the family ownership recedes," said John Gordon, principal at Pacific Management Consulting Group, an adviser to restaurants and franchisees. "The ownership is the key issue."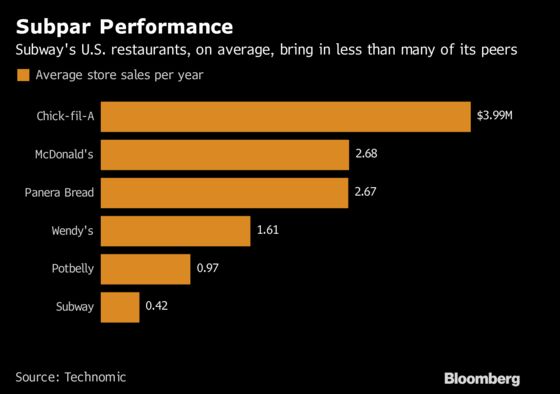 The Milford, Connecticut-based company is famously private, and has mostly kept quiet over the years. Co-founder and longtime leader Fred DeLuca made Subway largely into a family business. Greco, his sister, took the reins when DeLuca died in 2015. Its board is insular with most directors either related to DeLuca or Peter Buck, Subway's other co-founder. Board members without a Buck or DeLuca name have served for 20 years or longer, according to the company's latest franchise disclosure document.
DeLuca opened the first Subway in Bridgeport, Connecticut, in 1965 with a loan from Buck. By 1974, they had expanded to 16 shops, and DeLuca started franchising. Now, all locations are owned and operated by franchisees, some of whom would like a change.
"If people have only grown up at the company they have the blinders on," said Keith Miller, who owns three Subways in the Sacramento, California, area. "Franchisees want to see someone who can engage with them and listen to them because they have so much risk."
Subway has begun bringing in outsiders. Last year, it named former consultant Len Van Popering, who worked for Arby's and Logan's Roadhouse, as vice president of global brand management and innovation.
Changes are already afoot with Trevor Haynes serving as interim CEO. He recently promoted James Walker, previously from the hamburger chain Johnny Rockets, to vice president of North America. And Ian Martin, another outsider who joined in December, was promoted this month to lead Subway's international efforts. Martin had led closely held Asian Restaurant Concepts in Australia.
"The search is underway for a new CEO," Haynes said May 10 in an internal memo obtained by Bloomberg News. "Until then, I look forward to working with you to deliver results for both the brand and our franchisees."
The company hasn't released details about how it's carrying out the search or when it may conclude.
Times have been tough for franchisees, who own and operate all of Subway's 43,600 restaurants around the world. Last month, Greco told Bloomberg News in an interview that the company expects about 500 U.S. closings this year as it faces more competition and heavy discounting by fast-food chains such as McDonald's Corp. and Burger King.
Recently, Subway has turned to price cuts, too, with $4.99 foot-long subs. It's also touting a new rewards program, revamped stores and new wrap-style sandwiches. But sales remain under pressure, falling 4.4 percent in the U.S. last year, according to researcher Technomic.
Anyone seeking to lead the brand forward will be carefully scrutinized by Subway's franchisees, who are under pressure to either bring in more diners or shutter more stores.
"Store economics are always very important," said Gordon at Pacific Management. "It would be great to get someone with brand experience, but you also have to have somebody that understands franchising -- you really have to have both."