Starbucks Rides Higher Prices to Sales Growth in China, U.S.
(Bloomberg) -- Starbucks Corp.'s growth is holding strong in the key Chinese and U.S. markets -- but that's coming from higher prices, rather than an increase in restaurant traffic.
For the quarter ended in March, the world's biggest coffee chain reported same-store sales that rose 4 percent in the Americas, topping the 3.7 percent growth estimate from Consensus Metrix. The metric -- a key gauge of restaurant success -- also rose 3 percent in Asia Pacific and China, double the estimate of 1.5 percent.
Starbucks is betting it can overcome competition in its key markets with a revamped loyalty program, better service and new drinks that appeal to health-conscious consumers. These efforts appear to be catching on, as the average ticket -- the amount customers pay at the cash register -- rose in all markets.
The number of transactions were flat in the Americas, however, a sign that growth is being driven by higher prices rather than an increase in traffic.
Starbucks said it was helped by its rapid growth in China, where its net store count ballooned by 17 percent. The world's most populous nation is a key bet for Starbucks, but success won't come easy: Luckin Coffee Inc., the startup that's planning a U.S. IPO, is spending millions of dollars there to unseat Starbucks, while Tim Hortons is also expanding.
At the same time, Starbucks is betting big on delivery to help it maintain sales growth. It's testing the service in U.S. cities and London, and is using Alibaba Group Holding Ltd. in China to bring more drinks to customers at home and work.
The Seattle-based company also upgraded its profit guidance for the fiscal year amid cost savings and a lower tax rate. Starbucks now sees adjusted earnings per share in a range of $2.75 to $2.79, up from a prior forecast of $2.68 to $2.73. That's above analysts' average estimate.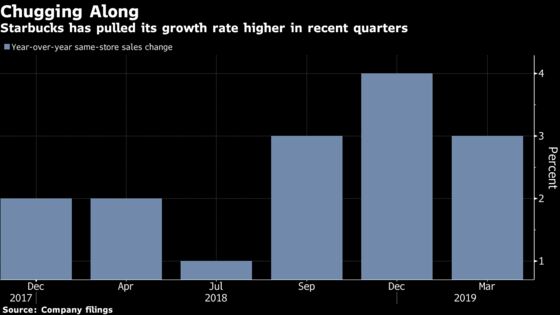 Starbucks alternated between losses and gains in late trading in New York Thursday.
Click here for company statement.