Sweetgreen Debuts at a $3 Billion Valuation: Should You Buy the Stock?
(Bloomberg) -- The return to working in offices, for many, means a return to desk salads.
Sweetgreen Inc., perhaps the most well-known of the salad chains, is capitalizing on the reopenings — and the booming market for new listings — with an initial public offering that's surpassed expectations.
The Los Angeles-based company raised $364 million, with 13 million shares sold at $28 each, after it had marketed 12.5 million shares for $23 to $25. That gives it a valuation of almost $3 billion. The firm begins trading Thursday under the ticker SG on the New York Stock Exchange. As of 11:36 a.m., it was indicated to open at $38-$40.
Millennial office workers are attracted by Sweetgreen's healthier fare, ease of ordering and sustainability mission (the company works with more than 200 domestic farmers and producers nationwide). Tennis star Naomi Osaka became an ambassador for Sweetgreen in May, citing her love for its nutritious meals.
The strong performance of IPOs this year is fueling interest in new listings, but Sweetgreen will have sector-specific issues to face, including a labor shortage, the overall restaurant industry's recovery from the pandemic and the pace of employees' return to offices.
"We are going to see some momentum as people return to the central business districts," said David Portalatin, food industry adviser at the NPD Group. "There's going to be a lot of upside, there's recovery to be had here. We just don't think things are going to ever go quite back all the way to where they were."
For salad chains in particular, customer traffic in the third quarter is up 19% from 2020, but that's still down 28% from the third quarter of 2019, according to data from NPD.
Here's what to know if you're considering buying shares of Sweetgreen.
How is the company doing?
Founded in 2007 by three Georgetown graduates, the salad chain is beloved by workers in high-density business districts, especially those home to tech and finance companies. It operates about 140 restaurants in 13 states and notched a $1.78 billion valuation in a January funding round led by Durable Capital Partners.
The company still isn't profitable, but the situation is improving. It recorded a net loss of $87 million on revenue of $243 million in the 39-week period ending Sept. 26. That compares with its $100 million loss on revenue of $161 million in the prior year.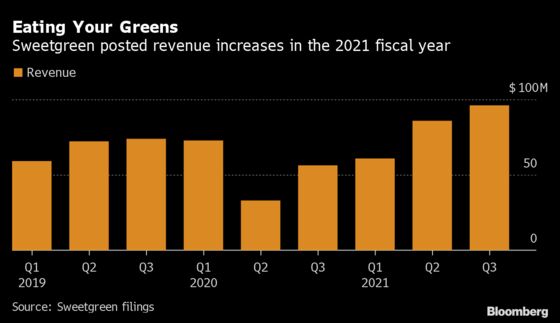 Sweetgreen plans to use the money raised in the offering to fund general corporate expenses but also to develop robotic cooking technology, previously acquired through its purchase of Spyce Food Co. in August. 
What's the case for buying? 
If you expect office reopenings to drive demand. Sweetgreen is primarily concentrated in urban centers like New York City and Los Angeles which are seeing employees increasingly return to in-person offices, albeit with work-from-home flexibility. Workplace activity is still well below pre-pandemic levels but steadily ticking higher, according to mobility data compiled by Google. And a third of New York companies are offering incentives — like free meals, transportation perks or childcare support — to entice employees back, a recent survey found. Since about 33% of Sweetgreen's revenue is generated in the New York metro area, according to Bloomberg Intelligence, that could mean an uptick in sales. "If we get a recovery where those central business districts come back, that's a tailwind for Sweetgreen," said Mark Brandau, associate director of content at Datassential, which analyzes consumer trends. "That's where a lot of these chains do really well, not only opening new stores but growing sales there."
If you're optimistic about their suburbs expansion. The company was working to open up more locations outside city centers even before the pandemic, but accelerated those plans as customers stayed closer to home. With new outposts in Westchester County and Greenwich, Connecticut, among other locations, suburban sales helped to offset declining business in cities during the 2020 fiscal year, the company said in its IPO filing. "Historically, the company has done a good job of avoiding cannibalizing store sales as it filled out markets," Michael Halen, senior restaurant analyst for Bloomberg Intelligence, wrote in a note. "Diversifying restaurant formats by adding drive-thrus and pickup-only locations could also contribute to unit growth."
If you're still bullish on the IPO environment. Headline-grabbing debuts this year are stoking enthusiasm for the chance to get in early on big gains in companies like Coinbase Global Inc. and Oatly Group. Most recently, electric truck maker Rivian Automotive Inc. rose 29% in its IPO, boosting its market value to more than $100 billion before retreating slightly. "Coming out of the pandemic, a lot of companies are thinking about restructuring, takeovers, how to position themselves," said Fiona Cincotta, senior financial market analyst at City Index. "While interest rates are low, they've got excess cash and borrowing is cheap, that is the driving force. It can't carry on forever, but I do think it can carry on for the next few quarters." In fact, during the most recent earnings period, new IPOs were beating estimates at a higher rate than S&P 500 companies.
If you think consumers are on solid footing. With U.S. households building up more than $2 trillion in excess savings during the pandemic, many are ready to spend. Consumer confidence rose in October for the first time in four months, and Bank of America Corp. data indicated that card spending is up about 20% from 2019. That's a positive sign for businesses like Sweetgreen that rely heavily on discretionary purchases.
...and what are reasons to steer clear?
If you're worried about demand for the product. With so many people now eschewing offices for the comfort of their homes, the number of midday lunches out might decrease. Plus, the pandemic is still raging throughout the country amid vaccine reluctance and may worsen during the winter months, leading more people to stay in. The many other fast casual options — think Panera Bread Company, Chipotle and Jimmy John's — along with new ones constantly debuting make it hard to stand out, said Jeff Fromm, marketing and sustainability consultant who specializes in millennial and Gen Z trends. "The challenge is that when you compete, you're not just competing against another salad chain, you're competing against all fast casual," he said.
If you're concerned that the company isn't profitable. Although many companies go public while still generating losses, the fact that Sweetgreen has been operating since 2007 and still isn't posting profits might raise some eyebrows. The company said in its filing that it anticipates operating experiences will "increase significantly" as it opens more restaurants and invests in new technology. A booming real estate market won't help matters, making it more pricey to purchase properties or buildings for new stores in desired suburb locations. David Trainer, chief executive officer of New Constructs, an investment research firm, compares the company to Shake Shack, another unprofitable chain facing heavy competition. "Sweetgreen's path to profitability is even more narrow, given its more niche market and costly business model," he said.
If you think Americans are looking for something more indulgent. Salads can be great, but if people are going to spend their limited money on a restaurant meal, some might be looking for something they are craving, NPD's Portalatin said. "Those restaurant occasions tend to be a little more indulgent," he said. "That's why we're seeing that the things leading the recovery are chicken sandwiches and wings and burgers." A sad desk salad might not be what workers have in mind when returning to the office.
If you're worried about the labor shortage. Companies across the globe are having trouble finding employees right now, and Sweetgreen is no exception. In its IPO filing, the chain said that it's had "significant challenges" getting employees to submit proof of Covid-19 vaccination. That could be a problem considering that its main hubs are New York City, Los Angeles, Boston and the D.C. area, which all have some kind of vaccine mandate related to indoor dining. In addition, the company has historically experienced high turnover rates compared with its peers.
Still, Sweetgreen might be less affected than most. "They are not trying to staff a full-service restaurant," Portalatin said.