Shoppers Are Fighting The Temptation To Go On A Post-Pandemic Splurge
(Bloomberg) -- It's always been easier to spend than save money. Until the pandemic flipped that idea on its head, at least for some people.
Shorn of opportunities to spend on everything from holidays to commuting, higher-income earners who kept their jobs suddenly had spare cash. In all, consumers in the world's largest economies amassed $2.9 trillion in extra savings during Covid-related lockdowns, according to estimates by Bloomberg Economics. 
At some point later this year though, if the vaccine rollout goes to plan and the pandemic abates, frugality will become an option again, rather than the default. Predictions for a new "roaring twenties" are rife. Pent-up demand could drive a huge consumer spending boom.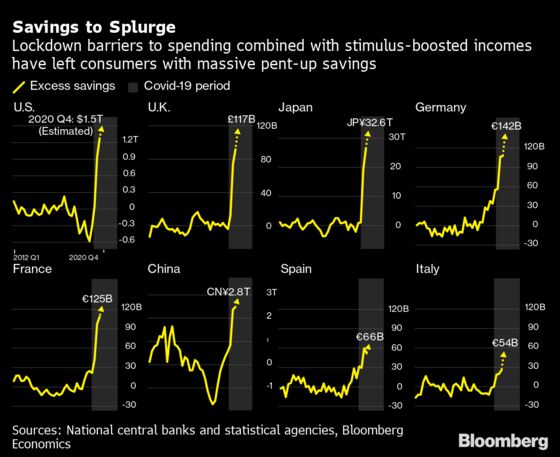 "It's like you've put people into hibernation and suddenly they have 20,000 pounds. What would they do?" Liam Delaney, head of the psychological and behavioral science department at the London School of Economics said.  "My feeling is the deposits built up over the pandemic will not be treated as normal income."
That's because people tend to treat windfalls differently from regular income, he says. It's part of the reason people often spend inheritances or lottery winnings, but tend to save more regular income.
While being able to go away on a trip, have a meal with friends or even try on a new outfit would undoubtedly feel great in the short-term, a widespread spending binge could undermine one of the few silver linings of the pandemic: an increase in household savings. 
For decades, people across income brackets have been dogged by financial stress. For example, 44% of Americans worried they would never be able to retire. Over a third of adults in the U.K. had less than 100 pounds in savings. One in five Australians earning over A$200,000 ($154,200) said they were living paycheck to paycheck.
"This period is actually the first time that many people have experienced saving a significant amount," said Nida Broughton, director of economic policy at the Behavioral Insights Team — a U.K. government-backed company often known as the Nudge Unit. "Psychologically it's a very opportune moment to build on that."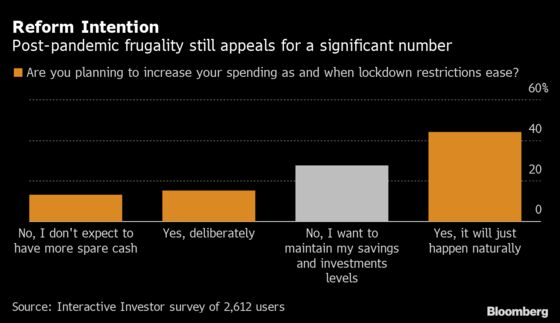 Because savings aren't just a nice-to-have. Having no safety cushion and chronic debt leaves you vulnerable practically and emotionally.  
"If you are stressed about money, it's not something that you just think about on Monday evenings or Friday," said Elin Helander, chief scientific officer Swedish financial wellbeing fintech Dreams. "It's like a wet blanket all over your life, constantly bothering you." 
But after the pandemic, will people continue these savings habits, or will they fall back into old patterns? Experts suggest that those who intend to rely on willpower alone to make a permanent change are likely setting themselves up for failure.
"If you change the environment back, there's a good chance you'll change behavior back," Simon Russell, founder of Behavioural Finance Australia, said. "The vast majority of behavior is unthinking and context-dependent."
Kate Wauck, a 35-year-old public relations professional in New York, was determined to resist the temptation to spend. But that meant first going on an Instagram fashion purge.
"Shoes are my particular kryptonite," Wauck said. "It's that Apple Pay, double-click magical experience that I fall victim to every single time."
Systematically unfollowing all fashion-related accounts on the social-media network has removed a key trigger for impulse buys, which Wauck says could sometimes total $500 a month. "If I'm not seeing it, I can't double click and pay for it and buy it."
Simultaneously, she's started making more frequent automatic deposits to her investment account to prevent her from seeing cash and being tempted.
This idea of automatically allocating money to long term goals — be that investments, pensions or debt repayments — before it hits a general spending account is one of the top recommendations from financial planners the world over.
Psychologically, the aim is to lock in your rational decision to, say, save more for retirement, and protect this plan from the much more immediate lure of a drink with friends.
"We don't prioritize the future, we typically prioritize the present," Russell said. "People don't like to stand out from the crowd when they see others spending around them." 
Across the finance world, executives are now trying to integrate such psychological insights into financial products. 
Take the problem of loss aversion. Historically, pension-fund returns have been presented with results for the most recent time period — say, the last six months — first and then with five or ten-year returns lower down. That means the period with the most volatility is more visually prominent than the longer timeframes where spikes are smoothened out. The focus on the short-term risks spooking savers who may be tempted to sell to avoid more losses.
The Health Employees Superannuation Trust Australia, an A$58 billion pension fund, is one that has reversed that presentation, making its 10-year returns more prominent. "Reporting on the 10-year performance of their super investment provides members important context in times of short-term market volatility," Hesta Chief Advice Officer Joshua Parisotto said.
Tackling the issue of inertia is the core pitch of a number of fintech start-ups.
George Froud, a 27-year old real-estate analyst, is a user of one such project, Plum. The U.K.-based company uses an algorithm to try and calculate the optimum amount people can set aside each month without missing it. Plum then transfers that money automatically into a savings account.
Froud is now putting aside about 150 pounds a month — much of which has come from forcibly curtailed trips to the pub.
"You just don't realize how often you tap your card until you don't do it." Froud said, adding when he thinks about the post-pandemic world, an evening without plans doesn't sound like so much of a daunting prospect. "You do need to socialize of course, but it doesn't need to be all the time."
Getting users to focus on exactly what is really going on in their finances is at the core of DBS Group Holdings Ltd.'s planning app. The planner leverages Singapore's open banking system so that users can see everything from their state-pension savings to investment accounts in one place.
As well as warning users if they don't meet financial benchmarks — such as having three to six months of expenses in emergency savings — it also forecasts likely cashflow at retirement based on current savings rates.
Between April and Dec. 2020, it delivered more than 30 million personalized "nudges" to customers, the company said.
So far, the evidence is that it is changing behavior, with customers who use the planner having more investments at every stage of life.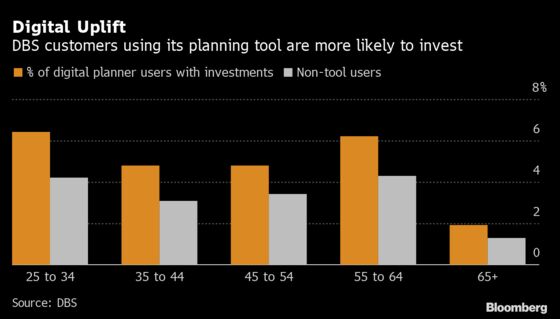 What the bank ultimately hopes is that tools like this will help shift customers' money-mindsets.
"Awareness must come before change," Evy Wee, head of financial planning and personal investing at DBS, said. "Only by changing the way we think and feel about money can we have a better understanding of our financial goals and take the right steps to achieve them."