Why Japan's Massive Stimulus Still Isn't Enough
(Bloomberg Opinion) -- The Bank of Japan risks being stranded.
The pioneer of zero interest rates and quantitative easing has the most accommodative monetary policy of any major central bank. Rather than being positioned comfortably during this global slowdown, the BOJ must be feeling pretty anxious.
There's little advantage to being the first mover. Others learn your tricks. They may start to look like they are doing more than you –  even if, substantively, you have done more over the long haul. You lose control of the narrative.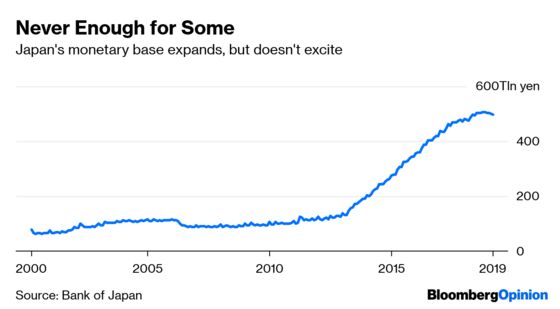 That's one way to look at the BOJ's tricky situation ahead of Friday's rate decision. Nobody is anticipating fresh measures to stimulate slackening growth. Many observers do anticipate Governor Haruhiko Kuroda will do something in the coming months.
Managing expectations is key to Kuroda's jam. Sibling central banks have eased either in words, with the Federal Reserve's "patience" pledge, or in action, with the European Central Bank's expanded use of forward guidance and supply of extra liquidity to banks.  

That makes the BOJ almost look stingy if it does nothing amid a weakening scene. In ordinary times, that would be laughable.  
Sure, there are things the central bank could do; Kuroda outlined some of them in an interview with the Asahi newspaper last month. They read like more of the same: go more deeply negative on rates, lower the target for the 10-year bond yield, or boost asset purchases (again) as part of its QE program.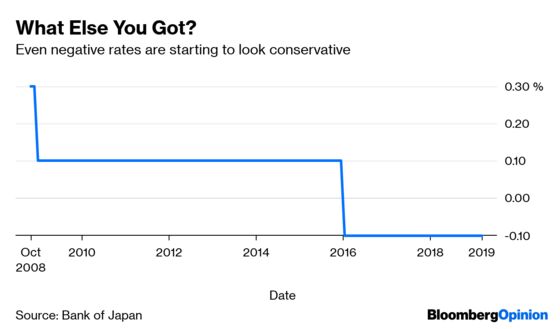 Should the BOJ wade further into accommodation, the notion it might want to normalize some parts of its activity would appear even more of a stretch. From time to time, officials nod to problems suffered by regional banks and muse about alleviating them. In a speech in Nagoya late last year, Kuroda talked about a new era in Japanese policy. Further easing wasn't what he had in mind. 
A significant downgrade to the outlook would be needed to underscore any shift in policy. That's fraught politically, given the government is still committed, rhetorically at least, to increasing the consumption tax this year. Prime Minister Shinzo Abe has said that it would require a Lehman-like shock to shelve it. (I argued here that he should postpone it, anyway.)
Further easing would signal that the tax hike should be postponed and fiscal reins loosened, wrote Izumi Devalier, Japan economist at Bank of America Merrill Lynch, in a note. "We do not think the BOJ/Governor Kuroda would be comfortable making this call ahead of the government."
Having done so much, how disconcerting that Kuroda could find himself on the back foot. As boss of currencies at the Ministry of Finance when Japan was a constant meddler in foreign-exchange markets, Kuroda knows how important positioning, packaging and perception are for success. He also knows the value of surprise, and has pulled some big ones since coming to the BOJ's helm in 2013.
He can't be comfortable here. For a meeting where nothing is supposed to happen, it's very interesting.
This column does not necessarily reflect the opinion of the editorial board or Bloomberg LP and its owners.
Daniel Moss is a Bloomberg Opinion columnist covering Asian economies. Previously he was executive editor of Bloomberg News for global economics, and has led teams in Asia, Europe and North America.