Weed, Greed, Recession and All Those Amazon Returns
(Bloomberg Opinion) -- My morning train reads:
• Weed Versus Greed on Wall Street: As potential profits in cannabis grow, big banks and blue-chip investors will lose their reticence about the pot business (Wall Street Journal)
• Do Longer Expansions Lead to More Severe Recessions? (Federal Reserve Bank of Cleveland)
• The Rise of Netflix Competitors Has Pushed Consumers Back Toward Piracy (Vice)
• This Is What Happens When You Try to Sue Your Boss (Bloomberg Businessweek)
• Where Amazon Returns Go to Be Resold by Hustlers (The Atlantic)
• The World's Think Tank Dilemma (Japan Times)
• "Venture capital money kills more businesses than it helps," says Basecamp CEO Jason Fried (Recode)
• White House Tips for Surviving the Shutdown (Reformed Broker)
• What I Learned by Eating Only Meat for a Month (Outside) but see A high-carb diet may explain why Okinawans live so long (BBC)
• Novak Djokovic Went Back To His Old Serve — And Back To No. 1 (FiveThirtyEight)
Be sure to check out our Masters in Business interview this weekend with Cameron Mitchell, founder and chief executive officer of Cameron Mitchell Restaurants, which manages numerous restaurants across the country.

Where Robots Will Find a Home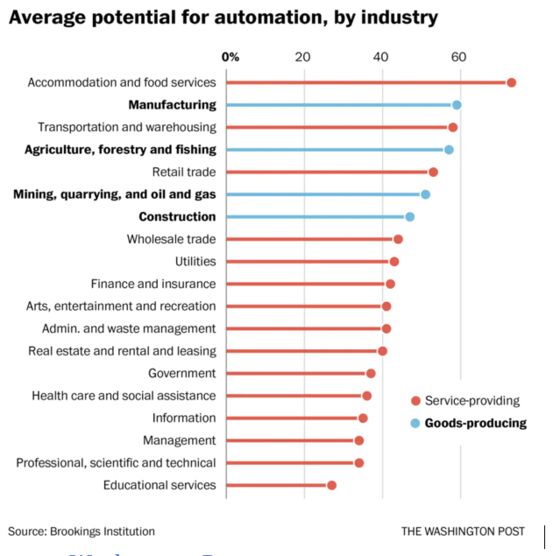 This column does not necessarily reflect the opinion of the editorial board or Bloomberg LP and its owners.
Barry Ritholtz is a Bloomberg Opinion columnist. He founded Ritholtz Wealth Management and was chief executive and director of equity research at FusionIQ, a quantitative research firm. He is the author of "Bailout Nation."