Turkey Missed Its Chance to Stop This Emergency
(Bloomberg Opinion) -- At least Turkey's central bank can spot an economic crisis. But it's hard to believe that officials are going to take serious action to stop it.
Consumer price inflation accelerated to the fastest rate in 15 years, at 17.9 percent, data on Monday showed. And this does not look to be the top of the cycle. Producer prices, which usually lead consumer prices, rose 6.6 percent in August alone, pushing the annual rate above 32 percent. Core CPI rose to a record 17.2 percent annual rate.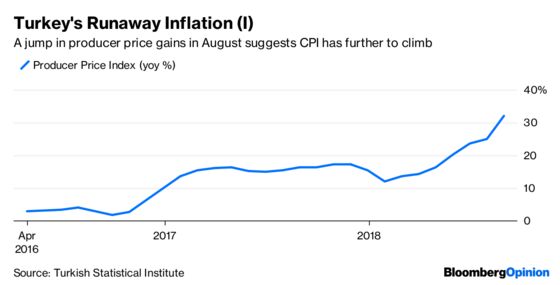 The central bank, unusually, issued a statement noting "significant risks" to price stability, and said policy would be "adjusted" at the Monetary Policy Committee's Sept. 13 meeting. Finance Minister Berat Albayrak was swift to respond to the data, saying an "all-out fight against inflation is needed," Haberturk reported.
But he also said that short-term inflation spikes are "normal."
A PPI rate that has more than doubled since the start of the year isn't normal. And anyway this isn't a spike, it's a long-term trend.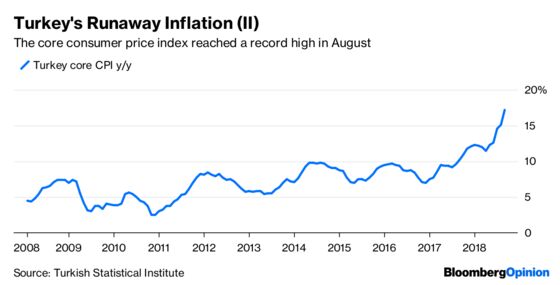 More to the point, if the economy faces a significant risk from rising prices, delaying action is harmful. Until officials get control of the currency, they'll never be able to control prices. 
At this point, bond and currency markets have lost all faith in the independence of monetary policy – but an emergency rate increase would at least show that the central bank is serious, instead of reacting to events. It's hard to see the benefit of keeping to the six-weekly schedule of policy decisions when the lira and prices are this far out of control. 
Investors have been here before, and they've been disappointed. Albayrak and his father-in-law, President Recep Tayyip Erdogan, both promised before the central bank's July 24 meeting that they'd do what was needed to stabilize the economy and control inflation.
Traders were sorely disappointed when the central bank left its official policy rate, the one-week repurchase rate, unchanged at 17.75 percent. Since then, the lira has lost about a third of its value against the dollar. 
The real economy is taking the hit. The state pipeline company, Botas, raised natural gas prices by as much as 14 percent over the weekend, on top of an increase it had made the previous month. The contraction in manufacturing deepened, with the August purchasing managers index dropping to 46.4 from 49. A measure of new orders, which indicates the direction of travel for factories, declined to 44 from 46.6.
It's difficult to predict what exactly the central bank should do, since officials are perpetually changing which of their three benchmark rates is the focus of their actions. But really, whichever rate they pick needs to be at least 300 basis points higher than what it was in July.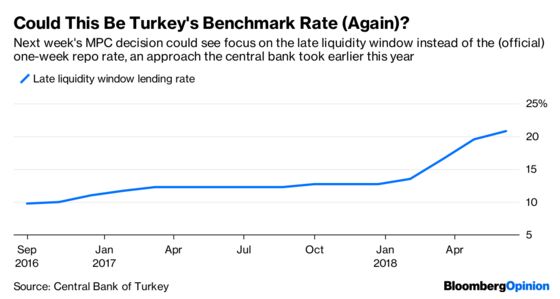 They could well leave the one-week repurchase rate unchanged – they've already lost focus on this, given that the bank has suspended weekly auctions. So the overnight borrowing rate of 19.25 percent has become the de facto market benchmark – the higher rate here makes it more expensive to short the lira. Policy makers could also hone in on the late liquidity window, the penal rate for emergency bank borrowing, which is now at 20.75 percent, as they did earlier in the year. 
Just as important as any one-time rate hike is the statement that accompanies it. The central bank has to pledge it will continue to lift rates until there is clear evidence that inflation is under control. An emergency rate hike would have gone a long way to making that case.
Equally significant is the government's medium-term fiscal plan due this month. Anything other than the spending restraint that Erdogan has pledged will be hugely disappointing.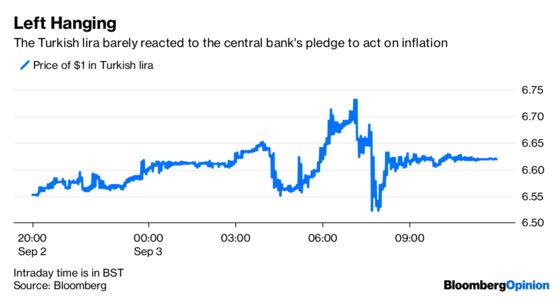 The all-out fight the Turkish government has is to convince investors it is serious about salvaging the economy and prepared to ditch the economic theories that got it into this mess in the first place. The lira weakened by more than one percent on Monday, a sign that, despite the rhetoric from the central bank and finance minister, investors are not convinced that officials will really be allowed to do what's needed.
This column does not necessarily reflect the opinion of the editorial board or Bloomberg LP and its owners.
Marcus Ashworth is a Bloomberg Opinion columnist covering European markets. He spent three decades in the banking industry, most recently as chief markets strategist at Haitong Securities in London.
Stay Updated With
View News
On BloombergQuint