Trump's Congrats to S&P 500 Comes at Awkward Time
(Bloomberg Opinion) -- U.S. stocks rose to a new record on Thursday, prompting President Donald Trump to mark the occasion with a tweet that, in part, said "Congratulations USA!" That's all well and good, but what investors really care about is relative performance, as in how one asset, security or market is performing or valued relative to others. In that sense, U.S. stocks are suddenly falling short.
Although the S&P 500 Index has gained about 1.50 percent since Sept. 11, the MSCI All-Country World Index of equities excluding those from the U.S. has jumped 3.71 percent. Nobody's ready to say this is a turning point in markets after a long period of U.S. outperformance that began in May, but it does underscore a growing sense that the trade war between the U.S. and China and the recent turbulence in emerging-market assets is unlikely to derail the global economy. In its latest outlook released Thursday, the Organization for Economic Cooperation and Development in Paris only reduced its global 2018 GDP growth forecast by 0.1 percentage point to 2.7 percent, and cut its 2019 estimate by 0.2 percentage point to 3.7 percent. Given all the doom and gloom that has been predicted in recent months, those downgrades to what is still a very healthy level of economic expansion can be seen as a relief.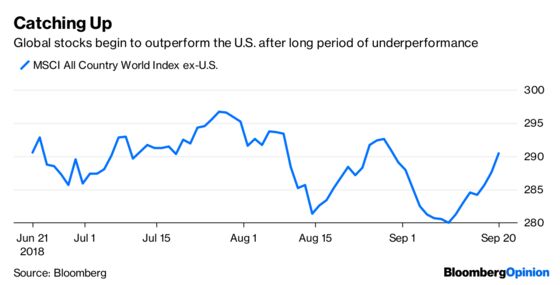 And if growth isn't about to slow down meaningfully, perhaps equities outside America represent a bargain, trading at well under 14 times earnings, versus 21.5 times earnings for MSCI's index of U.S. stocks. No less than Jeffrey Gundlach, the widely watched chief investment officer of DoubleLine Capital, said last week that the S&P 500 could end the year lower than it started, closing its divergence with other stock markets.
IT'S ALL RELATIVE
The sell-off in U.S. bonds that began almost a month ago has slowed in the last few days as yields on 10-year Treasury notes rose above 3 percent. The three previous times this year the yield rose above that level, buyers swooped in to send it lower. Now, a 3 percent yield may not sound like much, but it's downright juicy when compared to equities. The rally in stocks means the S&P 500's earnings yield — the inverse of the more commonly used price-to-earnings ratio — has dropped to 4.72 percent. With the 10-year Treasury yield now at 3.07 percent, the difference of 1.92 percentage points is the narrowest since 2010. As such, it's easy to image investors thinking that it doesn't pay to take the added risk of owning highly volatile equities when they can buy U.S. Treasuries, the safest investment in the world. Then there's the old adage: When everyone is buying, it's time to sell. The latest Bank of America Merrill Lynch monthly investor survey released Tuesday showed that allocations to U.S. stocks have climbed 2 percentage points to a net 21 percent overweight. That's the highest since January 2015, the start of a year when the S&P 500 dropped 0.73 percent.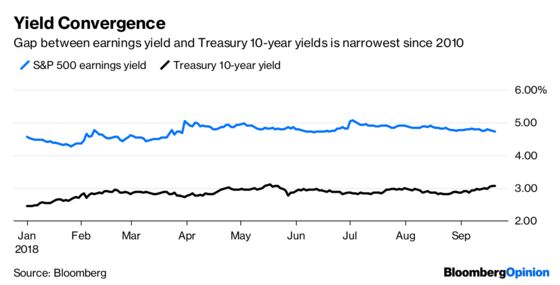 TURNING POINT?
And if the U.S. is really the place to be, then how does one explain the dollar? The Bloomberg Dollar Spot Index fell on Thursday to its lowest since July. Bloomberg Correlated-Weighted Indexes show that the greenback is weaker over the past week, month and three months against its developed-market peers. What's mysterious about the move is that it comes amid a rise in Treasury yields, which usually fosters demand for the dollar among yield-starved investors in places such as the euro zone and Japan. In fact, yields on Treasuries average 2.30 percentage points more than those in the rest of the global government bond market, expanding from less than 1.40 percentage points a year ago. One explanation is that the Federal Reserve is forecast to raise interest rates next week for the eighth time since December 2015, and each increase brings the central bank one step closer to pausing as other central banks start to talk about beginning to tighten their monetary policies. BNP Paribas Asset Management says the greenback could broadly plunge 10 percent in the next six to nine months, while Invesco Ltd. forecasts it'll sink about 2 percent against the euro by year-end, according to Bloomberg News's Lananh Nguyen.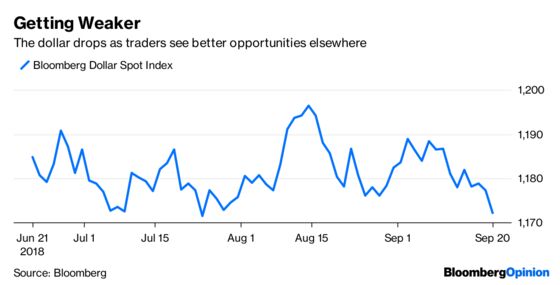 COMMODITIES COMEBACK
Market participants are gaining more confidence that the trade wars won't be getting much worse. How can you tell? Take a look at the commodities market. The Bloomberg Commodity Index of 22 raw materials from oil to copper and soybeans jumped on Thursday to its highest level since Aug. 10. The gains capped the biggest three-day rally since April. Some of the biggest gainers on Thursday were agricultural products such as soybeans, coffee and corn, while base metals such as zinc, nickel and aluminum also powered higher. Traders pointed to a couple of announcements out of China in recent days that are fueling their optimism. First, Chinese officials said they have no plans to devalue the yuan as a way to retaliate against U.S. tariffs. Second, two people familiar with the matter told Bloomberg News that China is planning to cut average tariff rates on imports from the majority of its trading partners as soon as next month, in a move that would lower costs for consumers. The Bloomberg Commodity Index would have perhaps risen even more Thursday if not for a drop in oil prices following a tweet from Trump. The President resumed his criticism of OPEC, saying on Twitter that the cartel "must get prices down now!" as global benchmark crude flirted with $80-a-barrel earlier this week. OPEC and allied producers will meet in Algeria this weekend to discuss production targets.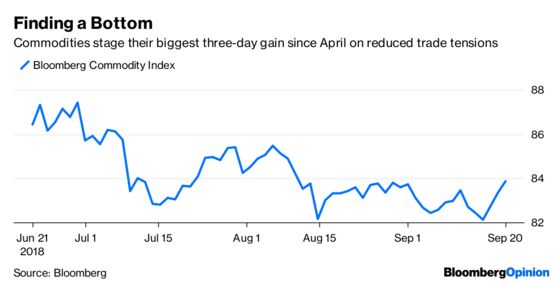 ARGENTINA LIFELINE
Investors in Argentina haven't had much to cheer about this year. That's understandable. After all, a collapsing economy tends to damp spirits. How bad have things gotten? In its report Thursday, the OECD downgraded its outlook for Argentina's GDP this year from an expected expansion of 2.9 percent to an 1 1.9 percent contraction. But Thursday was one of the rare bright spots. The nation's stocks, bonds and currency all soared after the Clarin newspaper reported that the International Monetary Fund may expand a credit line by as much as 40 percent to $70 billion. That's not unrealistic. This isn't the Argentina of old. Despite its current troubles, which mainly stem from big jumps in inflation and a budget deficit the government has been slow to close, Argentina has made plenty of reforms in recent years under President Mauricio Macri. The peso strengthened as much as 4.31 percent Thursday in its biggest gain since 2002. The Merval index of stocks jumped as much as 3.64 percent. "A potential agreement with the IMF that includes additional financing on top of the original program will dispel all the doubts about the financing program over the next years," Daniel Chodos, the head of rates and sovereign credit strategy at Credit Suisse in Buenos Aires, told Bloomberg News.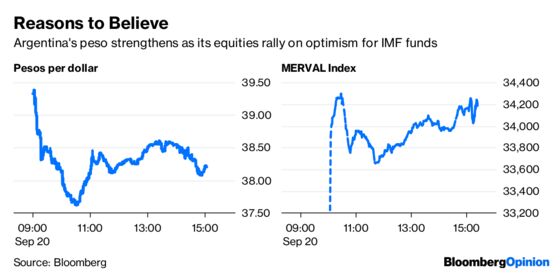 TEA LEAVES
If you're searching for evidence of inflation in the global economy, look no further than Canada. That country's consumer price index shot up 3 percent in July from a year earlier, the biggest gain since 2011. August's numbers will be released Friday, and although the median estimate of economists surveyed by Bloomberg News is for a slight deceleration to 2.8 percent, that would still be the second-fastest rate since 2011. At its last monetary policy meeting on Sept. 5, Bank of Canada officials debated whether to accelerate the pace of potential interest-rate hikes, before finally choosing to stick to their current "gradual" path. That suggests policy makers are confident in the Canadian economy's ability to cope with both higher borrowing costs and mounting trade tensions over the renegotiation of the North American Free Trade Agreement, or Nafta. 
This column does not necessarily reflect the opinion of the editorial board or Bloomberg LP and its owners.
Robert Burgess is an editor for Bloomberg Opinion. He is the former global executive editor in charge of financial markets for Bloomberg News. As managing editor, he led the company's news coverage of credit markets during the global financial crisis.