Theresa May Refuses to Dance Like Steve Bannon
(Bloomberg Opinion) -- It wasn't hard for Theresa May to do better than her Conservative Party conference speech of last year. A fit of coughing, a falling backdrop and a gag from the floor made it one of the most disastrous political performances in memory and entirely overshadowed the content.
But Britain's dancing prime minister did a lot more than just clear a low bar at this year's follow-up in Birmingham. She came across as the one thing politics seems to lack at the moment, and not just in Britain: a grown-up.
May has struggled since becoming Tory leader to be something other than the Brexit leader. Almost the entire bandwidth of government seems consumed by the mammoth task of negotiating Britain's EU exit and preparing for a possible "no deal." That means little attention has been paid to the socioeconomic problems that underpinned the Brexit vote and May's loss of a parliamentary majority in 2017. And yet those are the issues on which the next election will be decided — even if, as expected, May is no longer leader.
What set Wednesday's speech apart wasn't a particular policy announcement — although the broad promise to end the much-hated austerity program helped. There were announcements that ran from the promising (a freeing up of local authorities to invest in housing) to the dubious (a cap on low-skilled migration). But more significant was May's bold attempt to reclaim the center ground of British politics for the Brexit-battered Tories, and whomever follows her in the top job.
That's an urgent challenge for her party, which has been captured for too long by its hardcore minority of europhobic MPs. Jeremy Corbyn's opposition Labour Party has defined itself clearly on the far left of political discourse, with policies that include forced nationalizations, making companies share equity with workers and an all-powerful role for the state.
There were, of course, the usual political platitudes from May about giving people "the freedom to make decisions for yourself, rather than have them made for you by government." The Conservative Party still apparently backs business (despite many CEOs' intense dislike of Brexit), as well as championing low tax and fiscal prudence.
But aspects of May's speech elevated it beyond the usual fare. One was her willingness to take Corbyn seriously and recognize where he's gained ground with voters. In Birmingham this week, I saw many Conservatives mock Labour without refuting its critique of austerity. May didn't do that. 
She bothered to set out her case for capitalism. "When you nationalize something, people pay for it twice — once when they use the service, and again every month through their taxes. And investment in them goes down, because when governments are setting budgets they will always choose schools and hospitals over reservoirs and railways, so people get a worse service."
May had an internal target too in her battle for the soul of the party. The day before her speech, Boris Johnson, the opportunist Brexiter and wannabe prime minister, addressed a packed hall of party loyalists with a speech that was part Winston Churchill and part Steve Bannon. He evoked Britain's glorious history before calling on Conservatives to "Chuck Chequers," a reference to May's much-criticized proposal for the U.K's post-Brexit EU relationship. It was a divisive speech and petty in places. Johnson has attempted to set out an alternative Brexit plan, but it's even less convincing than Chequers.
May, in turn, made a pitch to drag U.K. politics away from the the culture wars that have so scarred the U.S. "Rigorous debate between political opponents is becoming more like a confrontation between enemies," she warned. Getting things done becomes harder "when our politics becomes polarized, and compromise becomes a dirty word."
More important for the party's prospects was the attempt to make up the economic ground lost to Labour. "Employment is up, but too many people haven't had a decent pay rise," she said. She recognized that solving Britain's crisis of affordable housing is the "biggest domestic policy challenge of our generation," and a major factor behind Corbyn's surge in the 2017 election — especially with 30 and 40-something voters.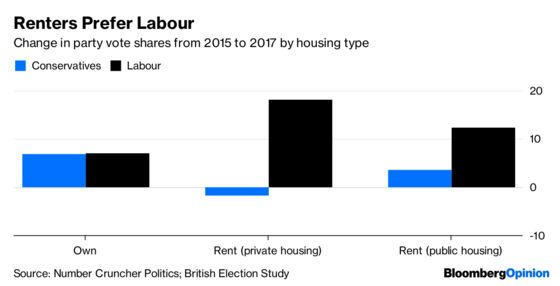 This might, of course, be May's parting shot as prime minister at a party conference. Other Tory leadership hopefuls, including Johnson, may prefer to let her finish off the poisoned chalice that is Brexit — scheduled for March. Few expect her to last long beyond that.
But for a country that's crying out for pragmatic solutions to its myriad problems, from Brexit to housing to low wages, this was a bold pitch for the middle ground. If today's speech charted a course for her party beyond the rocky uncertainty of Brexit and into the next election, then she'll have left it better off. 
This column does not necessarily reflect the opinion of the editorial board or Bloomberg LP and its owners.
Therese Raphael writes editorials on European politics and economics for Bloomberg Opinion. She was editorial page editor of the Wall Street Journal Europe.