May Keeps Everybody Locked in Brexit Purgatory
(Bloomberg Opinion) -- Theresa May tried to execute a u-turn on Tuesday while claiming to remain utterly consistent.
Having promised dozens of times to deliver Brexit on time on March 29, she told parliament on Tuesday she would support a short delay to the exit date if that was the wish of lawmakers. But her core message was unchanged: The choice before MPs next month will still be her deal, no deal at all, or no Brexit, she told them. 
May's offer is meant to appease moderates who want her to rule out no-deal while not angering Brexiters who want to keep the threat alive. And yet as May has often found, attempts to please all sides end up sowing confusion and mistrust.
The central problem with her attempt at reassurance is it's not very reassuring. A brief extension if her deal is voted down would create a new cliff edge, perhaps making a no-deal exit even more likely (indeed, May says the delay would be a one-off event.) That would please Brexiters who want exactly that outcome, but it cannot fill other lawmakers with any confidence. What would happen after the one-off extension? 
While May has promised parliament a vote on no-deal, she has not said how that outcome could be avoided. For now, it remains the default under British law. The only ways to avoid that: revoke Article 50, hold a referendum in which another outcome is agreed, or pass a deal. Indeed, it's not clear what is the point of giving parliament another vote on avoiding no deal if, as May acknowledges, crashing out would remain an option after the delay anyhow.
It looks like May could just head off a vote tomorrow that was threatening to turn into a kind of confidence vote, a test of whether her own party had any faith in her ability to deliver.
Conservative MP Oliver Letwin, the promoter of a cross-party amendment seeking to force the government to ask for an extension, pronounced himself satisfied that the prime minister's statement "does what is needed to prevent a no deal exit on 29 March." Nick Boles, one of the original Conservative backers of the proposal, was more circumspect: "Can MPs trust her to do what she has promised?"  he asked. If there is a peace, it's fragile.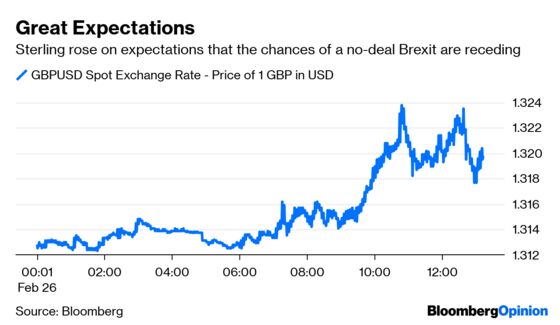 Little wonder the pound has pared some of the gains it made after Labour Leader Jeremy Corbyn indicated he would support a second referendum. If a no-deal exit is hell, May has just told lawmakers they can hang out in purgatory for a while. 
This column does not necessarily reflect the opinion of the editorial board or Bloomberg LP and its owners.
Therese Raphael writes editorials on European politics and economics for Bloomberg Opinion. She was editorial page editor of the Wall Street Journal Europe.