Take a Bow, Stock Market Bulls. You Earned It.
(Bloomberg Opinion) -- The naysayers have argued that the only reason major U.S. stock averages are higher for the year is because of the heady performance of the so-called FAANG stocks: Facebook Inc., Apple Inc., Amazon.com Inc., Netflix Inc. and Google parent Alphabet Inc. It's true that the S&P 500 Index, which was up 4.78 percent through Wednesday, would be down if not for the 34 percent gain in the FAANG group of stocks, but Thursday showed that the broader market is less dependent on a handful of technology companies  than realized, something the bulls have argued. 
While the S&P 500 was down on the day, the decline was a modest 0.3 percent when compared with the 2.89 plunge in the NYSE FANG+ Index after Facebook reported sales and user growth numbers for the second quarter that fell short of analysts' projections. Moreover, some of the broadest measures of equities gained, with the  NYSE Composite Index  rising.  Of course, it didn't hurt that concerns over a global trade eased somewhat after President Donald Trump and European Commission President Jean-Claude Juncker said late Wednesday that they had agreed to suspend new tariffs while continuing talks. Still, it's hard to be down on stocks when companies are reporting strong earnings when valuations are depressed, at least based on very recent history. As of early Thursday, 188 of the 217 S&P 500 companies that have reported second-quarter results topped estimates, according to data compiled Bloomberg.  The so-called beat rate of 86.6 percent is up from 72.2 percent at this time last year.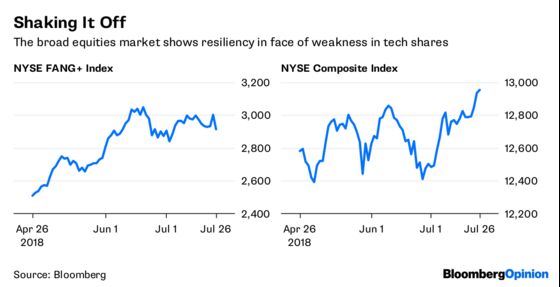 In all, members of the S&P 500 are forecast to post second-quarter profit growth of 21 percent, and a similar amount in the third and fourth quarters, data compiled by Bloomberg show, and companies' executives are not talking down those estimates. As such, with the S&P 500 trading at less than 18 times forecasted earnings, down from about 20 at the end of last year, the lure of equities is hard to ignore — just as the bulls said. As Oppenheimer & Co. chief investment strategist John Stoltzfus wrote in a note to clients this month, "for now economic and corporate fundamentals appear in good shape and offer positive offsets to trade concerns."
The European Central Bank met four times this year to set monetary policy before Thursday, and each time the euro fell as President Mario Draghi expressed dovish leanings in deciding to keep interest rates at record lows. Thursday's meeting was no different, with the shared currency dropping against the dollar again as Draghi pledged to keep rates unchanged "at least through the summer of 2019." Although Draghi expressed confidence in the economic outlook, currency traders know that data out of the euro zone has consistently fallen below forecasts since February as measured by Citigroup Inc.'s "surprise" indexes. Plus, the median estimate of economists surveyed by Bloomberg is for the euro zone economy's growth to decelerate to 2.2 percent this year and 1.9 percent in 2019, from 2.4 percent in 2017.  Commodity Futures Trading Commission data show that hedge funds, speculators and other large traders are the least bullish on the euro than anytime since May 2017. Although currency strategists generally see the euro ending the year at $1.18, above the current exchange rate of  $1.1642, that's come way down from the $1.26 that they were forecasting as recently as mid-May, according to data compiled by Bloomberg.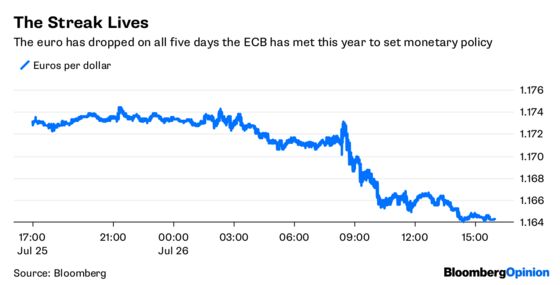 There's no shortage of pundits jumping on their soapboxes to warn against the deteriorating health of corporate balance sheets. Even so, the U.S. corporate bond market is showing impressive strength, with the cost to protect against defaults by investment-grade companies dropping to the lowest since mid-May and the lowest since March for speculative-grade, or junk, rated borrowers. A couple of reports from S&P Global Ratings on Thursday did nothing to deter the bulls. First, the ratings firm said it expects global bond issuance to drop about 4.2 percent this year to $6 trillion, the first decline since 2015. Second, it said that the amount of debt slated to mature in 2019 has been reduced by 6 percent since its last such study in 2017 as companies are able to refinance and push maturities to 2020 and beyond. "The current credit cycle in the U.S. has reached maturity, and we expect recent increases in borrowing costs, which began at the start of the year, to slowly continue over time," the firm's research analysts wrote in a report. "At this point, we don't see any catalyst that would cause borrowing costs to spike or to rise markedly higher at a subdued pace, either." Credit markets are the financial system's early warning system in that they are typically the first to show signs of stress when things are falling apart. The fact that credit investors are relatively sanguine should be a sign that financial markets are probably more resilient than many realize.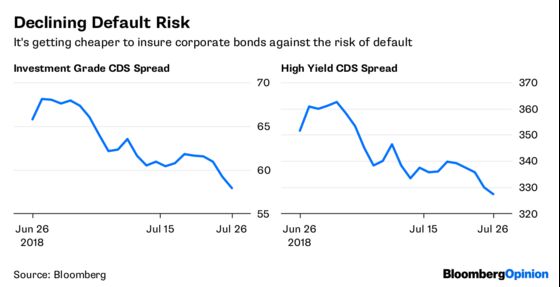 Investors in Turkey have had a rough time this year, with President Recep Tayyip Erdogan tightening his grip on power and installing his son-in-law as the economy czar.  The lira has depreciated 22 percent and the benchmark Borsa Istanbul 100 Index has fallen 18 percent. Now, investors must factor in U.S. politics as well into their spreadsheets after Vice President Mike Pence threatened  "significant sanctions" on Turkey if it doesn't release American pastor Andrew Brunson. The lira promptly fell almost 2 percent, making it the worst-performing major currency in the world on Thursday.  The Borsa Istanbul 100 also declined as Turkey's Foreign Minister Mevlut Cavusoglu responded on Twitter, saying that the country "will never tolerate threats from anyone."  What happens in Turkey has implications for emerging markets globally given the size of its economy, which is about $851 billion. In other words, trouble there can easily have a ripple effect elsewhere as global investors pull money out of Turkey and place it elsewhere, or sell assets elsewhere to cover losses suffered in Turkey. The MSCI EM Currency Index was headed for its fifth consecutive  gain before Pence's comments caused the lira to drop, pulling down the index with it.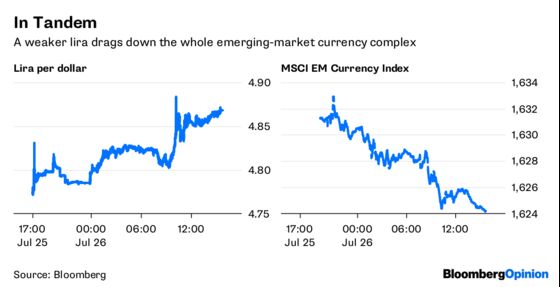 With the commodities markets, especially agriculture products, under pressure from a budding global trade war, one raw material is bucking the trend in a big way. After years of bumper wheat crops that suppressed prices, dryness from the European Union to the Black Sea and Australia has stoked fears of supply shocks. On top of that, some traders are now worried that top shipper Russia could intervene in the market by imposing an export tax in a repeat of the 2014-15 season, according to Bloomberg News. Speculation about potential Russian action has sent Chicago futures to near the highest in a year, while prices surged as much as 5.6 percent in Australia and 2.2 percent in Paris on Thursday. Crops from France and Germany to Poland and the Baltics are suffering from the heat and drought, while Russian output is set to drop for the first time in six years. Export prices at Russian ports were at $213.50 a metric ton Tuesday, UkrAgroConsult data show. That's about 13,521 rubles a ton, including transportation costs. Farm prices are near 9,000 rubles, approaching the 11,000 rubles price that triggered Russia's export tax in 2014-15.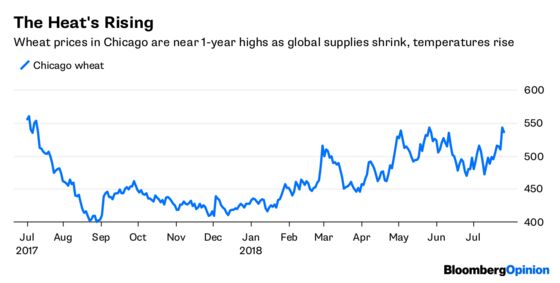 TEA LEAVES
When the Commerce Department reports its first estimate of economic growth for the second quarter on Friday, the reaction could very well be a case of "what have you done for me lately?" The median estimate of economists surveyed by Bloomberg is that the gross domestic product expanded at a 4.2 percent annualized rate in the April through June period, the fastest pace since 2014. But few economists expect such a lofty number to represent a new normal. Recent surveys from some regional Federal Reserve banks as well as the University of Michigan show that corporate executives are becoming much more cautious about the prospects for their businesses amid a looming trade war. Plus, a number of one-time items most likely juiced growth, such as the biggest tax overhaul since the Reagan era as well as gains in inventories and trade that were probably helped by a temporary boost in demand ahead of retaliatory tariffs, according to Bloomberg News's Shobhana Chandra.
This column does not necessarily reflect the opinion of the editorial board or Bloomberg LP and its owners.
Robert Burgess is an editor for Bloomberg Opinion. He is the former global executive editor in charge of financial markets for Bloomberg News. As managing editor, he led the company's news coverage of credit markets during the global financial crisis.