Stocks' Bull Case Is Undermined by Boring Bonds
(Bloomberg Opinion) -- The big rebound in stocks since late December has captured the bulk of investors' attention, while the bond market has largely been treated as an afterthought. That's not so surprising, given that monitoring U.S. Treasuries has been about as exciting lately as watching paint dry. But the fact that Treasuries have done little while equities rally speaks volumes about where the economy is likely headed.
The Bloomberg Barclays U.S. Treasury Index puts the average government debt yield at 2.68 percent, exactly where it was on Dec. 24, the last trading day before the S&P 500 Index began a turnaround that has seen it surge 12.5 percent. But rather than signaling that the bond market is being overly pessimistic about the economic outlook, it could be more of a sign that the stock market reflects undue optimism. Take the Conference Board's January report on consumer confidence, which was released Tuesday. It showed the biggest two-month decline since 2008, falling 16.2 points over the course of December and January. The optimists might say that the drop was likely due to the government shutdown. Plus, even with the falloff, confidence remains at historically high levels. True, but optimism was also elevated going into each of the last three recessions. Furthermore, the expectations portion of the Conference Board's index fell to its lowest since October 2016, wiping out any gains that may have been related to the Trump administration's tax cuts and other economic policies. That brings us back the bond market. The Merrill Lynch MOVE Index, which tracks expected volatility in the $15.3 trillion market for Treasuries, has fallen to some of its lowest levels of the past year, suggesting traders don't see any big change in yields on the horizon.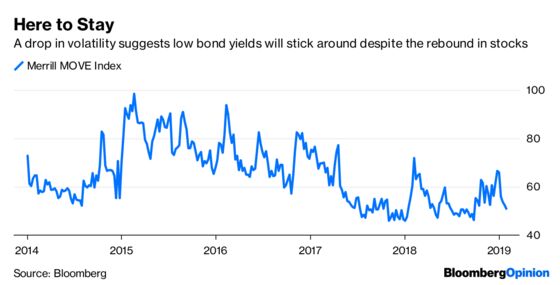 The top-ranked rates strategists at BMO Capital Markets pointed out in a research note Tuesday that the MOVE index is now below any level seen during all of 2014, 2015 or 2016. That's when the Federal Reserve boosted interest rates just twice because the economy and inflation came in lower than policy makers forecast. Now – like then – "it does not appear that the market is positioned for any massive growth or policy surprises in the near future," the BMO strategists wrote in their note.
GREECE IS A MARKET DARLING. REALLY.
Equities aren't the only place showing an appetite for risk. Greece, just a few years removed from almost causing the breakup of the euro and sending global markets into a tailspin, is selling 2.5 billion euros ($2.9 billion) of bonds for the first time since the end of its international bailout. The notes, which mature in 2024, will price to yield 3.6 percent, less than an initial target of as much as 3.88 percent, according to Bloomberg News's Sotiris Nikas and Leo Laikola. Although the drop in the expected yield is pretty remarkable for Greece given its history in the bond market, what's really noteworthy is that demand appears high even though the sale will be the nation's first without the backing of International Monetary Fund loans (Greece exited its third and final bailout in August). Also, Greece's debt levels remain the highest in the euro area at about 182 percent of gross domestic product, versus about 100 percent for Spain. Nevertheless, "on a risk-adjusted basis, Greece is by far the most attractive euro bond right know," Jaime Costero, a strategist at Banco Bilbao Vizcaya Argentaria SA, told Bloomberg News. "Rating-wise, the country could see further improvements and that might continue to improve the profile of the sovereign."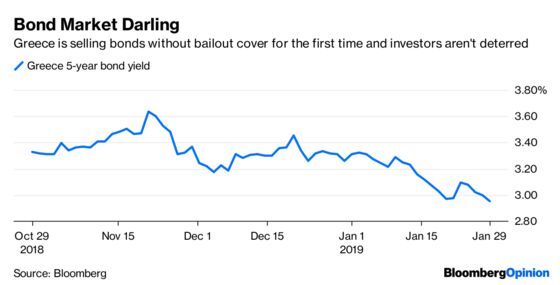 EGYPT'S COMEBACK TRAIL
Another once-troubled nation that is enjoying a bit of a market renaissance is Egypt. The nation's currency rose the most in almost two years on Monday as foreign funds piled into Egyptian debt. In auctions held this week, foreign investors bought 30 percent of Egyptian local-currency Treasury bills and more than half of longer-dated bonds, the Ministry of Finance said in a statement on Tuesday. They acquired all of the five-year securities sold a day earlier, in what the ministry labeled a clear sign of confidence in the country's economy, according to Bloomberg News's Mirette Magdy. After pulling out about $10 billion from Egypt during a global sell-off last year, foreign investors are back to capture the juiciest yields in emerging markets after Argentina, according to a Bloomberg Barclays index. Demand for the five-year securities allowed underwriters to shave 44 basis points off Egypt's cost to borrow, the most at an auction in a year, to 17.59 percent, data compiled by Bloomberg show. The Egyptian pound has become more sensitive to fund flows after the central bank ended a repatriation mechanism for foreigners late last year, according to investment bank EFG-Hermes. Also, Egypt wraps up a three-year, $12 billion economic overhaul agreement with the IMF this year. Its foreign-exchange reserves recovered from about $15 billion before a currency devaluation in 2016 to a record of more than $44 billion in November.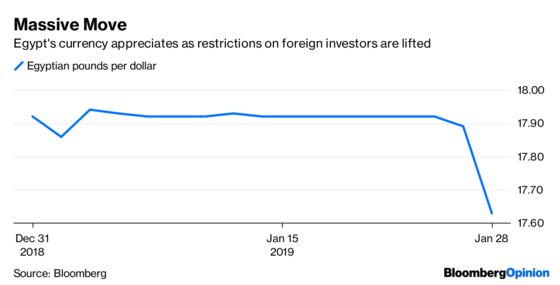 BREXIT FOLLIES,  'UNINVESTABLE' U.K. STOCKS
The inability of the U.K. to extricate itself from the European Union in a process known as "Brexit" has taken a toll on the nation's stock market. The benchmark FTSE 250 index tumbled 15.6 percent last year, versus a decline of 11.2 percent for the MSCI All-Country World Index. Things are so bleak that some strategists deem U.K. stocks as "uninvestable" despite being relatively cheap, according to Bloomberg News's Justina Lee. The country remained the most hated region in Bank of America Merrill Lynch's global fund manager survey in January, with the net percentage of asset managers that are underweight near the highest in two decades. The thing is, there's no relief in sight: The pound fell after lawmakers voted late Tuesday against a key proposal that sought to delay Britain's exit from the European Union, then held its losses as lawmakers subsequently approved an amendment that seeks changes to the Irish backstop arrangement in the Brexit deal. While that effectively avoids the most-feared no-deal outcome for now, it doesn't lift the uncertainty hanging over the market, with the EU showing no interest in renegotiating Brexit.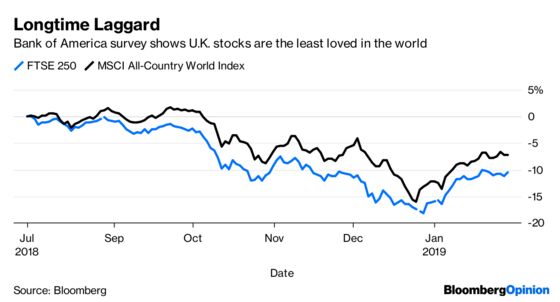 ENERGY TRADERS STARE DOWN POLAR VORTEX
Energy markets are flying higher, but it's not because of the Arctic freeze bearing down on much of the U.S. – especially the Midwest, where it'll be 21 degrees below zero Fahrenheit (minus-29 Celsius) in Chicago on Wednesday and minus-24 on Thursday, according to forecasts. At one point Tuesday, the Bloomberg Energy Subindex rose as much as 2.38 percent, with oil leading the way in a rally that was largely due to comments by U.S. Treasury Secretary Steven Mnuchin that signaled a truce is possible in the trade war with China amid multiplying threats to global crude supplies. The White House may remove tariffs on Chinese goods if Beijing presents sufficient concessions, Mnuchin told Fox Business News. The remarks came just hours after Mnuchin announced penalties aimed at strangling Venezuelan crude exports to American refiners. As for the deep freeze's impact on energy markets, the polar vortex is likely to be fleeting, according to the market for natural gas, where prices tumbled more than 8 percent Monday after forecasts showed a "massive loss" of heating demand in early February as the cold shot fades, according to Commodity Weather Group LLC. The lesson here is that more so than most any other market, commodities are less about what-have-you-done-for-me-lately than what-will-you-do-in-the-future.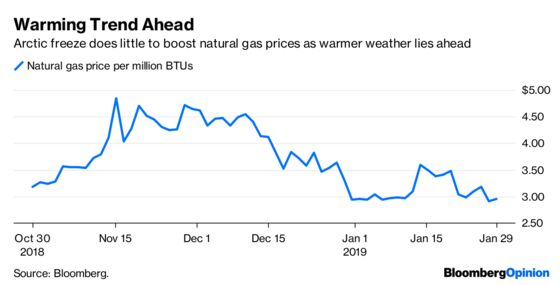 TEA LEAVES
The Fed concludes a two-day monetary policy meeting Wednesday, and while no change in interest rates is expected, there still could be plenty of fireworks. For one, Chairman Jerome Powell will hold a press conference. Powell has struggled to clearly communicate how the central bank views the outlook for monetary policy. Stocks tanked in December, in part, on comments by Powell that rates were a long ways away from a level that is considered neutral, and that the central bank saw no reason to slow the pace of its balance-sheet run-off despite growing evidence that the economy was slowing. Powell has since walked back those comments a bit, causing stocks to rally. Now, investors want to know which Powell will show up at Wednesday's press conference. Beyond that, a Bloomberg News survey of economists shows the Fed is still likely to raise rates twice in 2019, but not until the second half of the year. "The labor market remains extremely tight and that's simply not likely to change throughout 2019," Stephen Latin-Kasper, an economist at the National Truck Equipment Association, told Bloomberg News. That, he said, will keep wages rising and consumer spending strong.
This column does not necessarily reflect the opinion of the editorial board or Bloomberg LP and its owners.
Robert Burgess is an editor for Bloomberg Opinion. He is the former global executive editor in charge of financial markets for Bloomberg News. As managing editor, he led the company's news coverage of credit markets during the global financial crisis.