When a Factory Town Becomes a Museum Town
(Bloomberg Opinion) -- My wife and I recently spent two nights in North Adams, an old industrial city in the northwestern corner of Massachusetts, at a lodging place called Tourists. What was once an unprepossessing small motel across from the Stop & Shop on Route 2 reopened last summer as a 48-room "hotel and riverside retreat," still across from the Stop & Shop but now oriented toward the Hoosic River behind it. The lead investor is a Boston developer who oversaw the mostly minimalist design, with as minority partners the co-founder of a local brewery; the founder of Brooklyn Magazine; Wilco's bassist, who created the playlist for the in-house radio station (which you can also listen to on Spotify); and a James Beard Award-winning chef from San Francisco who will be opening a restaurant across the river next year (accessible by a new and charmingly wobbly pedestrian bridge) and has already devised a menu for the hotel lodge that includes fish stew, braised chicken thighs and infused-spirit-based drinks.
The place has of course already been written up by the New York Times, Wall Street Journal, Boston Globe, Vanity Fair, Conde Nast Traveler, Vogue, Wallpaper, Dezeen, Afar, Surface … am I forgetting anybody? The other guests when we were there — these were weeknights in far-from-prime season — consisted mainly of two different groups of informally but stylishly dressed young people who appeared to be on company offsites. When we asked a bartender if by any chance the second group worked in marketing or advertising, she told us that they were from a "global marketing and innovation" firm.
You may find all this appealing; you may find it barf-inducing (I kind of liked it, especially at off-season rates). I think we can all come to agree, though, that Tourists wouldn't exist and marketing firms wouldn't be holding offsites there in early December but for a strange thing that happened three decades ago, when Massachusetts lawmakers voted to pump $35 million into converting the gigantic abandoned factory complex at the heart of North Adams into what has become the 530,000-square-foot (including outdoor spaces) Massachusetts Museum of Contemporary Art. And that is an interesting economic development story!
The idea that museums might stimulate economic growth was I guess not totally unheard of in 1988 — Massachusetts did approve that $35 million bond issue, after all — but it was pretty controversial. In the new(ish) book that I picked up during my visit to the museum, "From Mill to Museum: Twenty Years of Making Art at Mass MoCA," there's a page of choice quotes from skeptical newspaper accounts in the late 1980s and early 1990s: "Kill this costly pipedream," demanded the Boston Herald. "The basic strategy is flawed," opined the local Berkshire Eagle. "Just go away," added the Worcester Telegram.
The book also includes a lovely essay by Mass MoCA Director Joseph Thompson — who was only seven years out of college in 1988 but successfully shepherded the project to fruition and has run the museum since it opened in 1999 — in which he describes (among other things) how he slowly won over Republican Governor William Weld, who took office in 1991 after the Massachusetts "economic miracle" of his predecessor Michael Dukakis had given way to a deep recession and as one of his first acts ordered the proto-museum to return $688,000 that Dukakis had just sent over. Local lawmakers persuaded Weld to back off temporarily, a succession of private fundraising campaigns began to soften his opposition, and before long the governor was regularly stopping in North Adams on trips to his hunting camp in the Adirondack Mountains. Writes Thompson:
On one visit he was delighted that we were planning to exhibit the art of musician David Byrne, and proceeded to recall with perfect accuracy the words of his favorite Byrne songs. In the State House, Weld's own talking heads had calculated that the interest cost on the $35 million state grant to Mass MoCA would be de minimus compared to the high and rapidly escalating costs of state subsidies to North Adams caused by the city's still hemorrhaging economy.
That last point is key. Most of the buildings that now constitute Mass MoCA were constructed in the 1870s by a company that produced printed textiles; in 1942 they were taken over by Sprague Electric Co., a maker of electronic components that in 1966 employed 4,200 people in a city of just over 19,000. Two decades later, battered by overseas competition, Sprague abandoned North Adams. Is Mass MoCA as big an economic engine as Sprague was? Nowhere near. But it is a lot better than nothing.
The unemployment rate in North Adams, which hit 16.6 percent in January 1991, was 4.3 percent in October. That's partly because people have been leaving town; as of 2017, the population was down to an estimated 12,700. But they were leaving already (the city's population peaked at 24,200 in 1900), and there has been a perceptible positive Mass MoCA effect — one that Stephen Sheppard, an economist at nearby Williams College,  has been measuring for more than a decade. An update last year from the Center for Creative Community Development that Sheppard heads estimated that the museum and its 245,000 visitors in 2017 were responsible for almost $51 million in economic activity and 586 jobs. (After talking to Sheppard and looking through his reports, I am satisfied that these are reasonable if necessarily imperfect estimates.)
Yes, 586 is a lot less than 4,200, and $51 million amounts to just 0.7 percent of the estimated gross domestic product of Berkshire County, in which North Adams is located.  But with Massachusetts state tax revenue adding up to 5.1 percent of state GDP in 2017, the $2.6 million in additional state taxes that one could expect $51 million of additional GDP to have generated seems like a tolerable real return (3.4 percent a year and growing) on a state investment that amounts to about $76 million in inflation-adjusted 2017 dollars. (The Legislature voted in 2014 to chip in another $25.4 million for the museum's final major phase of construction and renovation, which also got $40 million in private funding and was completed last year.) County jobs data also offers some support for the idea that, as Sheppard puts it, "Mass MoCA is a key part of trying to reconstitute the local economy from one that primarily made things to one that primarily produces experiences." Employment in arts, entertainment and recreation appears to be on track to surpass manufacturing soon, and some other at least tangentially related job categories are on the rise or holding steady.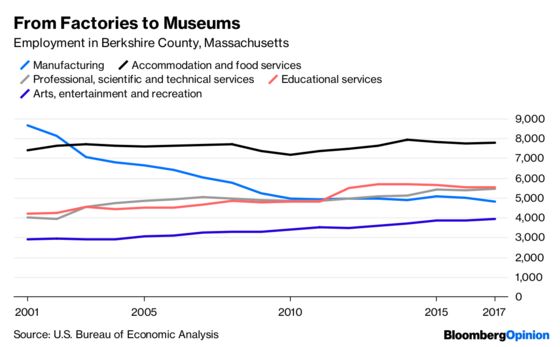 Still, it was manufacturing, not tourism, that drove the Berkshire County economy until pretty recently. As of 1990, it accounted for more than 21 percent of nonfarm payroll jobs there, well above the national average. Now it's down to 8 percent, compared with 8.5 percent nationally. Pittsfield, the county's biggest city (North Adams is No. 2), was home to a huge General Electric operation, including the GE Plastics division, where former Chief Executive Officer Jack Welch famously got his start. GE Plastics was sold to Saudi Basic Industries Corp. in 2007; SABIC moved its last operations out of Pittsfield in 2016.
Also, while major research universities can drive economic growth through technology spinoffs and lots of other means, Williams is a 2,000-student undergraduate school with a couple of small master's programs. One of those graduate programs does happen to be aimed at training would-be art museum curators, and those with undergraduate degrees in art history from Williams have done well in the field, too. Thompson has such an undergraduate degree, and so did his boss at the Williams College Museum of Art in the 1980s, Thomas Krens. It was Krens who, in search of spaces in which to display large pieces of contemporary art, set out to explore the vacant industrial buildings of North Adams. The city's mayor steered him toward the Sprague Electric complex — which was far, far bigger than what Krens had been thinking about — and the chain of events that led to Mass MoCA had begun. So I guess you can think of Mass MoCA as a technology spinoff, if you accept that museum curation is a technology.
Mass MoCA thus exerts an appeal that probably goes beyond the conventional audience for art museums. And while it comes at a price tag ($20 for a ticket that's good for two days) that may be out of reach for poorer locals, there are ways around that, too. Holders of the Massachusetts Electronic Benefit Transfer cards used for food stamps and other welfare programs get in for $2 (other Massachusetts museums offer similar discounts), the museum's Kidspace gallery is free, and local public schoolchildren can expect by the time they reach high school to have had, in Thompson's words, "more than a dozen high-quality, deep, and extended engagements with new art and living artists" at the museum.
There are still lots of locals who don't think the museum has done nearly enough to revitalize the community around it, but this means it hasn't really forced people out through gentrification, either. Property values in the blocks right around Mass MoCA have risen sharply since the museum opened, but hardly anyone lived on those blocks to begin with, and Sheppard says the residential neighborhoods of North Adams and nearby towns have generally not seen big price increases. It's hard to have a lot of housing price inflation in a county where the population, which started shrinking in the 1970s, has kept declining in the 2000s and 2010s.
Still, incomes have been rising, and in general the Berkshires don't give the vibe of a post-industrial wasteland. Neither do most of the regions that surround it. There is now a great swath of semi-rural territory stretching from New York's northern exurbs to Boston's western ones, and encompassing most of Vermont, where affluent urbanites with second homes, young people with creative aspirations and longtime locals with pickups have been fitfully creating a new economy built around experiences, as Sheppard says, and also the small-scale production of things. (The region even includes at least one other gigantic-factory-turned-contemporary-art-museum, Dia:Beacon in New York's Hudson River Valley.) It's not a fast-growing economy, it's heavily dependent on wealth created elsewhere, and it may not all hold together in the end. But it seems worth a try.
Sheppard has read through a lot of the press coverage from the 1980s when North Adams was trying to figure out how to fill the gaping hole that Sprague Electric left in the center of the city. Among the proposals for the site was a prison. "That would have resulted in a very different trajectory for North Adams," he says. A much less promising one, for sure.
Disclosure: I am a member of the museum. But I pay them money rather than the other way around, so I don't think that constitutes a conflict of interest.
It's technically the second edition of a book first published in 2000. But a lot has happened since 2000.
Disclosure: My son goes to Williams. But again, I pay them money rather than the other way around, so I don't think that constitutes a conflict of interest.
That's using the 2017 GDP estimate for the Pittsfield metropolitan statistical area, which is the same thing as Berkshire County.
Update: I had originally calculated the inflation-adjusted amount assuming that the initial $35 million had been spent in 1988. It was actually doled out in dribs and drabs over the next two decades, so I recalculated based on a disbursement spreadsheet provided by the museum.
Some other big jobs categories that I left off the chart in order to keep it comprehensible are retail, which is down 6.9 percent since 2001; government, which is up 2.3 percent; and health care and social assistance, which is up 34.6 percent. That last job category is on the rise pretty much everywhere in the U.S., but especially in a county where 22.8 percent of the population is over 65 (nationally the percentage is 15.6 percent). Also, I've used Bureau of Economic Analysis jobs data instead of the more timely and commonly cited payroll numbers from Bureau of Labor Statistics because the latter does not include the self-employed, of whom there are many in Berkshire County.
This column does not necessarily reflect the opinion of the editorial board or Bloomberg LP and its owners.
Justin Fox is a Bloomberg Opinion columnist covering business. He was the editorial director of Harvard Business Review and wrote for Time, Fortune and American Banker. He is the author of "The Myth of the Rational Market."