The Least Affordable Housing Markets Aren't Where You Think
(Bloomberg Opinion) -- Where is housing least affordable in the U.S.? The most cited measure was long the National Association of Realtors' affordability index, which tracks whether median-income families can qualify for mortgages on median-priced homes. According to that, the least affordable market as of 2016 was San Jose-Sunnyvale-Santa Clara (aka Silicon Valley) in Northern California, followed by Anaheim-Santa Ana-Irvine in Southern California (aka Orange County) and San Francisco-Oakland-Hayward just to Silicon Valley's north. Recently the NAR has shifted to an affordability distribution score that measures the percentage of for-sale homes in an area that a family with a median income can afford: In that, the Los Angeles-Long Beach-Anaheim metropolitan area (yes, they group Los Angeles and Orange County together for one measure but not the other) was least affordable as of September, with neighboring San Diego-Carlsbad and Oxnard-Thousand Oaks-Ventura in second and third, San Jose fourth, and San Francisco and Honolulu tied for fifth. The real estate site Zillow, meanwhile, has a mortgage affordability index that as of September ranked San Jose worst for affordability, followed by nearby Santa Cruz and San Francisco and then the Los Angeles area.
Hey, but what about renters! They're in the minority among Americans, with 64.4 percent of U.S. housing units occupied by owners in the third quarter of 2018, according to the Census Bureau's latest homeownership report. In metropolitan Los Angeles and New York, though, renters account for 52.7 percent and 51.2 percent of households respectively. They also make up more than 40 percent of households in several other big metro areas, including San Francisco, San Jose, Orlando, Miami and San Diego. Also, renters tend to be poorer than homeowners are. The median income of renter households was an estimated $38,944 last year; for homeowner households, it was $75,876. The people for whom housing affordability is the most pressing issue would thus seem to be renters, not owners.
Zillow does track rental affordability, too. But I'm going to go with the Census Bureau's median gross rent as a percentage of household income, in part because it compares rents to renters' incomes, not everybody's. This offers an interestingly different perspective.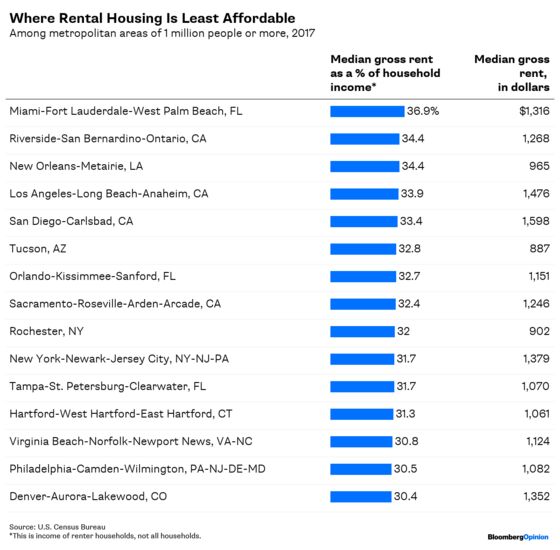 Those aren't all expensive California glamour spots. Of the four large U.S. metropolitan areas with the lowest median household incomes, in fact, three (New Orleans, Tucson and Tampa) made it onto this chart. Miami and Orlando are also in the bottom 10 for income out of the 53 metropolitan areas with 1 million people or more; Rochester is 12th from the bottom.
I chose a cutoff of 1 million because it's a nice, round number and the margins of error start to rise well past 1 percentage point below that; this excluded the aforementioned Oxnard, Honolulu and Santa Cruz metro areas. Also, to be clear, these are the rents that respondents to the 2017 American Community Survey said they were paying, not necessarily what currently vacant apartments in these metro areas are going for.
Noticeably absent from this list are the San Jose and San Francisco metropolitan areas — the Bay Area, for short. They have the country's highest median gross rents (metropolitan Washington is third among large metro areas, followed by San Diego and Los Angeles) but somewhat amazingly make it onto the list of the 15 most affordable large metros. Washington just misses that list at 17th.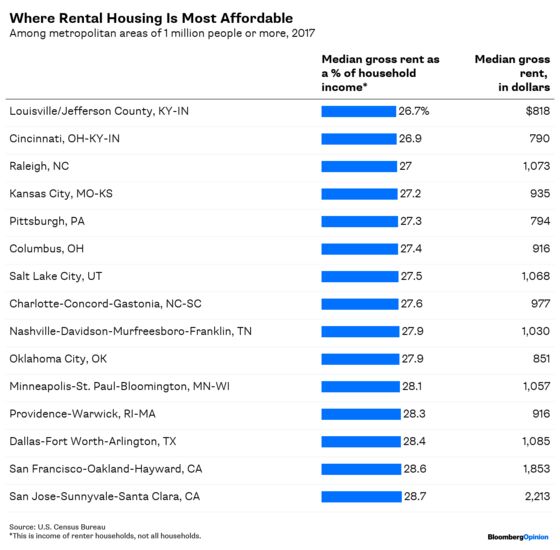 This is possible because people in metro San Francisco, San Jose and Washington make lots of money, with median household incomes of $117,474, $101,714 and $99,669 respectively in 2017 — the highest among all metropolitan areas (that is, not just large ones). Perhaps more significant, these are also the only three metropolitan areas where renter households made more than the $60,336 national median for all households.
To be sure, rental housing is even more affordable in places with low rents and moderately growing economies like metro Louisville and metro Cincinnati, and those making significantly less than $100,000 a year in the Bay Area often find it impossible to get by. Homelessness is a big problem there, and a study released in October by BuildZoom and the Terner Center for Housing Innovation at the University of California at Berkeley found that people with household incomes of less than $50,000 were fleeing the region, usually for cheaper nearby locations such as the Sacramento metropolitan area. Sacramento is on the least-affordable list above, and 15 other Northern and Central California metros (Madera, Santa Cruz, Redding, Visalia, Chico, Stockton, Santa Rosa, Fresno, Salinas, Napa, Santa Maria, Merced, Bakersfield, Vallejo and San Luis Obispo)  have rent-to-income ratios high enough to make that list but fewer than a million inhabitants. To some extent, the Bay Area is just exporting its affordability problems to its neighbors. I'm not saying the situation there is anywhere close to optimal.
Still, it seems better than what's going on in Southern California. Metro San Diego and Los Angeles come in fourth and fifth among large metros in median rent and Riverside-San Bernardino 11th, but median household incomes in these areas are way below Bay Area levels at $76,207, $69,992 and $61,994 respectively.
Whether you're looking at purchase prices or rents, housing in Southern California is spectacularly unaffordable, and more of it at reasonable prices is desperately needed. What got me scurrying down this data rabbit hole, in fact, was a new study by the architecture firm Woods Bagot that estimates that surface parking spaces in Los Angeles County, which currently cover an area 4.4 times the size of Manhattan, could be repurposed to house 1.5 million to 3 million people. Sounds like a plan!
Still, better jobs and higher incomes wouldn't hurt the region, either. Job growth in the Los Angeles metropolitan area has been slow for decades, and while per capita income has grown a little faster there over the past decade than in the rest of the country, the surrounding metro areas have actually lost ground.
More generally, in a lot of the cities and metropolitan areas where people are finding it hardest to pay for housing, persistent poverty seems to be a much bigger problem than high-rises full of tech workers. City Observatory's Joe Cortright laid this out in great detail four years ago, and his key point bears repeating:
While media attention often focuses on those few places that are witnessing a transformation, there are two more potent and less mentioned storylines. The first is the persistence of chronic poverty. Three-quarters of 1970 high-poverty urban neighborhoods in the U.S. are still poor today. The second is the spread of concentrated poverty: three times as many urban neighborhoods have poverty rates exceeding 30 percent as was true in 1970 and the number of poor people living in these neighborhoods has doubled.
Life is extremely complicated and expensive in places like San Jose, San Francisco and Seattle that have been transformed in recent decades by growth and wealth. For renters, though, it's even less affordable in places that haven't.
This column does not necessarily reflect the opinion of the editorial board or Bloomberg LP and its owners.
Justin Fox is a Bloomberg Opinion columnist covering business. He was the editorial director of Harvard Business Review and wrote for Time, Fortune and American Banker. He is the author of "The Myth of the Rational Market."