Ralph Northam Has Donald Trump — and Everyone Else — Talking About Racism Again
(Bloomberg Opinion) -- After admitting during a press conference on Saturday that he once smeared shoe polish on his face to impersonate Michael Jackson, Ralph Northam looked around briefly for a place to moonwalk before his wife suggested that busting a move while arguing that you aren't a racist might be a bit jarring. "My wife says 'inappropriate circumstances,'" the Virginia governor allowed, as a loopy grin spread across his face.
Inappropriate circumstances descended upon Northam, a Democrat, the night before, when the personal page of his medical school yearbook — featuring a photo of someone in blackface standing beside someone else in Ku Klux Klan garb — found its way into the news. Northam said he was one of those guys (he didn't say which) before finally saying he was neither. He apologized, held his presser, and now apparently hopes to dance past a scandal that has his party and his critics resoundingly urging him to resign.
"I could spare myself from the difficult path that lies ahead. I could avoid an honest conversation about harmful actions from my past," Northam said on Saturday, noting that coming to terms with the racism that has scarred tens of millions of black lives for centuries in the U.S. is a challenge that his resignation wouldn't allow him to meet. "I cannot in good conscience choose the path that would be easier for me in an effort to duck my responsibility to reconcile."
Northam isn't struggling alone, of course. Megyn Kelly left her perch at NBC last fall following a series of difficulties that included her inability to understand why some folks found blackface Halloween costumes to be offensive. And CNN reported on Sunday night that the 1984 yearbook from Northam's alma mater, Eastern Virginia Medical School, contained lots of other racist or objectionable imagery that Northam's fellow students apparently felt comfortable publishing. (A coffee mug in one of those photos had this catchy observation on its side: "We can't get fired! Slaves have to be sold.")
Northam's actions also raised the ire of some of the Republican Party's most conscientious public servants. Senator Ted Cruz took to Twitter on Saturday evening to observe that the media — which originally published Northam's yearbook photos, broadcast his dizzying press conference, and featured bounteous rounds of criticism of him — had gone too easy on the governor: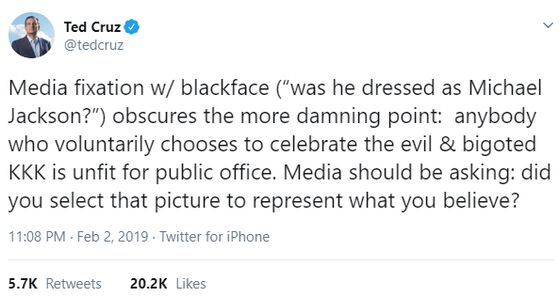 Cruz hasn't managed to go after Representative Steve King — an Iowa Republican who recently said he was perplexed why some people found white supremacists to be offensive — with quite the same gusto. Cruz did say King's comments were "stupid" and he "needs to stop it" — but he fell short of saying he wouldn't continue to support King, who has long inveighed against "cultural suicide" by deploying flotillas of racist catchphrases. The two also have a history that might explain Cruz's reticence: King bestowed an important endorsement on Cruz in Iowa after the senator launched a failed presidential bid in 2015.
Cruz also hasn't found it in himself to criticize President Donald Trump for not coming out more forcefully against white supremacists — even though the president has had ample opportunities to distance himself from racists like David Duke, a former Klan leader ("I know nothing about David Duke," Trump has said. "I know nothing about white supremacists.")
The president made things tricky for Cruz by deciding to take Northam to task himself on Saturday: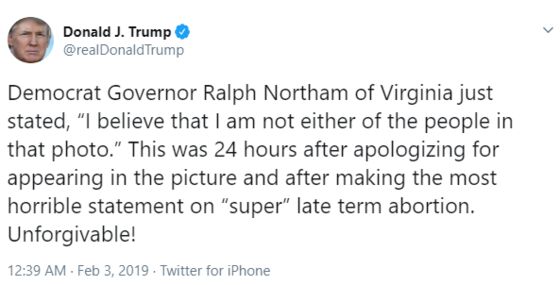 Trump's indignation wears thin. After all, he has been an enthusiastic race-baiter and bigot for decades, as I've noted in earlier columns.
He and his father were sanctioned by the Justice Department in the 1970s for discriminating against prospective tenants of color at the Trump family's housing projects. He took out ads in 1989 vilifying black and Latino teenagers accused of assaulting a white woman in New York, fueling racial divisions in exchange for publicity. (Although the teenagers were exonerated, Trump never gave up insisting on their guilt.) He questioned Barack Obama's citizenship while embracing birtherism, and he attacked a federal judge by emphasizing his Mexican heritage. He gave Steve Bannon, the former steward of Breitbart, a white-nationalist journal of record, an influential White House role. In West Wing gatherings, Trump has condemned immigrants from "shithole countries," observing that, unlike residents of Norway, Haitians all had AIDS and Nigerians lived in "huts." He has retweeted white nationalists, and routinely praises himself and others for being successful because of "good genes."
Trump, who once kept a copy of Hitler's speeches by his bedside, equivocated repeatedly about the racism and violence that flared up tragically in Charlottesville, Virginia, in 2017 and he stoked anti-immigrant fears and nationalist sentiments in the run-up to last fall's midterm elections. Trump's party has done little to stem any of this, as Tom Nichols, a conservative historian and former Republican, pointed out in a Washington Post column on Saturday:
Despite polls taken at various times during his presidency that show significant percentages of Americans either see Trump as racist or, at a minimum, someone who has "emboldened" racists, the president still enjoys the support of Republicans in Congress and 78 percent approval among Republicans in the latest Washington Post/ABC News poll. For the most part, the party has indulged his race-baiting comments and his crude handling of racial issues. But somehow party leaders, who stand firmly behind him, and a national party that just passed a resolution expressing "undivided support" for him, seems to have no qualms about calling out Northam.
For his part, Northam has done an exemplary job of reminding the country just how deep racism's roots run, and what a national disgrace it continues to be. On Aug. 13, 2017, a day after the Charlottesville rallies left a young woman dead, Northam stood up in the pulpit at a local church and asked the congregation to ponder the horrors the tragedy revealed.
"When you look into a baby's eyes, you don't see the hatred and the bigotry that we saw come to Charlottesville yesterday," he said. "And we have to ask, 'Where does it come from? Who taught these people?'"
Perhaps Northam can look in his medical school yearbook for answers to those questions.
This column does not necessarily reflect the opinion of the editorial board or Bloomberg LP and its owners.
Timothy L. O'Brien is the executive editor of Bloomberg Opinion. He has been an editor and writer for the New York Times, the Wall Street Journal, HuffPost and Talk magazine. His books include "TrumpNation: The Art of Being The Donald."