Putting Lipstick on the Pig of Apple's Poor Outlook
(Bloomberg Opinion) -- Apple Inc.'s December quarter outlook was bad. There's no putting lipstick on this pig.
Apple forecast sales of $89 billion to $93 billion and gross margin of 38 percent to 38.5 percent. That's less than analyst estimates for $92.74 billion and 38.6 percent, respectively.
If you flip that gross margin figure around, though, you get expected cost of revenue margin of 61.4 percent. That's how much money goes to the suppliers of its iPhones, iPads, Watches and various service providers. But with a thinner gross margin comes a larger relative slice going to the supply chain. Now it's 61.5 percent to 62 percent.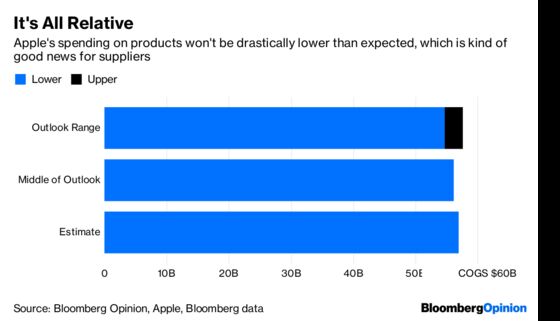 To be clear, this is offset by lower-than-expected sales. That $89 billion figure is a real shocker, yet I suspect that Apple is sandbagging us once more and will probably come in with a better number.
Averaging out all the numbers, Apple's gross profit is set to be around 2.8 percent below estimates but revenue to suppliers just 1.3 percent less.
But who knows how much consumers will feel like spending this holiday season, so maybe that conservatism is warranted. Equally, its gross margin may be at the upper end of the range. This is possibly bad for suppliers, but will likely be a function of higher revenue, which kind of makes it good for the folks who sell components to Apple.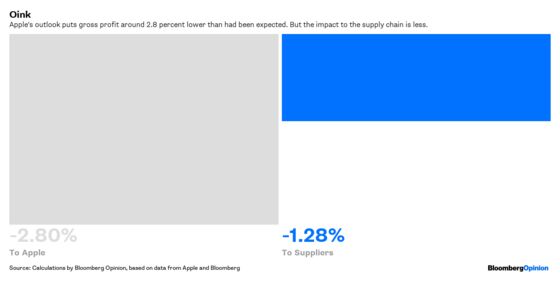 The picture isn't pretty for Apple, but it's a relatively muted downside for suppliers. The pig actually doesn't look quite so ugly.
This column does not necessarily reflect the opinion of the editorial board or Bloomberg LP and its owners.
Tim Culpan is a Bloomberg Opinion columnist covering technology. He previously covered technology for Bloomberg News.