Powell Delivers a Subtle Message to Markets
(Bloomberg Opinion) -- At first glance, it would appear that Federal Reserve Chairman Jerome Powell stuck to the script in prepared testimony to the Senate Banking Committee by saying a healthy U.S. economy has faced some "crosscurrents and conflicting signals." Although that's nothing he hasn't said before, there was still something potentially significant for markets in Powell's delivery.
In describing those crosscurrents, the first thing Powell highlighted was how "financial markets became more volatile" at the end of last year and how "financial conditions are now less supportive of growth." He then talked about economic fundamentals and how "growth has slowed in some major foreign economies, particularly China and Europe." Mentioning financial markets before the economy is as clear a signal as any that the Fed's top priority is preventing another plunge in the stock market like the one in December, which many suspected was the real reason the Fed officially pivoted toward a more dovish stance in January. "Keeping asset prices elevated is officially the #3 mandate of the Federal Reserve," Bleakley Financial Group chief investment officer Peter Boockvar wrote in a note to clients. The Fed's first two mandates are full employment and stable consumer prices. In that context, Powell's testimony should only further cement the idea of a "Fed Put" that underpins riskier assets. In that context, it's little wonder that the S&P 500 Index, which was down as much as 0.24 percent, rebounded to rise as much as 0.25 percent before ending the day little changed in the face of lower earnings and growth forecasts.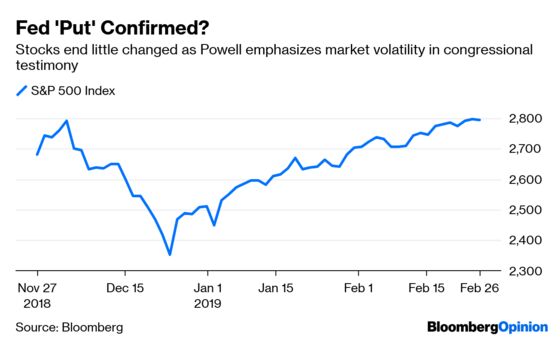 The big risk investors face, though, is becoming too bullish on risk assets such as equities and corporate bonds, which might force the Fed to keep raising interest rates after markets have largely priced out any hikes this year. Indeed, financial conditions are as loose now after the rebound in markets as they were when the Fed was boosting rates last year. "Markets are underestimating the Fed's capacity to tighten this year," the strategists at Brown Brothers Harriman wrote in a research note after Powell's testimony.
BOND BULLS ARE EMBOLDENED
Nevertheless, the bond market is signaling that there's a very high bar to any rate increases this year by the Fed. That was confirmed in JPMorgan's widely followed weekly Treasury sentiment survey. It revealed that bond traders are now their most bullish since 2016 despite yields on U.S. debt falling to about their lowest levels of the last year and the government ramping up its borrowing to finance a $1 trillion budget deficit. As if that wasn't enough, the Treasury Department's monthly auction of seven-year notes drew the most demand since August, based on the amount of bids the government received relative to the amount sold. Institutional purchasers that deal directly with the Treasury took more than 25 percent of Tuesday's $32 billion seven-year offering, the most since 2014. "Auction trades like supply is running out," was the headline of a research note put out by FTN Financial in the wake of the sale. Supply, of course, is not running out. It's getting more abundant. The ballooning budget deficit caused the U.S. to more than double its borrowing last year to $1.34 trillion, and predictions are that annual new issuance will range from $1.25 trillion to $1.4 trillion over the next four years. The bond vigilantes may someday regroup and push back against excessive borrowing, but there's no sign of it now.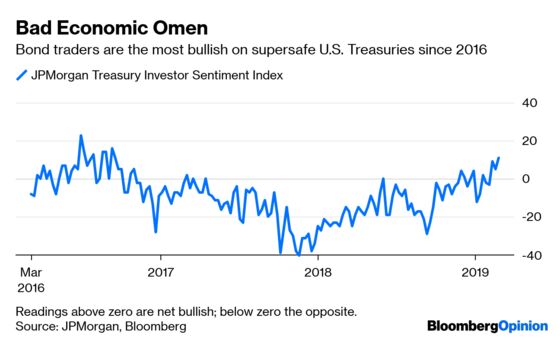 COMMON SENSE MAKES AN APPEARANCE
U.K. lawmakers are finally coming to their senses. At least that's the signal being sent by the currency market, where traders on Tuesday pushed the Bloomberg British Pound Index to its highest level since May. The rally in sterling against its major peers follows the news that Prime Minister Theresa May promised to allow Parliament a vote to delay Brexit and block the potential economic disaster of a no-deal split with the European Union if British lawmakers reject her divorce agreement next month. The opposition Labour party, meanwhile, says it supports a second vote on whether the U.K. should leave the European Union. To many in the currency market, that should have happened a long time ago, but better late than never. A survey of strategists conducted by Bloomberg last month revealed that the pound would rally much more should a second referendum be confirmed than on a delay to Brexit, according to Bloomberg News's Charlotte Ryan. Still, it's harder to see a way to reach such an outcome whereas the EU has already said it would consider allowing the U.K. more time to negotiate. May told Parliament that she would only pursue a delay if there was no other option and that it should be for the shortest possible time, "not beyond the end of June."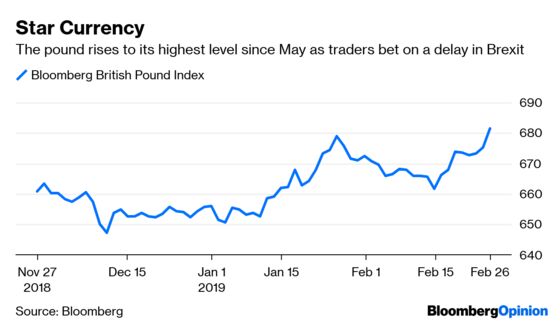 TURKEY MAKES A COMEBACK
Turkey is turning into the darling of emerging markets. Seriously. The Borsa Istanbul 100 Index rose 0.72 percent on Tuesday, bringing its gain since Jan. 3 to 20.2 percent. That exceeds the 12.3 percent gain in the MSCI Emerging Markets Index. The rally markets a stunning rebound for Turkey, which was shunned last year by international investors as President Recep Tayyip Erdogan moved to gain greater control over economic matters and hounded the central bank to cut rates even though it should have been raising them to contain inflation and lure foreign investors. What's changed is that the central bank has exerted its independence. For example, the Monetary Policy Committee has barely tinkered with its projections for inflation and has signaled it remains reluctant to cut borrowing costs. The moves have helped to damp the lira's volatility and given foreign investors more confidence to wade back into the market. It also helps that Turkish shares are a relative bargain. The Borsa Istanbul traded for 6.8 times estimated earnings in the next 12 months, lower than almost 12 times for the MSCI EM Index, according to Bloomberg News's Filipe Pacheco. Strategists at Goldman Sachs just issued a report saying that while economic growth will slow to 1.5 percent this year, it should accelerate to a respectable 3.5 percent in 2020.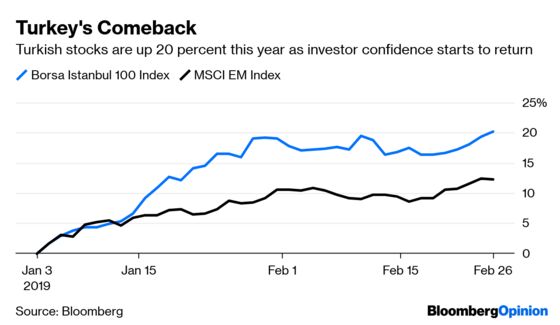 COFFEE IS COLD
If you think your local coffee shop is charging way too much for a cup of java, you're probably right. Even though retail prices seem to only go up, the actual price of coffee beans continues to plunge. Arabica coffee prices tumbled 2.96 percent Tuesday to their lowest level since 2005 as bumper crops weigh on the market. Heavy rains are replenishing soil moisture in the southeast region of Brazil, a top shipper of coffee beans and helping the nation's crops while the outlook for output in other producing nations continues to be positive, according to Bloomberg News. The U.S. Department of Agriculture in December raised its outlook for world coffee inventories, forecasting stockpiles will rise by 24 percent in 2019. There's also the possibility that the drop in coffee prices partly reflects lower demand, as more studies examine the health risks of drinking too much coffee. In a lawsuit brought by an advocacy group, a Los Angeles court ruled last year that coffee shops would have to warn customers under California's Proposition 65 of the dangers of a chemical called acrylamide, which forms in food when cooked at high temperatures, such as while roasting coffee beans. The Food and Drug Administration said later that such a warning wasn't necessary for coffee.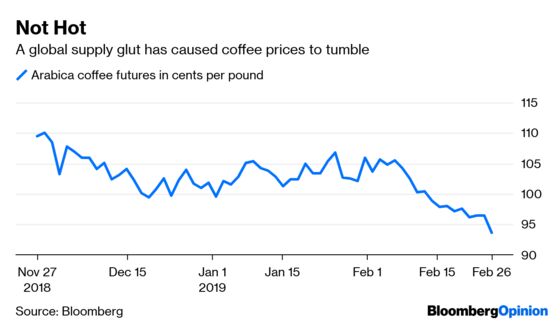 TEA LEAVES
With the global economy slowing down, more market participants are talking about the risk of deflation, or at least disinflation. That's certainly reflected in the big drop in sovereign bond yields this year. Canada's government on Wednesday is forecast to say that its consumer price index rose just 1.4 percent in January from a year earlier. That would be down from December's 2 percent increase and the lowest since 2017. No wonder that Canada's government bonds are some of this year's best performers, with yields on 10-year notes dropping by 49 basis points to 1.87 percent. 
This column does not necessarily reflect the opinion of the editorial board or Bloomberg LP and its owners.
Robert Burgess is an editor for Bloomberg Opinion. He is the former global executive editor in charge of financial markets for Bloomberg News. As managing editor, he led the company's news coverage of credit markets during the global financial crisis.