Piketty Should Take Off That Yellow Vest
(Bloomberg Opinion) -- Thomas Piketty, the rock-star economist, doesn't burn cars or deface the Arc de Triomphe, yet his "Manifesto for the Democratization of Europe" has some striking similarities with the demands of the French protesters. Trying to appease the Yellow Vests by adopting parts of his manifesto would be a mistake.
The reforms proposed by Piketty and a group of intellectuals and politicians — notably Pablo Iglesias, leader of Spain's leftist Podemos party — include the creation of a European Assembly. It would have the power to shape a common budget and impose common taxes, something that at present requires the unanimous agreement of EU member states.
Piketty advocates four measures that would collect a total equivalent to 4 percent of Europe's GDP:
Raising the rate of corporation tax to 37 percent throughout Europe, from an average of 22 percent, with larger companies paying a higher levy than smaller ones.
An additional tax on high earners: a 10 percent levy on incomes of more than 100,000 euros a year, doubling to 20 percent for those of more than 200,000 euros a year.
A wealth tax of 1 percent on estates valued at more than 1 million euros and a 2 percent charge on those worth 5 million euros or more.
A carbon emissions tax.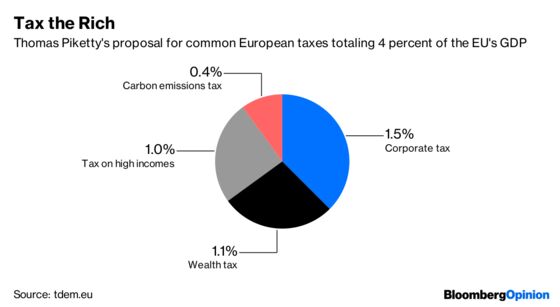 The latter, of course, wouldn't please the Yellow Vests. After all, President Emmanuel Macron's fuel taxes set off the protests. But the first three do echo their calls for higher levies on big corporations, wealth and higher earners. They may not have the data Piketty cites concerning the drastic decline of corporate taxes and levies on high incomes since the 1980s, with the revenue replaced through higher indirect taxes, but the protesters do have a gut feeling that the rich are getting richer while they get poorer, and bear most of the tax burden.
The Yellow Vests probably wouldn't spend the money in the way Piketty proposes, though. He wants half of the collected funds to devolve directly to member states so they can lower value-added taxes and employees' social contributions. The rest would be spent in the countries where the tax is levied, but on common programs — the biggest of which would be funding for university research.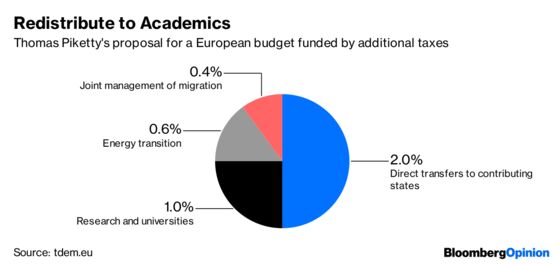 I'm not sure anti-elite protesters would endorse giving a quarter of the money taken from the rich to academics, or the substantial spending on the energy transition that Piketty wants. They're more focused on a higher minimum wage and pension increases. 
The problem with the redistribution proposed by both the Yellow Vests and Piketty isn't with the spending, but with the confiscation. What is being proposed is essentially a return to the fiscal policies of the 1970s, which provoked Astrid Lindgren to write her satirical essay "Pomperipossa in Monismania." In 1976, the children's author was confronted with a tax bill of 102 percent of her income. In the tale, Pomperipossa is, like her, a writer living in the tax-hungry country of Monismania. She wrote:
People should not be punished and persecuted just because they by honest means — with or without their will — happened to make money. But this was, as far as Pomperipossa could understand, what was happening now. With pure destitution grinning square in her face, it was hard for her to see it any other way. What is this, she thought, a remarkable sour, jealous stench reeking all over Monismania? And why is no one speaking up loudly: "This cannot stand, for then all industriousness in our beloved country will end and there will be no small business people left in our land to tax."
Lindgren's complaints are relevant to the modern demands to tax the rich, even though they purport to exempt small business. Many business owners would be hit by the additional income taxes. Even if they earn 100,000 euros or more a year, they might not consider themselves to be rich. In France, according to Credit Suisse's Global Wealth Report, more than 2.1 million people have assets of more than $1 million, mostly in the form of real estate. Most of these people aren't super-rich; many are modest entrepreneurs, creators, engineers, people with decent incomes from demanding, competitive jobs. Hit them with new taxes and watch them flee to the U.S. and Asia. They won't stay like patriotic Lindgren, whose essay helped to topple the Swedish government in 1976. And no amount of government funding for universities will repair the damage that envy-based taxation can wreak on economies already finding it hard to innovate.
As for higher corporate taxes, they make even less sense in a legal environment that turns a blind eye to elaborate tax avoidance measures. Multinationals that don't even pay the current rates will be even less likely to pay higher ones. Companies should be forced to pay a fair share of taxes where they operate — but that has little to do with higher rates. It means closing loopholes and, in some cases, taxing revenue rather than profit, as France and Germany have agreed to do in the case of internet companies that rely on online advertising.
There are some bad reasons why corporate and upper-middle-class income taxes have dropped in recent decades; the emergence of tax loopholes provided by globalization and the ensuing tax competition is one. But there are good reasons, too: the need to stimulate investment, corporate research and development, risk-taking, and entrepreneurship. There are no data that would indicate these policies have been ineffective. Poverty rates haven't risen in Europe compared with the high-tax era. 
It's not clear, therefore, that higher tax rates for the "rich" and for businesses would solve any specific problem, much less as Piketty has suggested, save Europe from itself.
This column does not necessarily reflect the opinion of the editorial board or Bloomberg LP and its owners.
Leonid Bershidsky is a Bloomberg Opinion columnist covering European politics and business. He was the founding editor of the Russian business daily Vedomosti and founded the opinion website Slon.ru.