Nike's Results Put Kaepernick Gamble in Perspective
(Bloomberg Opinion) -- There was no shortage of armchair quarterbacking about Nike Inc.'s decision to feature Colin Kaepernick in a recent ad campaign and thus insert itself into a simmering culture war. Social media was afire with a debate over whether the sports-apparel giant made a mistake by highlighting the former National Football League player who protested police brutality against African Americans by kneeling during the national anthem.
But Nike's first-quarter earnings report on Tuesday served as a reminder of why those questions were always misguided.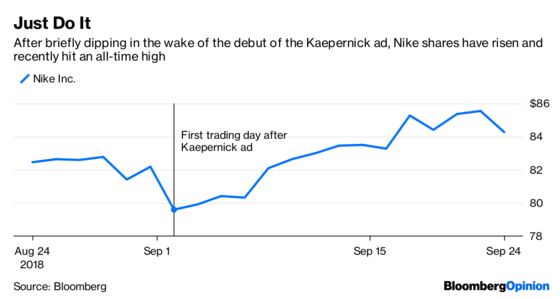 Nike saw things continue to perk up in its home market, with sales in its North America division rising 6 percent over a year earlier. Of course, the quarter ended before the Kaepernick ad debuted, so the campaign's impact isn't reflected in these figures. But the numbers show this segment of the business built on the momentum it generated in the previous quarter, when it returned to growth after three quarters of declines. 
The progress in North America suggests that Nike is putting key challenges behind it. The brand has been working to speed up its design process and supply chain to deliver more covetable products and beat back an insurgent Adidas AG. And it has been sweetening its NikePlus membership program to encourage more shoppers to buy clothes and sneakers from its own stores and websites. Thus, if there is any sustained negative impact from the Kaepernick ad —  and I suspect there won't be — Nike showed Tuesday that its home market is well-positioned to withstand it. 
Also, Nike once again delivered booming sales growth in international markets. Greater China, for example, recorded a sales increase in the latest quarter of 20 percent over a year earlier, adjusting for currency fluctuations; its Europe, Middle East and Africa division saw growth on this measure of  9 percent.
It was always illogical to think the Kaepernick dust-up would resonate much with consumers outside the U.S., if it reached them at all. And this matters immensely, since overseas markets deliver more than half of Nike's annual brand revenue.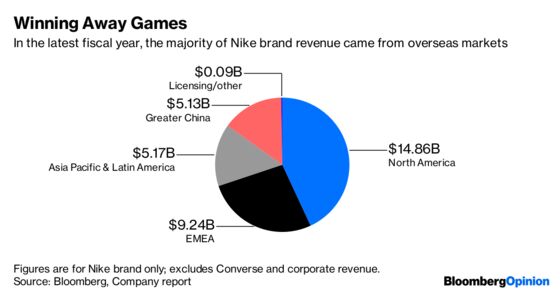 As long as Nike's brand remains strong overseas, it can afford to take marketing risks like the Kaepernick ad in its home market. 
This column does not necessarily reflect the opinion of the editorial board or Bloomberg LP and its owners.
Sarah Halzack is a Bloomberg Opinion columnist covering the consumer and retail industries. She was previously a national retail reporter for the Washington Post.