Markets Are Entering Trade War Purgatory
(Bloomberg Opinion) -- U.S. stocks staged a minor rebound from Monday's gut-wrenching sell-off, with the S&P 500 Index rising 0.8 % to recover about a third of its losses. Nobody is counting on this being the start of a new rally, though, mainly because nothing fundamentally has changed other than President Donald Trump saying he will meet China President Xi Jinping at the Group of 20 summit on June 28-29. In fact, it's now more likely that stocks and other markets do a whole lot of nothing until then. The summit is "the next pivotal moment for talks," Raymond James policy analyst Ed Mills wrote in a research note.
DataTrek Research co-founder Nicholas Colas put it best when he wrote in his daily research note that the dilemma facing investors now is that it's "too late to sell, too early to buy." In other words, investors face a sort of purgatory from which there is no escaping anytime soon.  What about the notion that the Federal Reserve will rush in and cut interest rates to support markets? Federal Reserve Bank of Kansas City President Esther George, who votes on monetary policy this year, summed it up best when she said Tuesday that cutting rates could lead to asset-price bubbles and ultimately an economic downturn. Plus, even though the S&P 500 was down 4.55% this month through Monday, it would likely take a lot more pain to spur the Fed to ease monetary policy.  LPL Financial Chief Investment Strategist John Lynch pointed out that the recent pullback is nothing out of the ordinary for this time of year, with the average peak-to-trough decline being 8.5% during the first five months of the year. The S&P 500 has made it through the first five months of the year without at least a 3% pullback only twice since 1970, with both happening in the historically calm years of 1995 and 2017, Lynch notes.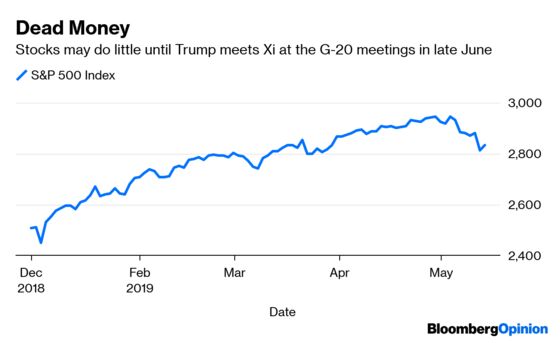 And it's not like the trade "squabble," as Trump described it Tuesday, caught a lot of market participants off guard. In its latest monthly survey, Bank of America Merrill Lynch found that a record 34% of market players surveyed have bought protection against a sharp drop in the stock market over the next three months. The survey also found that the S&P 500 would have to fall to 2,305 before the Fed would be prompted to cut rates. That represents about a 20 percent drop from current levels.
BONDS GONE WILD
Usually the voice of reason, the bond market is looking a little exuberant these days by pricing in as many as three Fed rate cuts this year by some measures. Realistically, the credit markets would have to stop functioning for that to happen, and that's nowhere near the case. Investors are demanding just 1.19 percentage points more in yield to own investment-grade corporate bonds, not much different from this year's low of 1.10 percentage points at the end of last month and far below the 1.57 percentage points entering the year. The trend is similar with junk bonds. And even though a JPMorgan survey this week showed credit investors are the most bearish since 2012, the bulk only expect spreads to widen by 10 basis points to 15 basis points if U.S.-China trade talks fail. There's also no major issues with the "plumbing" of the financial system. One traditional measure of funding stress, the Libor-OIS spread, is less than 17 basis points, the narrowest since 2017. That spread had blown out to more than 40 basis points during the turmoil in markets at the end of 2018. Bank funding costs have fallen back to near record lows of less than 20 basis points, compared with more than 40 basis points in December, showing little concern from counterparties about any inherent risks.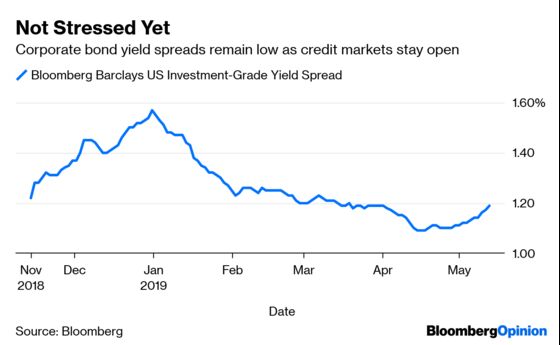 THE YUAN'S NO WEAPON
Longtime China bear Kyle Bass told Bloomberg Television Tuesday that he has closed out his almost four-year wager against the offshore yuan, which seems odd with U.S.-China trade tensions intensifying and the Asian nation's currency weakening. Bass didn't go into details, but there are plenty of market participants who say that China won't tolerate excessive weakness in the yuan even though it might help offset some of the fallout from U.S. tariffs. Bloomberg Economics chief economist Tom Orlik offered six reasons why it won't be easy for China to "weaponize" the yuan by letting it depreciate.  For one, China's trade surplus has narrowed over the last decade to 2.8% of GDP from 7.6%. So while the gains to exporters from a weaker yuan still outweigh the costs to importers, it's by a significantly smaller margin. Plus, based on OECD data, almost 20% of the value added in China's exports comes from imported components. That 20% would get more expensive as the yuan fell, adding costs for manufacturing firms. Then there's China's rocky history with devaluing the yuan. In the span of a few months in late 2015, the People's Bank of China burned through more than $350 billion in reserves attempting to end self-fulfilling market expectations for yuan weakness.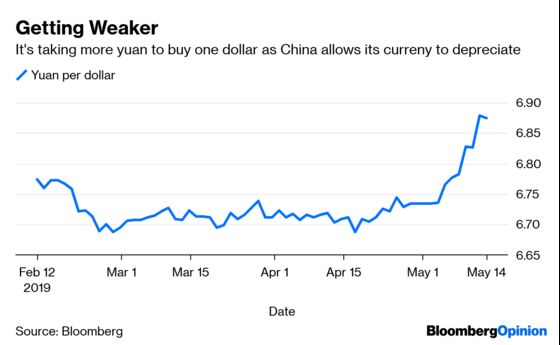 DON'T FORGET ABOUT ITALY
All the focus on the U.S-China trade talks has overshadowed some important market developments elsewhere in the world. While most developed-market sovereign bonds have rallied as central banks turn dovish and investors seek a haven from the turmoil in riskier assets, Italian debt has gone in the opposite direction. A slump in Italian bonds on Tuesday pushed two-year yields to their highest level of the year as Deputy Prime Minister Matteo Salvini reignited fears that the country's deficit will breach European Union limits. Salvini said Italy would be ready to break EU fiscal rules as a way to boost employment, fueling concern about a repeat of the nation's budget standoff with the bloc last year, according to Bloomberg News's John Ainger. Investors dumped Italian bonds in droves last year as the ruling coalition in Rome sought to cut taxes and boost spending, which threatened to add further to an Italian debt load that is already more than 130% of economic output. Italy is always worth keeping an eye on, if only for the fact that it has about $2.25 trillion of bonds outstanding, making it one of the world's five biggest debtors. A crisis in confidence here could quickly escalate into a global crisis. Italian two-year bonds now yield 1.32 percentage points more than German bunds of similar maturiyy, expanding from 0.64 percentage point in mid-March in a sign of investor concern.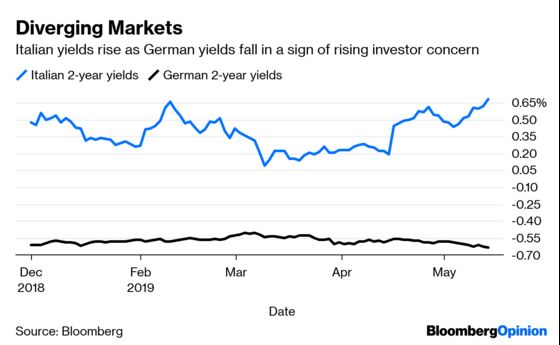 TAKING SOME CHIPS OFF THE TABLE
Emerging markets have been hit particularly hard by the intensifying trade spat between the U.S. and China. Since peaking this year on April 17, the MSCI EM Index of equities is down 7.43%, compared with a decline of 3.22% in the broader MSCI All-Country World Index. In a lot of ways, this makes sense as investors became overexposed to emerging markets as they led the rebound following the late-2018 selloff. Bank of America's monthly survey showed that emerging markets remained the most preferred region and consensus overweight in investor allocations, with a net 34% overweight for equities. Much of the optimism has to do with the Fed's dovish pivot, but it's unclear how much that can continue to carry emerging markets if the trade frictions worsen from here. In a sign of newfound jitters, investors yanked more than $1 billion from the iShares MSCI Emerging Market ETF on Monday. That's the most since June 2018 and marks a third consecutive day of outflows for the fund that now has $32 billion, according to Bloomberg News's Carolina Wilson and Aline Oyamada. Janus Capital Management is rethinking its overweight position in developing nations and Morgan Stanley, which was bullish at the end of April, is saying it's now "cautious" in the near term.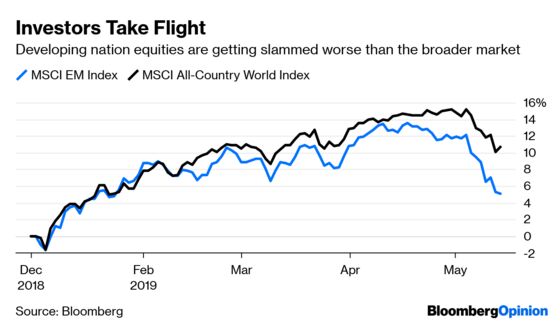 TEA LEAVES
It is the job of Fed policy makers to be cautiously optimistic and talk up the economy. After all, it does nobody any good to have central bankers walking around every day touting doom and gloom. But on Wednesday, market participants will get a big sense of whether U.S. economic activity really is, in the words of the Fed, rising at a "solid rate" when the government releases its retail sales report for April. The median estimate of economists surveyed by Bloomberg is for a rise of 0.2 percent, marking a rapid slowdown from the 1.6 percent jump in March that was goosed by big gains in motor vehicles and at gasoline stations.  Sales in the "control group" subset, which some analysts view as a cleaner gauge of underlying consumer demand, is also seen inching up 0.2 percent following March's 1 percent increase. Bloomberg Economics is more pessimistic, forecasting that sales were flat in April due to a sharp drop in auto sales. Nevertheless, April was a good month for the stock market and there's a chance that consumers were feeling flush. "While April's sales are not expected to replicate the stellar performance in March, the strong data for the last month of the first quarter already created solid momentum for personal spending to recover significantly from the first quarter's lull," Bloomberg Economics wrote in a research note.
This column does not necessarily reflect the opinion of the editorial board or Bloomberg LP and its owners.
Robert Burgess is an editor for Bloomberg Opinion. He is the former global executive editor in charge of financial markets for Bloomberg News. As managing editor, he led the company's news coverage of credit markets during the global financial crisis.