Italy's Banks Leap Aboard a Burning Ship
(Bloomberg Opinion) -- You can't say Italy isn't creative when it comes to rescuing its banks. Banca Carige SpA, a mid-sized lender based in Genoa, has been under pressure from the European Central Bank to strengthen its capital base. Investors were reluctant to meet these demands, leaving the bank at the risk of resolution (an orderly failure, in other words.)
On Monday, the rest of the Italian banking system came to the rescue. Carige issued up to 400 million euros ($450 million) in subordinated debt, which should be enough to appease the ECB. A finance industry fund said it would buy up to 320 million euros, should Carige not find enough takers.
Italy's banks have clearly decided that a failing bank is the last thing they need. The recent increase in government bond yields is putting pressure on their large stock of sovereign debt. With the risk of a slowing economy and rising funding costs, little wonder they don't want any new shocks.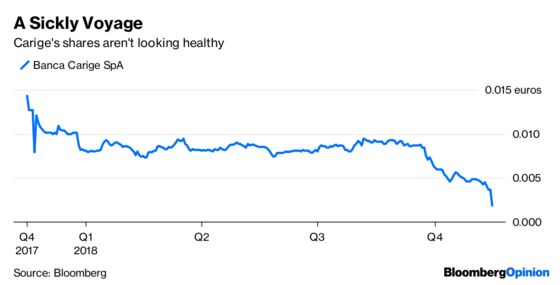 While you can't criticize lenders for choosing to buy some insurance, you can wonder whether the price they're paying will be worth it. The industry's rescue of Carige reminds one of a similar operation two years ago: The creation of the "Atlante" fund, which stepped in to backstop the capital raisings of Veneto Banca SpA and Banca Popolare di Vicenza.
We all know how that went. The two Venetian banks were liquidated last year, after the management of Atlante failed to turn them around. The lenders just had too many bad loans and not enough expected revenue to stand alone. Intesa Sanpaolo SpA eventually took over their good assets, but demanded a subsidy from the Italian government and generous guarantees. Atlante merely delayed the inevitable.
It's hard to say whether Carige will do better. The bank has a respected management team, but its squabbling shareholders have failed to offer the stability needed for a turnaround. The lender is also at the mercy of Italy's broader fortunes. Were sovereign bond yields to rise much higher and the economy to enter a recession, even the best executive would struggle to keep Carige afloat.
The broader question is whether Italy is right to always try to rescue its banks. This has a short-term benefit, as it reduces the risk of a sudden shock that can trigger contagion. But it has long-term costs. Italian banks will become exposed to Carige and use up money which could be put to better use. The price of rescuing the Genoese lender comes as they face other headwinds and could eventually be passed to customers via higher fees.
Italy should have spent more time assessing the experience of Atlante to conclude whether it's worth repeating. Unfortunately, the Bank of Italy hasn't published a full cost-benefit analysis of that fiasco, which would have been helpful. Paolo Giudici and Laura Parisi, researchers at the University of Pavia and ECB, have found that "bailing in" bondholders – that is, forcing them to take a hit – can lead to slightly smaller losses for the financial system as a whole than a capital injection from fellow banks.
Genoa is a city of sailors, including Christopher Columbus. So one can only wish "fair winds" to Carige and its rescuers. Let's hope they haven't jumped on another sinking ship.
This column does not necessarily reflect the opinion of the editorial board or Bloomberg LP and its owners.
Ferdinando Giugliano writes columns and editorials on European economics for Bloomberg Opinion. He is also an economics columnist for La Repubblica and was a member of the editorial board of the Financial Times.