It's Nothing But Lucky 7s for Bond Traders
(Bloomberg Opinion) -- Seven has become a truly lucky number for the bond market. A month ago, the U.S. Treasury's auction of seven-year notes drew above-average demand, helping to reverse what was at the time a nasty sell-off in the fixed-income market. Then on Thursday, the Treasury sold another round of seven-year notes; demand was above average again, helping bonds to rally again.
At the latest auction, investors put in bids for 2.62 times the $30 billion that was offered, the highest so-called bid-to-cover ratio since January. Normally sleepy affairs, bond auctions have taken on more importance with the U.S. in the midst of doubling its borrowing to $1 trillion this year to pay for a growing federal budget deficit. Also, the Federal Reserve is not only raising interest rates, but it's also shrinking its holdings of debt securities. Subpar demand at the auctions could lead to higher borrowing costs not just for the government but for companies and consumers as well. So, what is it about seven-year notes? Yes, the demand was expected to be good amid concerns about rising geopolitical tensions after President Donald Trump called off a planned summit with North Korean leader Kim Jong Un. But there may be a more fundamental issue at play.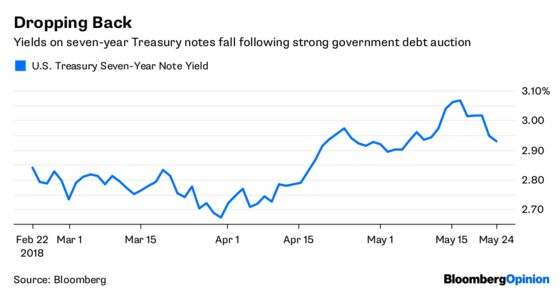 Longer-term debt maturities are generally more sensitive to the whims of inflation than they are to Fed rate increases. And according to the economists at JPMorgan Chase & Co., the faster rates of inflation in developed markets that began in December took what they call "a puzzling step back in April." That dovetails with the minutes of the Fed's last meeting, released on Wednesday, in which policy makers expressed caution over whether the current U.S. inflation rate, which had just reached their 2 percent goals, was sustainable.     
It may not feel like it, especially with the S&P 500 Index little changed over the past two weeks, but the U.S. stock market is breaking away from the rest of the world. After largely moving in tandem for the past three months, the S&P 500 has largely held its value since May 11 while the MSCI All-Country World Index  has dropped to about its lowest level since early April. Although the disconnect has a lot to do with the turmoil in emerging markets, it also shows confidence in the outlook for the U.S. economy and earnings. Earnings-per-share estimates over the next four quarters for members of the S&P 500 have increased about 75 basis points on average, according to Bloomberg Intelligence strategists Gina Martin Adams and Peter Chung. Their fair-value model for the S&P 500 implies a gain to 3,303 over the next 12 months, compared with 2,727.76 Thursday. By comparison, the median estimate of more than 20 strategists surveyed by Bloomberg News is for a year-end level of 2,975. "Based on solid economic momentum, flat unemployment and rising commodity prices, index EPS should be about $164 over the next 12 months," an increase of 17 percent, the BI strategists wrote in a research note on Thursday.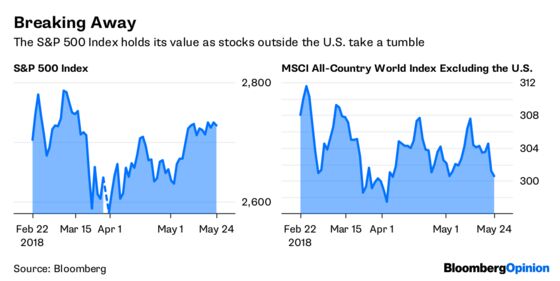 The resumption of tensions between the U.S. and North Korea is doing wonders for the yen. Japan's currency jumped as much as 2 percent Thursday, bringing its three-day gain to 2.43 percent, the most since 2016. Despite a hefty debt load that equates to about 225 percent of Japan's economy, the yen is a traditional haven for traders in stressful times. That's largely because of a sizable current-account surplus that doesn't make Japan reliant on foreign capital. What's usually good for the yen is bad for stocks in Japan and its export-reliant economy. Japan's Topix index fell for a fourth consecutive day on Thursday, the longest slump in 11 weeks. The slump was due largely to the yen's strength and a U.S. probe to consider automobile tariffs, which sent shares of exporters reeling, according to Bloomberg News's Keiko Ujikane. "We're seeing a lot more negative factors for Japanese stocks with the yen's gains, auto tariffs and geopolitical risks surrounding North Korea," said Tomoichiro Kubota, an analyst at Matsui Securities. "In particular, auto tariffs could have a more considerable impact on Japan than steel tariffs."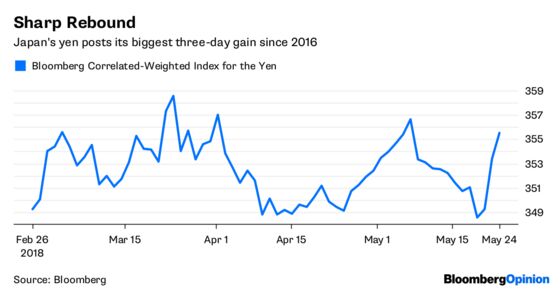 That was the sentiment among traders a day after Turkey's central bank unexpectedly raised interest rates 3 percentage points to a hefty 16.5 percent to shore up demand in the collapsing lira. While the currency, which had plunged 24 percent over the prior 12 months, did rebound 2 percent on Wednesday, traders resumed pushing it lower on Thursday on the notion that the central bank didn't go far enough. Some strategists said rates should have been increased to 20 percent. President Recep Tayyip Erdogan, who's seeking re-election in a June 24 vote, didn't mention the lira or the rate increase in an opening campaign speech in Ankara on Thursday, according to Bloomberg News's Tugce Ozsoy and Dana El Baltaji. While he kept his remarks on economics brief, he reiterated his commitment to an open economy. "Is lira weakness avoidable? Perhaps not so much, considering Turkey's high inflation and large external financing needs," said Emre Akcakmak, a Dubai-based portfolio adviser at East Capital International. Foreigners sold a net $638 million of Turkish bonds last week, the most since 2016.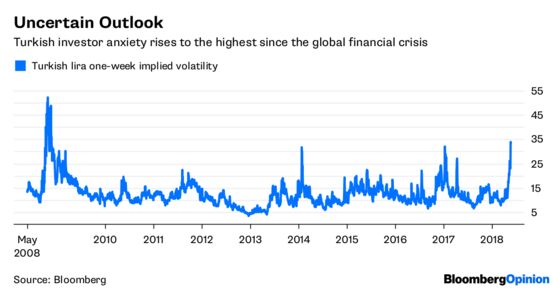 Can anything stop the commodities market? The Bloomberg Commodity Index eked out its seventh straight gain on Thursday, its longest rally of 2018. The gauge, which is up 3.94 percent this year, is now the highest since August 2015. But one important commodity hasn't received the memo to rally. The price of rough rice futures tumbled 3 percent on Thursday to the lowest in a year after dropping 3.33 percent on Wednesday. Rice is the known as the most important food in the world, directly feeding more people than any other crop, including almost half of world's population. In that sense, the drop is good. What wouldn't be good is if the drop is response to a new study in Science Advances that contends rice will become less nutritious as carbon dioxide levels increase. "Declines of protein and minerals essential for humans, including iron and zinc, have been reported for crops in response to rising atmospheric carbon dioxide concentration," according to an abstract of the study. "For the current century, estimates of the potential human health impact of these declines range from 138 million to 1.4 billion, depending on the nutrient."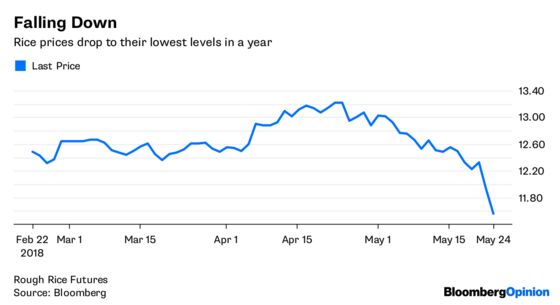 All eyes will be on Stockholm on Friday as central bank royalty convene to contemplate their existence. Fed Chairman Jerome Powell, Bank of England Governor Mark Carney and Rinksbank Governor Stefan Ingves are among those who will attend a conference titled "Central Banks in the Past, Present and Future" as part of the celebration of the Swedish central bank's 350th anniversary. Also scheduled to be in attendance are European Central Bank board member Benoit Coeure and Russian Central Bank Governor Elvira Nabiullina. Major central banks are trying to reverse years of zero and negative interest rate polices without causing too much disruption to global financial markets. The assets of the balance sheets of the Fed, ECB, BOE and Bank of Japan are equal to 37.2 percent of their collective economies, up from 10 percent before the financial crisis, according to data compiled by Bloomberg.