Indonesia Loves Stability. Fine. What's Next?
(Bloomberg Opinion) -- Bank Indonesia wants you to know it really, really likes stability.
The stoutness, on display Thursday when the central bank  kept interest rates unchanged, does nothing to address Indonesia's inflation problem. The problem is that it's too low.
Like a lot of emerging-market central banks, Bank Indonesia has the ability and capacity to cut rates. It made no bones about why it aggressively chased borrowing costs higher last year: The Federal Reserve kept pushing its rate higher, so in order to stem a slide in the rupiah, Indonesia had to follow. Six times.
Now that the Fed looks like it's done, Indonesia should cut. But officials are very wary. They like "stability." In part, they don't believe the Fed is finished, and I can appreciate where they are coming from. The Fed's about-face last month was abrupt and the U.S. isn't falling off a cliff.
That's an argument for BI not going wild and crazy, taking back everything it did in 2018. It's not a robust argument for doing zip.
Policy makers needn't fret overly about the rupiah: It's one of the best performers in Asia this year and did OK in the fourth quarter of 2018. Concern about stability seems excessively cautious. Describing policy as hawkish, as Deputy Governor Dody Budi Waluyo did, is too much.
Who needs to be hawkish now? Not even Brazil worries about high inflation anymore.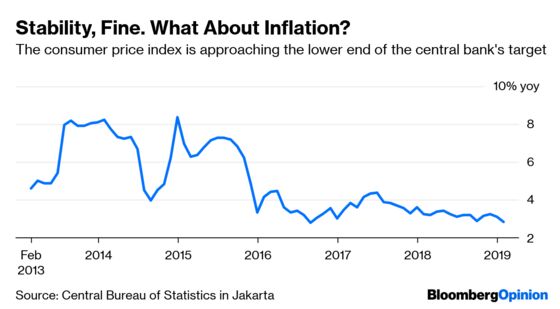 While I can see the case for some prudence, it won't turn around the troubling downward march of inflation. The pace of price increases went backwards in Indonesia last month, easing to 2.8 percent, approaching the bottom of BI's target range. The trend isn't unique to Indonesia and doesn't even seem remarkable in Asia.

You have to wonder what's going to lead to a spike in prices if an emerging-market currency rout in the ninth year of a global expansion didn't do it. It's not yet deflation, as HSBC Holdings Plc's Frederic Neumann observed this week. "Yet given the growing risks of such a stumble, it's probably best to act pre-emptively," Neumann wrote.
I'm all for stability. To be fair, Indonesia erring on the side of caution is grounded in bitter historical experience. The country was ground zero in the Asian financial crisis when the rupiah collapsed. That didn't only wreck the economy; the political structure collapsed and sectarian violence erupted. As I wrote during a 2017 visit to Jakarta, the mantra of the folks in charge of economic policy might be: never again. And they are right to keep an eye on the current-account deficit. 
But times change. It's not 1998. And stability, or instability, can cover a multitude of sins. Don't let inflation dwindle to microscopic levels. You will have tricky time reviving it.
It doesn't have to be that way.  Let's not equate stability with stasis in Indonesia.
This column does not necessarily reflect the opinion of the editorial board or Bloomberg LP and its owners.
Daniel Moss is a Bloomberg Opinion columnist covering Asian economies. Previously he was executive editor of Bloomberg News for global economics, and has led teams in Asia, Europe and North America.