An Options Trader's Guide to Post-Pandemic Air Travel
(Bloomberg Opinion) -- As Covid-19 vaccines start to roll out around the world, people who haven't been beyond their suburb in months are thinking of spreading their wings.
There's an opportunity here for both travelers and the airlines that are keen to coax them back on board. To get the best value out of the transaction, it's worth taking some lessons from financial markets.
On the customer side, things couldn't be more different. While many workers have suffered from unemployment and reduced shifts, households in aggregate (and especially the more affluent core air-travel demographic) are swimming in money. U.S. households have set aside roughly $30 trillion over the past year, with the savings rate peaking at more than a third of disposable income in April.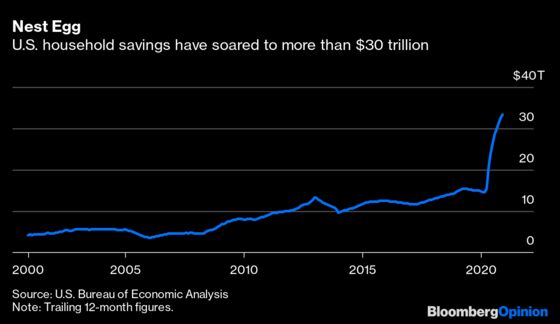 That presents a phenomenal incentive for carriers to shift funds from household balance sheets to their own. United Airlines Holdings Inc.'s decision last August to abolish fees for changing flights is a decent example. Ancillary charges made up a particularly profitable $2.4 billion of the company's $43 billion revenue in 2019. By canceling change fees, it's giving up that long-term margin for the sake of some short-term cash.
There'll be plenty more such examples as the world emerges from its quarantine cocoon.
"Airlines are having to lower prices to encourage people to make long-term plans," said Andrea Staines, a non-executive director and chief executive officer of Qantas Airways Ltd.'s former Australian Airlines unit. That means that people aren't just buying air tickets any more: "You're paying for options."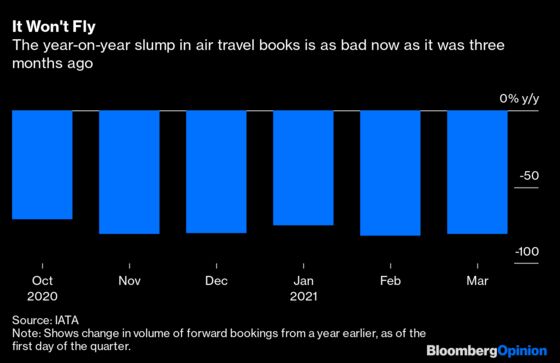 If that sounds like passengers are engaging in a complex derivatives trade, it's no accident. Airlines are in the business of selling a highly perishable commodity — tickets for travel on a specified route and date. Within each part of the cabin, these vary from pricier fully flexible fares to the cheapest buckets, where all the costs of cancellation or changes may fall on the customer.
You could define the basic value of a ticket as the airline's costs — typically around 7 cents or 8 cents per passenger, per kilometer almost everywhere in the world — plus whatever margin they can hope to eke out. On top of that, you'll pay a premium for things like flying business class, booking late or during holiday periods, ancillaries like luggage fees, or having more flexibility to change your booking.
A fully cash-refundable fare is like an option to buy a ticket on a specified date. Ignore the opportunity cost of having your money locked up, and it's free as well. That's an attractive prospect. With so much uncertainty about governments' decisions on opening borders, that option value has gone up substantially — a fact that ticket prices don't always reflect. This is all the more reason to closely scrutinize terms and conditions, which appear to be shifting in the customer's favor, according to Staines.
For instance, a return two-week economy-class trip from Sydney to London on Qatar Airways Ltd. in September can be had for A$1,755.70 ($1,345) right now. That's on the low side of typical prices, coming to less than 4 cents per passenger kilometer — but it also comes with unlimited changes or cash refunds through this year. Those who choose to take their money back as a voucher — effectively making a zero-interest loan to the airline — do even better, receiving a 10% value bonus on top of the amount they put down.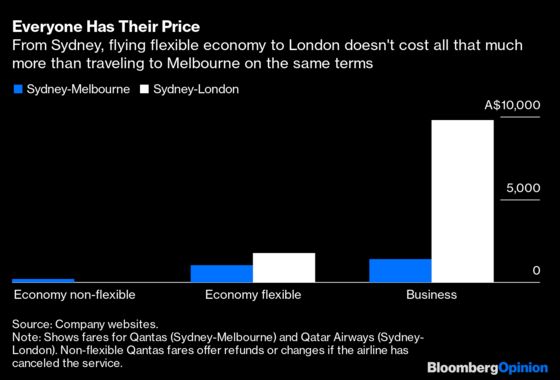 In other places, the option value already looks richly priced. A return trip with Qantas on the same dates for the one-hour hop between Sydney and Melbourne comes to A$1,044 with a flexible economy fare, not all that much less than flying to Europe and back. Give up the refund option, though, and you pay just A$220 . It's up to travelers whether they want to spend a 375% premium in return for some flexibility — but given the way Australia's state borders have been repeatedly closed and reopened during this pandemic, there will no doubt be those who don't want to roll the dice.
Many passengers will look at these sorts of games and conclude that airlines are shameless price-gougers. In truth, they're loss-making businesses trying to make the best of a horrible quandary. With almost every carrier in the world staring down the possibility of bankruptcy and a chaotic quarantine situation that could continue well into 2022, they're using their usual tools of price discrimination to see what fares the market will bear.
If they price too high, they'll be accused of exploitation — not a good idea these days, when so many are in receipt of government bailout funds. Price too low, and passengers will come to expect discount fares as normal, making it ever harder for carriers to pay down the debts they've been amassing.
Life as an air passenger in 2021 will feel like a high-stakes trip to the travel casino. Life as an airline will be even worse.
You can still get a refund if the service is canceled.
This column does not necessarily reflect the opinion of the editorial board or Bloomberg LP and its owners.
David Fickling is a Bloomberg Opinion columnist covering commodities, as well as industrial and consumer companies. He has been a reporter for Bloomberg News, Dow Jones, the Wall Street Journal, the Financial Times and the Guardian.