It's Been a Good Summer for Building and Fixing Roads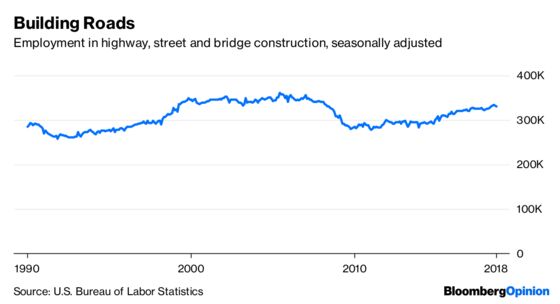 Employment in road building is still well below the levels of the 2000s, though, and government spending on highway construction is lower in real terms as well. That's partly because there's less need for new roads: New housing has been going up at a slower pace than in the 1990s and 2000s, and a larger share of it is in apartment buildings, many of them in already built-up areas. But it's also the result of relying on gas taxes to finance most roadwork. More fuel-efficient vehicles and a slowing in the growth of vehicle miles traveled, along with the fact that most gas taxes aren't linked to inflation, have resulted in chronic revenue shortfalls. Many states and localities have relied on debt to cover the difference, with the upshot that bond interest and principal payments were the fastest-growing categories of highway spending from 2002 to 2012. The spate of gas tax increases since then may ease that problem for a while, but it will likely also speed the transition to electric vehicles that pay no gas taxes at all. Meanwhile, talk of a big new federal infrastructure push has so far resulted in zilch. Private investment in toll roads can and should fill some of the gap, but in general I think the message is that road builders should enjoy the moment. It may not last.
This column does not necessarily reflect the opinion of the editorial board or Bloomberg LP and its owners.
Justin Fox is a Bloomberg Opinion columnist covering business. He was the editorial director of Harvard Business Review and wrote for Time, Fortune and American Banker. He is the author of "The Myth of the Rational Market."