Ferrari's Supercar Strategy Deserves a Little Faith
(Bloomberg Opinion) -- You could say Ferrari NV made a hot rod for its own back.
When the Italian sports car maker started selling the $2.1 million LaFerrari Aperta convertible in 2016, it helped supercharge revenue and profit growth. Unfortunately the problem with limited editions is that shipments ultimately end.
The slowdown of the supercar's sales contributed to Ferrari missing analysts' revenue and profit forecasts in the third quarter, compounded by currency difficulties. But it doesn't make sense to all of a sudden become a Ferrari pessimist.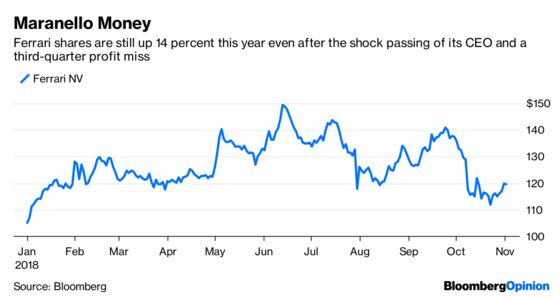 For a start, even as they missed expectations, earnings still ticked upwards. And investors should have a little faith in the company's strategy.
Strangely, limited edition models can create a problem for a publicly traded luxury carmaker such as Ferrari. Part of the appeal of a high-end brand is that it's supposed to be somewhat immune to the cyclicality of other consumer products. While these vehicles boost profitability, they do so only temporarily.
Luckily for investors, Ferrari has a solution: its "Icona" segment will formalize the regular introduction of special edition vehicles. In September it unveiled the Monza SP1 and SP2, saying it will sell just 499 of the cars for a margin-boosting 1.6 million euros ($1.8 million) apiece. It expects to start shipping these next year, and according to Bloomberg News is already working on a follow-up.
The vehicles are a key plank in Chief Executive Officer Louis Camilleri's plan to lift earnings before interest, taxes, depreciation and amortization to 38 percent of sales by 2022. The former tobacco executive, who took over from the late Sergio Marchionne in July, aims to put Ferrari on a par with storied fashion houses such as Hermes International.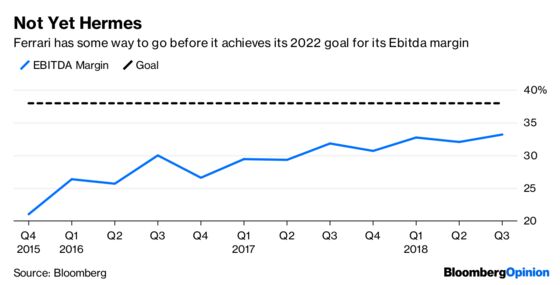 For once with Ferrari, it pays to consider it more a tortoise than a hare.
This column does not necessarily reflect the opinion of the editorial board or Bloomberg LP and its owners.
Alex Webb is a Bloomberg Opinion columnist covering Europe's technology, media and communications industries. He previously covered Apple and other technology companies for Bloomberg News in San Francisco.