How the Fed Can Help Working Women
(Bloomberg Opinion) -- The Federal Reserve is widely expected to raise interest rates by a quarter of a point this week. Still, there are concerns that this increase may be premature: According to the Fed's preferred measure, inflation is under control, and while unemployment is low, wage growth has so far been tepid.
There is another reason, however, not to raise rates, one that hasn't gotten as much attention. Historically, tight labor markets have tended to empower the less privileged, particularly women and minorities. The Fed should be careful not to undercut this trend before it has a chance to affect women throughout the job market.
Economists have long suspected that worker shortages could play a role in advancing civil rights. The image of Rosie the Riveter during World War II reflected changing expectations about the types of work women were allowed to do.
Harvard economist Claudia Goldin has shown that the use of so-called "marriage bar" policies — by which firms did not hire married women and fired single women when they got married — collapsed during the 1940s. The end of these policies, combined with declines in unemployment and the increase in demand for labor, led to a surge in married women's labor-force participation rates. In 1940, according to Goldin, only 13.8 percent of white married women aged 35 to 44 years were in the workforce. By 1950, the figure was 25.3 percent. Other age groups experienced similar gains.
Increased participation in the workforce gave married women the financial resources to demand a more equal position in society. It's no accident that the women's rights movement, and the civil rights movement more generally, gained strength amid the rapid wage growth and low unemployment of the 1960s.
Today a similar phenomenon seems to be taking hold. Over the last two years the labor force participation rate for prime-age women has recovered almost completely from the Great Recession, while its male equivalent is still depressed.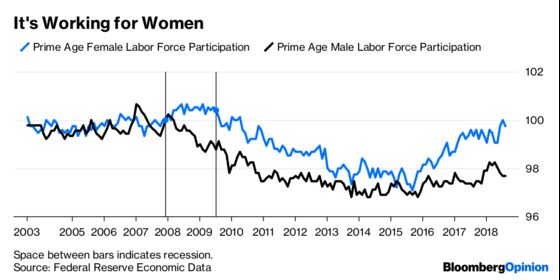 Coincidentally — or not? — this improvement in women's employment status has corresponded with an increased willingness of women to challenge abuses in the workplace. The social dynamics underlying this movement are of course complex. But if one of the factors preventing women from speaking out was fear of losing their job or damaging their career, then a robust labor market can help. It cannot remove these threats, but it can soften them.
The Fed can support the increasing empowerment of female workers, which is affecting working-class as well as professional women, by allowing the labor market to continue to tighten. It's yet another issue the Federal Open Market Committee may want to take under consideration this week.
This column does not necessarily reflect the opinion of the editorial board or Bloomberg LP and its owners.
Karl W. Smith is a senior fellow at the Niskanen Center and founder of the blog Modeled Behavior.