Companies Suffered. Now It's Consumers' Turn to Pay.
(Bloomberg Opinion) -- Hope you enjoyed the 2018 discount. Don't expect the bargains to continue.
Companies struggled last year because input costs were rising but companies were unwilling or unable to pass those costs to consumers. Profit margins and stock prices stumbled, and consumers reaped the benefit.
This year looks like a different story. Thanks in part to financial market stumbles over the past few months, input cost pressures are abating. At the same time, corporations are still in the process of passing on the higher costs to consumers this year now that they're in a better position to do so. What we might get is a profit margin recovery for companies – as inflation in 2019 hits consumers instead.
Those reduced input cost pressures should be great news for companies that got hammered by them in 2018. As recently as October, crude oil was at $75 a barrel and had increased 50 percent over the prior year. Now, it's around $50 a barrel and is down 20 percent over the past year. Thanks to the decline in interest rates over the past few months, 10-year Treasury rates are about to be down on a year-over-year basis, which should provide relief to the housing market and companies tied to housing.
Freight costs, a big source of input cost inflation in 2018, may be abating. One component from the Producer Price Index report – truck transportation of freight – saw its year-over-year growth peak in July and has been decelerating. Some of that could be attributable to higher freight prices leading to more trucks and drivers on the road, some could be a freight shift from trucks to rail, and some could show the weakness in the global trade market.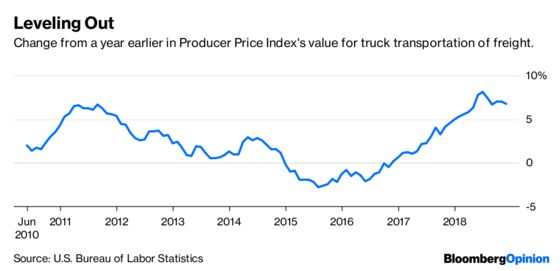 What's not clear is how this will affect consumers. The decline in energy prices and interest rates will directly benefit households; there's not much of a lag there between changes in market prices and what consumers end up paying. But for other goods and services it's less clear. Take Netflix, which announced a double-digit price increase this week. Content production costs continue to rise as both incumbent firms and upstarts fight to gain market share, and Netflix is passing some of those costs on to consumers.
What we could end up getting is a lag between when companies absorbed the input cost pressures and when they finally are passed on to consumers. The higher input costs were a story from late 2017 through autumn 2018, but in many cases companies didn't start announcing their price increases in response to those higher costs until the middle of 2018. Companies may also find it easier to pass on higher costs to consumers now that wage growth is higher than it was a year ago.
All this could set us up for a couple quarters of hot consumer price inflation prints even as companies' input cost pressures have eased.
Assuming input cost pressures stay subdued, if companies do pass along those price increases over the next couple quarters, we shouldn't overreact. It doesn't necessarily mean inflation is breaking out and profit margins are in a new expansion phase.
This guidance is particularly important for the Federal Reserve, which appears to have reined in its tightening cycle for the time being. A spell of consumer price increases may just indicate an economy that's back in balance.
This column does not necessarily reflect the opinion of the editorial board or Bloomberg LP and its owners.
Conor Sen is a Bloomberg Opinion columnist. He is a portfolio manager for New River Investments in Atlanta and has been a contributor to the Atlantic and Business Insider.