Moving to a Place Instead of a Job
(Bloomberg Opinion) -- To the many other divides that cleave our nation these days, we can add another: the one between job-first movers and location-first movers.
Just being a mover is already something of a distinction, with moves across county and state lines down a lot in the U.S. since the early 1980s (although the rate has stabilized over the past decade).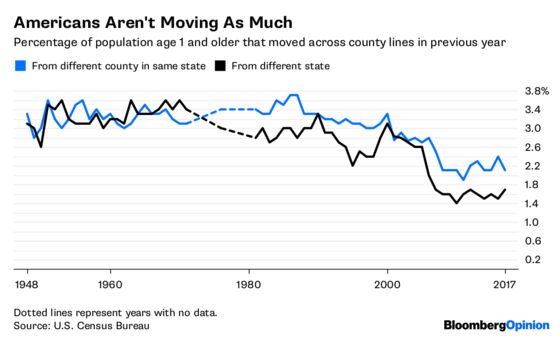 Among the bold souls moving to new metropolitan areas, the online rental marketplace Apartment List this week identified two distinct types:
Job-first movers refer to renters who applied for jobs in multiple cities, then picked a city based on job offers.
Location-first movers refer to renters who chose a city to live in before applying for jobs in that city.
The company surveyed about 10,000 "non-student renters who are currently living in a metro other than where they grew up," and found that just over half were location-first movers. Of these location-firsters, 46.3 percent had bachelor's degrees or higher. Among the job-firsters, 66.4 percent did.  The metropolitan area (out of 32) with the highest percentage of location-firsters was Las Vegas, at 81.8 percent. The one with the highest percentage of job-firsters was San Jose, at 75 percent.
This fits a familiar pattern, in which those with fancy educations gravitate to a few expensive, high-pay metro areas, and the less fortunate/educated head to cheaper locales where the jobs generally aren't as exciting or remunerative. The Wall Street Journal has a new infographic this week of where graduates of 445 different colleges and universities end up (it's behind a paywall, but the Manhattan Institute's Aaron Renn has some highlights that aren't), and the tendency of alumni of elite schools to land in New York, Boston, Washington or Greater Silicon Valley (by which I mean the San Francisco and San Jose metropolitan areas) is awfully strong. Meanwhile, smaller metros — even currently fashionable ones like Boise and Nashville — tend to draw significant numbers of grads only from nearby schools.
A new report out today from Glassdoor, a careers site with a user base tilted (at least aspirationally) toward the high end and the tech industry, paints a similar picture. Of the 668,000 online job applications made via Glassdoor during a typical week in January, 28.5 percent were for a job in a different metropolitan area than the one where the applicant lived. Of those, 19.3 percent targeted jobs in Greater Silicon Valley, with New York, Los Angeles, Washington and Boston taking the next four spots. The list of the metro areas with the highest percentage of outbound job applications was led by Providence, Rhode Island, where 52.2 percent of all applications were for jobs in other metros, and filled with a bunch of other secondary metros (some but not all with prominent universities in them).
So it's a rich-get-richer situation, but with a couple of twists. In the Apartment List survey, the metro areas with the highest share of location-firsters include a few pretty affluent places with lots of good jobs. They just also happen to have reputations as especially nice places to live.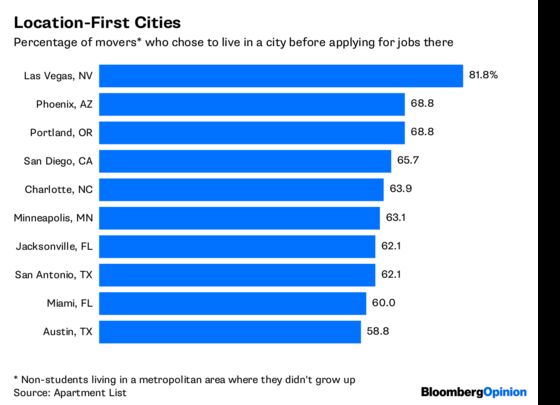 When Apartment List asked job-firsters and location-firsters about their plans for the future, another interesting pattern appeared. According to Sydney Bennet, a senior research associate at the company:
Of ... location-first movers, 42.8 percent plan to stay in their current metro, compared to just 27.3 percent of job-first movers. This trend holds true within each of the metros studied. For example, in the Atlanta metro, 51.1 percent of location-first movers plan on staying in the Atlanta area, compared to 27 percent of job-first movers.
These location-firsters, then, sound like the kind of people you want to attract to your metro area. They're going to stick around, raise families and knit themselves into the fabric of the community, not leave town when the next good job opportunity opens up. OK, it's not quite as simple as that: As my fellow Bloomberg Opinion columnist Noah Smith wrote in March, attracting lots of smart people who don't stick around (as Pittsburgh's Carnegie Mellon University has done through the years) can still pay off by attracting a few who do. But in a country where most people now seem reluctant to move at all, and most of the job-firsters will probably keep heading toward a limited number of big, rich metro areas, the location-firsters are a pretty great catch.
In 2016, Michael J. Hicks and Dagney Faulk of the Center for Business and Economic Research at Ball State University — located in the small and shrinking metropolitan area of Muncie, Indiana — set out to answer a question: "Do people follow jobs, or do jobs follow people?" After surveying the academic literature and studying population and employment growth in Indiana over several decades, they concluded that, while things were different back in the 1970s, it was now almost entirely the latter:
The clear implication of this finding is that policies that focus on relocating capital investment, in order to move people to jobs, will be ineffective. In contrast, policies that effect the relocation of people to regions will also increase employment availability.
Make your city a place that location-first movers would want to move to, then, and good things may follow.