The Bond Beatings Will Continue Until Morale Improves
(Bloomberg Opinion) -- No one should be surprised by the recent sell-off in the bond market, as it's been anticipated for years. What has been unexpected is the speed of the move. The yield on the benchmark 10-year Treasury note reached 3.12 percent Thursday, the highest since 2011. At the start of this year, economists and strategists didn't foresee yields reaching such levels until mid-2019, Bloomberg News surveys show. 
To value investors, such a move smacks of a market that has overshot to the downside. Indeed, there are any number of reasons to like bonds, including 10-year yields that are a hefty 1 percentage point above the inflation rate and a global economy that appears to be downshifting. But like so much else in global markets today, fundamentals hardly matter. It's all about "momentum," and right now betting against bonds is a winning trade. Commodities Futures Trading Commission data show that hedge funds and other large speculators have built up a record position against 10-year Treasuries, and derivatives suggest that the odds of four interest-rate increases by the Federal Reserve this year are getting close to 50 percent.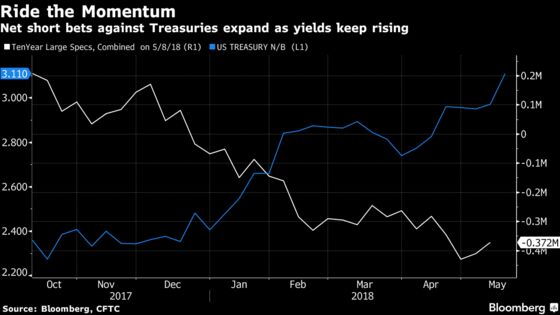 "We're not bearish on (Treasuries) as we've seen little to support the notion in the harder data, but we're a bit more sanguine on whether yields can continue to (rise) for the time being," the top-ranked rates strategists at BMO Capital Markets wrote in a research note Thursday. "The market's doing nothing wrong from a technical perspective and that's an admittedly glib way of saying that momentum is stretched but showing no signs of an imminent reversal."
If the bond market does reverse and begin to rally again, perhaps it will be because of overextended U.S. consumers. The New York Fed released data on Thursday that showed total household debt jumped 0.5 percent in the first quarter to $13.2 trillion, a new record. At the same time, the number of consumers inquiring about taking on more credit within six months fell 5.65 percent, the most since the height of the financial crisis at the start of 2009. The optimists might say that the decline is a good sign because it shows consumers see less of a need to take on debt thanks to the savings realized from tax reform. The pessimists might say it shows a lack of confidence in the outlook for the economy despite any extra savings from tax reform. It's notable that the New York Fed data also show the share of auto loans more than 90 days late rose to 4.3 percent in the first three months of 2018 – the highest in six years. In addition, student debt outstanding topped $1.4 trillion for the first time, rising from $1.34 trillion a year earlier. The economists at housing finance giant Fannie Mae wrote in a research note Thursday that although they see the economy expanding 2.7 percent in 2018, growth will slow to 2.3 percent in 2019 as this year's fiscal stimulus fades.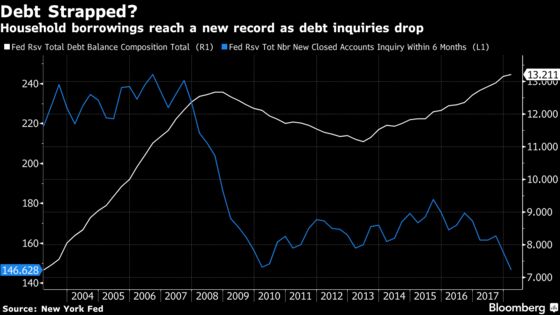 Then again, maybe the reason consumers are hesitant to add to their already high debt loads is because they suspect much of the extra income they may realize from tax reform will go toward paying for higher fuel and gasoline costs. Oil rallied to $80 a barrel in London for the first time since late 2014 amid mounting signs that global stockpiles are shrinking. Drivers are already paying an average of $2.90 for a gallon of regular gasoline, with the traditional Memorial Day holiday start of the summer driving season just a few days away. Although the average costs aren't expected to approach the record $4.14 a gallon reached in July 2008, there's a 75 percent chance they will soon reach $3, Patrick DeHaan, head of petroleum analyst at GasBuddy, told Bloomberg News' Barbara Powell on Thursday. For the three months of summer, assuming prices don't rise any more, Americans will pay an average $100 more for gasoline than a year earlier, DeHaan said. Gasoline prices have jumped 18 percent in the last 12 months, and the strategists at Wells Fargo note that such spikes have historically hit lower-end consumers, and led to slower economic growth rates and smaller stock market gains. They note that lower-income households are now spending more than 10 percent for their income on gasoline.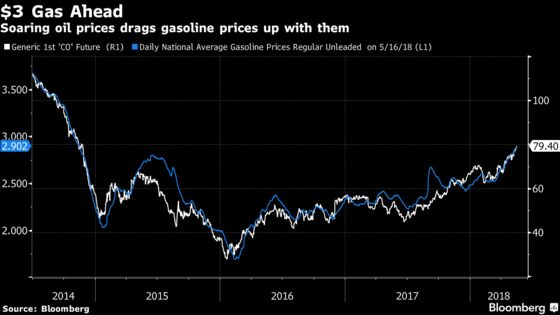 Stocks are stuck in a rut, with the S&P 500 unable to mount any sort of sustained rally, let alone threaten its all-time high of 2,872.87 back in late January. But what about all those buybacks companies are doing with the the earnings they can now bring back from overseas at reduced tax rates? It is true that S&P 500 member firms may repurchase record $650 billion of their shares this year, according to Goldman Sachs. But the amount doesn't look so impressive when compared with the total market capitalization of the S&P 500. Looked at in that light, buybacks will only amount to 2.25 percent of the value of the S&P 500, the smallest percentage since 2009, according to Kevin Muir, a market strategist at East West Investment Management Co. and writer of The Macro Tourist blog. And there's little proof that investors are rewarding companies with big buybacks. The S&P 500 Buyback Index, which measures the performance of the top 100 stocks with the highest buyback ratio, or cash paid for common-share buybacks in the last four calendar quarters divided by the total market capitalization of common shares, has risen just 2.14 percent this year. That's not much different from the S&P 500's gain of 1.83 percent.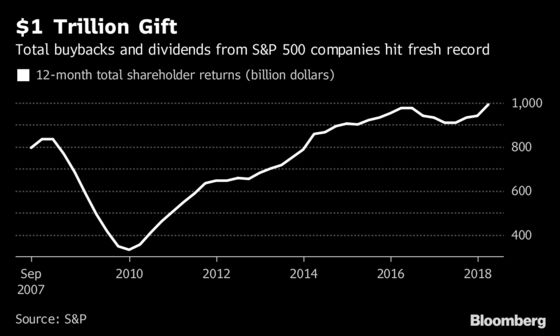 It was the Colombian peso's turn Thursday to be taken to the woodshed by emerging-market investors. The currency was the world's worst performer against the dollar, depreciating 1.66 percent and closing at its weakest level since early February. The drop came even as a central bank monthly survey showed that economists boosted their 2018 inflation estimate to 3.32 percent from 3.25 percent, and raised their forecasts for the peso. A separate survey showed that consumer confidence rose in April. So, what gives? Perhaps investors are spooked a worsening crisis at an unfinished $4 billion dam in northwest Colombia that's causing widespread flooding, displacing thousands of residents and threatening the largest hydroelectric project ever undertaken in the South American country. The areas around the Ituango project, about 100 miles north of Medellin, have been inundated by rushing waters from the Cauca River, leading government officials to declare a state of calamity, according to Bloomberg News' Ezra Fieser. At 225 meters (about 740 feet) tall, it was designed to hold back a reservoir nearly 50 miles long. Around 5,000 people were evacuated from towns near the river on May 16, the national disaster agency said.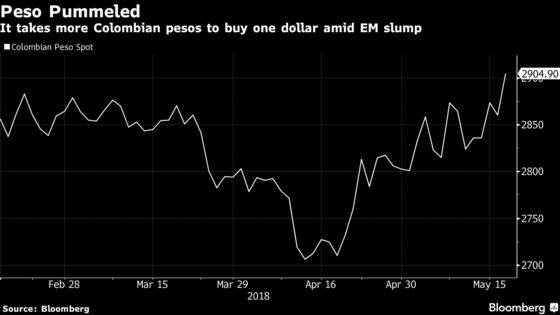 Outside of the U.S. dollar, one of the hotter currencies in recent weeks has been the Canadian variety, also known as the loonie. It has risen 2 percent in the past month against a basket of nine developed-market peers and 3.20 percent over the past three months, trailing only the dollar's 4.27 percent and 5.44 percent gains among the group, according to Bloomberg Correlated-Weighted Indexes. Much of that, of course, has to do with the big rally in oil and energy markets. Investors will get a pair of high-level economic reports Friday that may help determine whether the rally is justified. First, the government may say that retail sales, excluding autos, rose 0.5 percent in March, above the 0.3 percent average gain for the prior 12 months, according to the median estimate of economist surveyed by Bloomberg. Second, the government is also forecast to say that consumer prices rose 2.3 percent in April from a year earlier, keeping the inflation rate at its highest level since 2014. Bank of Canada Governor Stephen Poloz has said he's not worried about price gains above his 2 percent target as long as they are temporary.