Banks Might Have Started Worrying About Brexit
(Bloomberg Opinion) -- For a long time, bankers' concerns about the U.K.'s exit from the European Union didn't seem to have much effect on London's role as a global financial hub.
One measure of London's prominence is the amount of international lending that originates in the U.K. A German bank, for example, might provide financing to an Irish hedge fund from its London operations. Or a U.S. bank might use its London base to make corporate loans in Europe. As long as Britain is part of the EU, the union's financial rules let any bank established there do business throughout Europe with minimal red tape.
When U.K. voters chose to leave the EU in June 2016, bankers warned that a lot of this business would migrate to other European centers, such as Paris, Frankfurt, Amsterdam and Dublin. Yet their actions sent a different message: From June 2016 through March 2018, cross-border lending from the U.K. actually increased by $316 billion, according to the Bank for International Settlements.
Now, though, as the U.K nears the Brexit deadline with no plan for an amicable breakup, some money has started to move. The BIS estimates that in the three months through June, cross-border lending from the U.K. declined by $129 billion (adjusted for currency fluctuations) — the largest drop in three years.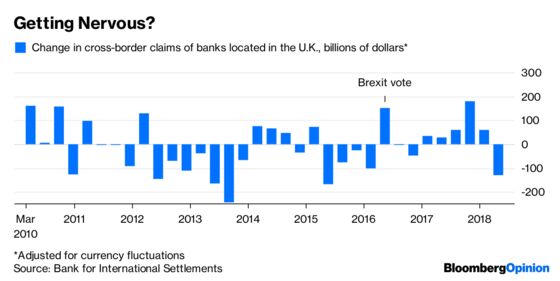 Where did the business go? Well, cross-border lending from France increased by $93 billion, consistent with the story that London's loss will be Paris's gain. Lending from the Netherlands grew by a relatively minor $16 billion.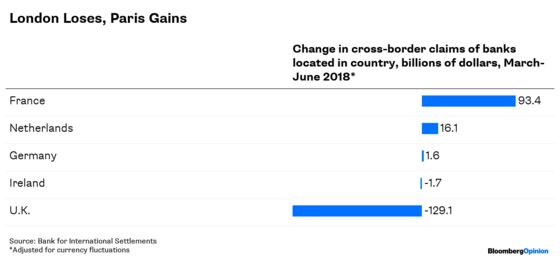 One quarter isn't yet a trend. But given the lack of progress toward an agreement that would maintain access to the European market, it wouldn't be surprising if bankers' actions started matching their words.
This column does not necessarily reflect the opinion of the editorial board or Bloomberg LP and its owners.
Mark Whitehouse writes editorials on global economics and finance for Bloomberg Opinion. He covered economics for the Wall Street Journal and served as deputy bureau chief in London. He was founding managing editor of Vedomosti, a Russian-language business daily.