Bankers at the Top Are Getting Big Raises Under Trump
(Bloomberg Opinion) -- Bankers appear to be doing very well under President Donald Trump. Judging from government data, they're reaping some of the biggest wage gains they've had in a long time.
The Labor Department's jobs report for April offered further confirmation that demand for workers is translating into better pay overall. The average hourly wage was up 3.2 percent from a year earlier, not far from the pace that prevailed before the last recession.
That said, some are doing better than others. And while one shouldn't attribute too much to any given president, it's still interesting to see what changes from one administration to the next. So I broke the job market down into almost 300 sectors, and compared wage gains under Trump to those during Barack Obama's last term in office.
Among the biggest standouts: commercial banks, which employ an estimated 1.3 million people in the U.S. Since Trump took office in January 2017, they have increased their average hourly wage at an annualized pace of almost 11 percent, compared with just 3.3 percent under Obama. Here's how that looks: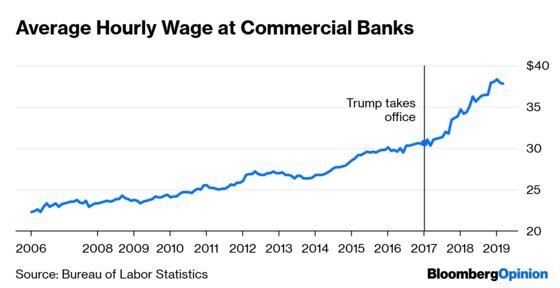 So do the gains offer an answer to Democratic Congresswoman Katie Porter, who recently grilled the chief executive of the country's largest commercial bank — Jamie Dimon of JPMorgan Chase & Co — about the wages of its lowest-paid employees? Not necessarily. That depends on who is getting the raises, and it doesn't appear to be the people at the bottom.
The Labor Department reports two wage series: one for all workers including managers, and one for only production and non-supervisory employees. If the raises were going to the rank and file, the latter should show stronger gains than the former. The reality is the other way around: Wages for all workers rose much faster, suggesting that the gains are concentrated at the top.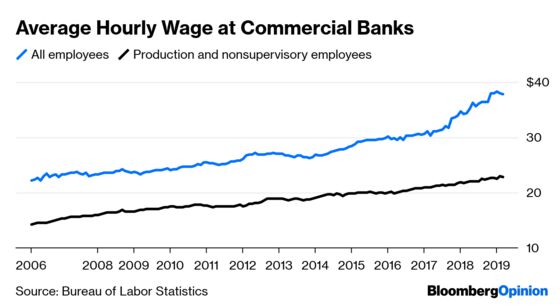 To what do those getting the raises owe their good fortune? Record profits, driven in part by Trump's tax cuts, certainly play a role. Beyond that, maybe executives feel freer to increase pay — including for themselves — on the assumption that they are less likely to come under scrutiny amid Trump's deregulatory drive. Or maybe a tight labor market has made it harder to find qualified professionals, pushing up the wage that the market demands.
Whatever the explanation, it's looking like a pretty good time to be a certain kind of banker.
This column does not necessarily reflect the opinion of the editorial board or Bloomberg LP and its owners.
Mark Whitehouse writes editorials on global economics and finance for Bloomberg Opinion. He covered economics for the Wall Street Journal and served as deputy bureau chief in London. He was founding managing editor of Vedomosti, a Russian-language business daily.