There Are Still a Lot of Men Without Jobs
(Bloomberg Opinion) -- The prime-age employment-population ratio, that most straightforward of job market measures, hit a new post-recession high of 79.5 percent in the U.S. in July, according to today's jobs report from the Bureau of Labor Statistics. This means that of Americans ages 25 to 54 who aren't uniformed military service members or behind bars, 79.5 percent have jobs. The advantage of this metric over the oft-maligned unemployment rate (3.9 percent in July) is that it includes those who aren't actively looking for jobs.
So anyway, 79.5 percent is a big improvement over a few years ago. It's not breaking any records, though.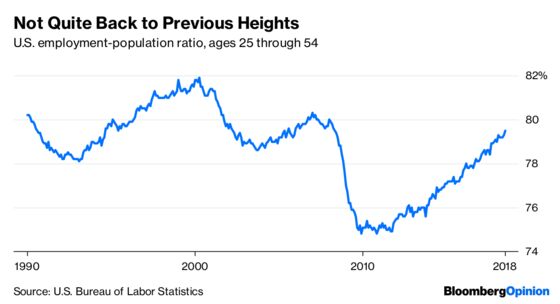 The U.S. employment-population ratio, which was among the highest in the world in the late 1990s and early 2000s but lost a lot of relative ground after that, also continues to lag that of other major developed economies.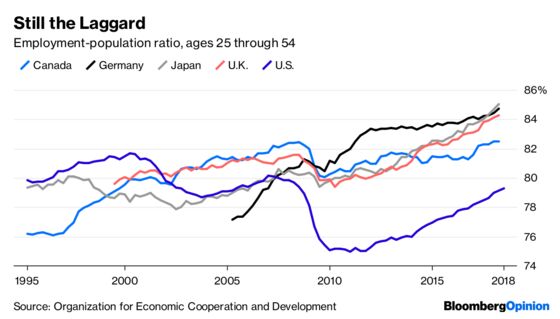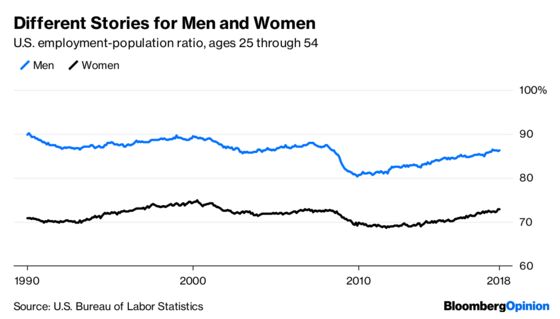 For U.S. prime-age men, meanwhile, the employment-population ratio is still almost 2 percentage points below its peak from the last business cycle, and nearly 10 points below its all-time high (the data series goes back to 1948) in March 1953. Countless studies have addressed the possible causes of this disappearance of prime-age men from the workforce, and I'm not going to go into them here. It just seems worth noting that, even with the unemployment rate dipping to levels last seen on a sustained basis in the 1960s, there are still a lot of prime-age men out there without jobs (8.6 million in total, according to the BLS) who could conceivably be put to work. 
This column does not necessarily reflect the opinion of the editorial board or Bloomberg LP and its owners.
Justin Fox is a Bloomberg Opinion columnist covering business. He was the editorial director of Harvard Business Review and wrote for Time, Fortune and American Banker. He is the author of "The Myth of the Rational Market."