New York Is Already a Tech Town
(Bloomberg Opinion) -- Just about everybody, myself included, expected Amazon.com Inc. to pick somewhere in the Washington area as the site of its much-ballyhooed second headquarters. Less expected has been the news that the company is contemplating not just one "HQ2" but two, and that while one is indeed expected to be located across the Potomac River from our nation's capital, the other will reportedly be across the East River from Manhattan.
For Long Island City, the neighborhood in Queens where Amazon may put down roots, this status as a prospective technology hotbed is something new and different. For New York City, though, it really isn't. New York already has lots of people working in tech, mainly in Manhattan, and growth in tech has been a major economic driver in recent years as employment in the financial sector has sputtered.
Consider e-commerce, the business that Amazon is (mostly) in. Almost 12 percent of the people employed in electronic shopping and mail-order houses in the U.S. work in King County, Washington, where Amazon is based. But New York County (aka Manhattan) also makes the top five: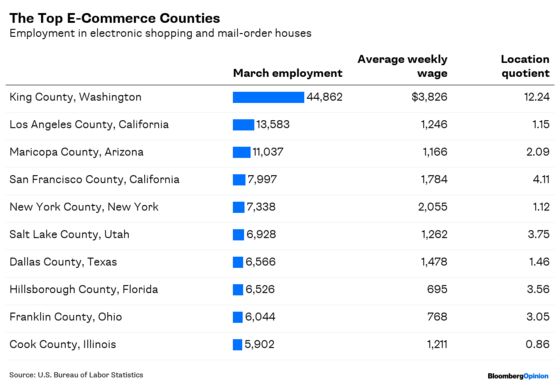 I've sorted by county because that was the most straightforward way to do it quickly, using data from the Bureau of Labor Statistics' Quarterly Census of Employment and Wages. New York County makes it onto this and a lot of other industry top 10s in part because it's big, with the third-highest employment total of any county in the country after Los Angeles County and Chicago's Cook County. But that's not all that's going on here. The chart includes the location quotient, which takes an industry's percentage of total employment in a region and divides it by that industry's share of national employment. The 1.12 location quotient in the above chart means that a worker in New York County is 1.12 times more likely to have a job in e-commerce than the national average.
So Manhattan is more e-commercey than average, but not all that much more. Brooklyn and Queens actually both have higher location quotients for the sector (1.66 and 1.24, respectively), albeit smaller employment totals (3,028 and 1,562). But that's about it for tech employment in those two boroughs; their location quotients are below 1 for all the sectors discussed below — although that will probably change soon for Queens, of course.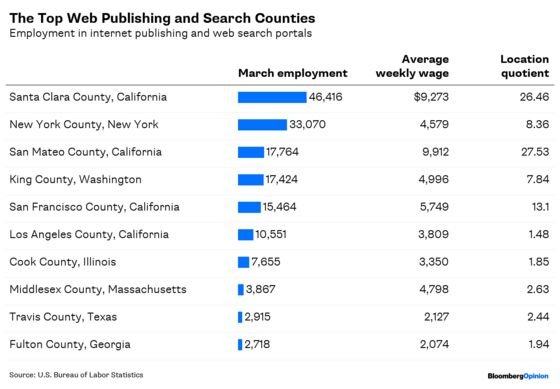 Why are wages in this sector so much lower in Manhattan than in the Silicon Valley counties of Santa Clara and San Mateo? Well, Santa Clara County is home to Alphabet Inc., Google's parent, while San Mateo County is home to Facebook Inc. Both companies have significant presences in Manhattan, too, but a lot of the people working in this field in New York are journalists, who don't get paid as much as engineers.
This data comes from employers via state employment agencies. It measures not what individual workers spend their days doing, but what the "establishments" where they work are mainly focused on. That's establishments, not companies, which means that while somebody working on search at Amazon's Seattle headquarters probably gets counted under electronic shopping, those at the new Herndon, Virginia-based East Coast headquarters (not part of the HQ2 decision) of the company's Amazon Web Services cloud-computing arm will likely be counted as working in data processing and hosting.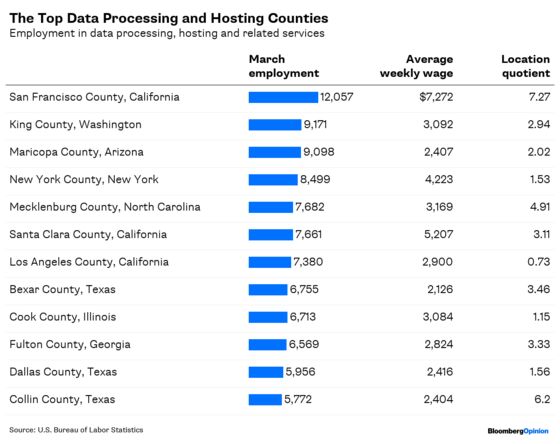 Meanwhile, most of the employees at one of Amazon's biggest rivals in cloud computing, Microsoft Corp., are probably classified as working in software publishing.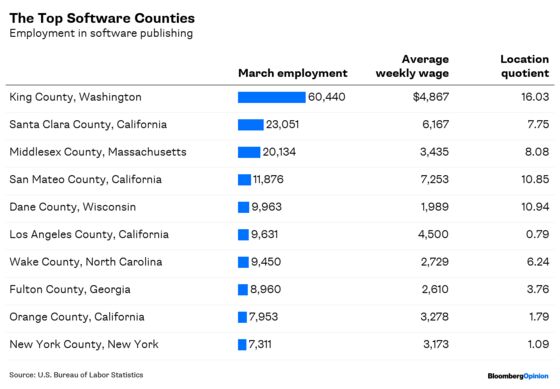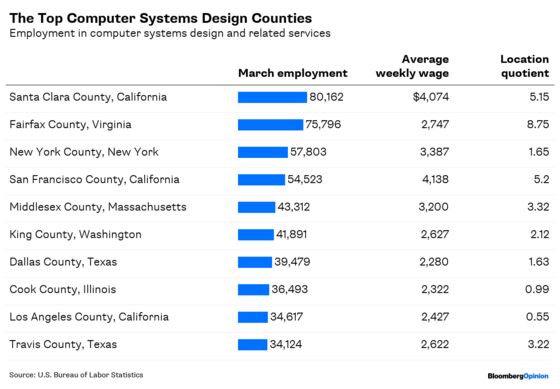 I've left out one major tech sector, computer and electronic product manufacturing, because (1) it hasn't been adding jobs, with employment up a little in the past year but down over the past decade, and (2) neither New York County nor Amazon's home of King County are major centers for it. In all the other big tech sectors, New York County and King County are both in the employment top 10 and have location quotients above 1. Those location quotients are mostly higher in King County, and wages are, too, so you can sort of see what Amazon might be up to with the choice of New York: It's a place with tons of people working on the kinds of things Amazon works on, more or less, but a somewhat less overheated, tech-dominated labor market. House prices, believe it or not, are also a bit lower in the New York metro area than in metro Seattle.
The Washington area doesn't show up on as many of these charts in part because of the way employment is spread around it, especially in Northern Virginia, which has not only several different counties with major concentrations of employment, but also several cities that are counted separately. It is one of the top metropolitan areas for employment in data processing and hosting, computer systems design and related services, and internet publishing and web search portals.
The choice of two of the country's biggest, richest metropolitan areas for HQ2/3 is of course a huge letdown to the other cities across the country that made it onto Amazon's list of finalists, and something of a rebuke to the idea that the heartland (whatever that is) is poised to make big tech inroads. It's not all that different from what the PwC/CB Insights MoneyTree tallies of venture capital investment have been showing in recent years, with the New York area passing and pulling away from former No. 3 New England and in some years even surpassing Silicon Valley, narrowly defined.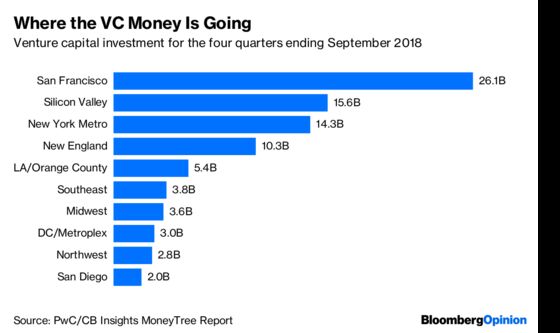 New York, then, is already a major tech center. The neighborhood of Long Island City isn't, but it's only a river and a currently-not-all-that-crowded reverse subway commute away from Manhattan, and half a river away from the new Cornell Tech campus on Roosevelt Island. Amazon has said HQ2 would employ 50,000 people. That's a lot, and half of it is still a lot. But New York City currently has 4.5 million jobs and has added 678,000 over the past decade. Instead of picking a city it would transform, Amazon seems to be choosing a couple of places that it doesn't have to.
This column does not necessarily reflect the opinion of the editorial board or Bloomberg LP and its owners.
Justin Fox is a Bloomberg Opinion columnist covering business. He was the editorial director of Harvard Business Review and wrote for Time, Fortune and American Banker. He is the author of "The Myth of the Rational Market."