Imagine the Balkans Without Balkanization
(Bloomberg Opinion) -- Almost two decades after the last war ended in the western Balkans, there's a chance that the word "balkanization" soon will no longer apply to the region. Finally, all the countries formed by the breakup of Yugoslavia stand a realistic chance of joining the European Union. But for them to unlock the opportunity and find lasting peace, a few festering conflicts need to be resolved, the one between Serbia and Kosovo the most intractable among them.
In August, Serbian President Aleksandar Vucic and his Kosovar counterpart Hashim Thaci appeared together at a news conference in Austria — something they'd never done before — to talk of a possible compromise between the former parent state and the breakaway region. This was a hopeful moment, but everyone invested in the Balkans, and that's every major nation in Europe plus the U.S., China and the Middle Eastern petrostates, will need a lot more patience before the hope translates into tangible results.
The EU is arguably the world's most effective peace machine, with its tendency to delete borders and settle disputes without the use of force. So far, only two countries of the former Yugoslavia, Slovenia and Croatia, have joined the bloc. The other five, if one counts Kosovo, the last to declare independence and still unrecognized by five EU members, have been held back. They're plagued by economic backwardness and corruption and by the kind of conflicts the EU doesn't want among its member states. 
In February, the European Commission adopted a document to give the western Balkan countries a "credible perspective" of joining the EU, naming 2025 as the target date. This was a momentous decision; after taking in these countries, the EU couldn't expand much further without moving into the former Soviet Union.
The prospect prompted the government of Macedonia to try to settle its long-standing quarrel with Greece, which claims the former Yugoslav country's name for its northern region. The deal, which renames the country Northern Macedonia, is up for a referendum on Sept. 30.
Serbia, a front-runner for EU membership, has an even tougher problem before it. The EU requires a "comprehensive, legally binding normalization agreement" with Kosovo as a condition of joining. Kosovo, too, cannot move forward without such a deal. 
Normalization talks have been going on since 2011, and progress has been painfully slow. So Federica Mogherini, the EU's top foreign policy official, encouraged the two countries' leaders to search for a political compromise. The obstacles were formidable. Vucic recently praised former Yugoslav President Slobodan Milosevic, who died in 2006 while on trial for war crimes, as a "great leader." He and Thaci, a former commander of Kosovar guerrilla forces that fought Milosevic, have to suppress mutual antipathy just to talk to each other. Memories of the Kosovo-Serbia war, which ended in 1999, are still strong. 
Mogherini's tenure, and that of the current European Commission, ends next year. She'd like to go out with a bang. Besides, uncertainty about the next Commission and its stance on EU expansion adds a sense of urgency to the talks. So when Vucic and Thaci appeared together to discuss a possible land swap to resolve the old conflict, it looked briefly as though things might, miraculously, work out soon. That impression was probably premature.
When I asked experts in Serbia and Kosovo where the process stands today, they laughed. Whatever the sides are discussing, it's not public.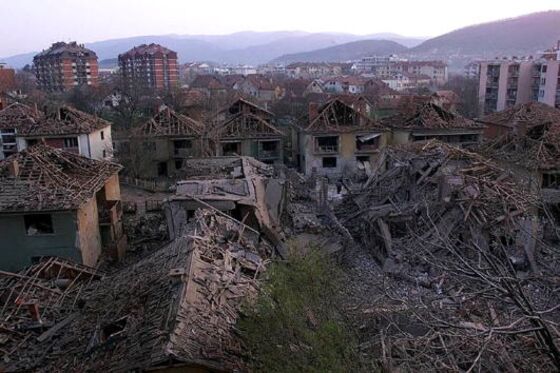 The idea being kicked around in the media, academic and political circles is a land swap: Kosovo's mainly Serb-populated land north of the river Ibar for Serbia's majority-Albanian Presevo valley. It's a concept that rings ominously in some parts of Europe.
More specifically, the arguments against moving the borders — laid out concisely in a recent Washington Post op-ed by Judy Dempsey of Carnegie Europe — include the threat of a minority exodus from the swapped territories and the bad example a retrenchment along ethnic lines would set for Serb and Croatian populations and Bosnia and Herzegovina, as well as for Albanians in Macedonia. 
The counter-arguments I heard from Kosovars were persuasive to me. The Serbs and Kosovars who remained on the "wrong" side of the border after the war, when hundreds of thousands fled, and after Kosovo's unilateral declaration of independence in 2008, aren't likely to budge after a normalization deal. "Most Serbs in Kosovo live south of the Ibar, and they've had no illusions since 1999 — they've settled among Albanians," Pristina consultant and policy analyst Agon Maliqi told me.
As for Macedonia's Albanians and Bosnia's Serbs and Croats, they will only secede with their land and try to join their ethnic mother states if the latter are willing to take them. "Serbia among other actors should provide guarantees for the integrity of Bosnia and Herzegovina" as part of a Kosovo resolution deal, Bekim Collaku, Thaci's chief of staff, told me. If Serbia gains EU membership as a result of such a deal, he said, "I can't imagine an EU member state joining or occupying part of another country."
Croatia and Albania can't afford to play along with secessionists because they're North Atlantic Treaty Organization members. 
The back and forth about the theoretical consequences of a vaguely described land swap is, however, largely irrelevant today because of the negotiating parties' vastly different underlying assumptions.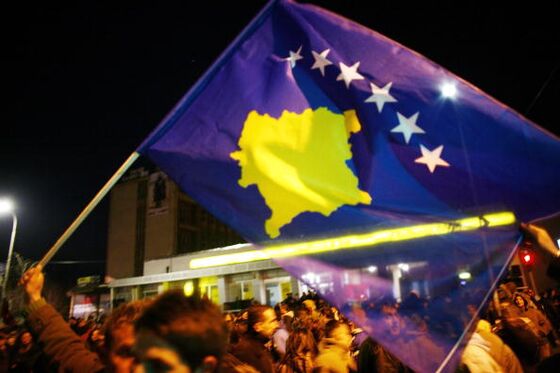 Kosovars, both inside and outside government, feel the ultimate resolution is up to bigger nations that intervened to end the war of 1998-1999. "In global terms, Serbia and Kosovo are small," said Robert Muharremi, an international law professor at the Rochester Institute of Technology Kosovo and a frequent government adviser. "The game is played by the great powers, to use an obsolete term. None of them will allow a Kosovo-Serbia deal to upset the balance. This requires them to be involved and to have the final word."
This explains why Thaci and his allies appear to be pushing harder than Vucic for a border correction. For them, parading the scenario before the U.S., the EU and large European nations is a means to an end.
"After all, Kosovo isn't necessarily seeking a border correction," Collaku told me. "We seek a way to break the deadlock and get the recognition from Serbia, which immediately will unlock Kosovo's recognition by five EU member states. This would open the way for Kosovo's membership in the EU, NATO and perhaps even in the United Nations. It's a message for the big countries: If they have the power to make Serbia recognize Kosovo now or in the near future, then we're happy to wait rather than undergo these different and difficult scenarios."
Most people in Kosovo see recognition as the ultimate result of talks with Serbia; it might help persuade Serbia's ally, Russia, to stop blocking Kosovo's UN membership, and Spain, the most recalcitrant of the EU members, to drop its objections to Kosovo independence as a beacon for Catalan separatists. These popular expectations allow Thaci to push ahead despite strong domestic opposition. Once there's a deal that achieves the ultimate goal, Collaku said, there will be a way to explain it to the people.
Meanwhile, to an overwhelming majority of Serbs, rejecting Kosovo's independence is more important than joining the EU, and a land swap isn't going to change this. 
"No Serbian government is going to recognize Kosovo independence," Srdjan Majstorovic, chairman of the governing board at the European Policy Centre in Belgrade, told me. Majstorovic, who served as a top European integration official in the Serbian government, doesn't share the Kosovars' belief that outside powers will speak the final word. "No one will parachute themselves to the western Balkans to resolve our problems," he said.
Serbia is looking for a softer scenario for Kosovo autonomy. For example, Majstorovic says, an arrangement similar to the one between the two Germanys during the Cold War might work: West Germany and its allies didn't oppose East Germany's UN membership but didn't recognize it, either. Familiar with how the EU operates, Majstorovic thinks "the smart EU money" should be on a typical European solution, involving economic cooperation, friendly rhetoric and "a positive democratic narrative" rather than "setting up artificial boundaries" that would cease to matter within the EU anyway.
In other words, Serbia can live with a fudge that would both recognize Kosovo's separateness and avoid a final break. No matter how much Vucic wants EU accession, he doesn't want it at any price. That's why he has recently pulled back from the talks, refusing to meet with Thaci on Sept. 7, and that's why he's never linked any discussion of borders with the matter of recognizing Kosovo.
"What I don't understand about the negotiations," said Muharremi, the Pristina law professor, "is whether the border correction means Serbia will recognize Kosovo. And if not, what's the point?"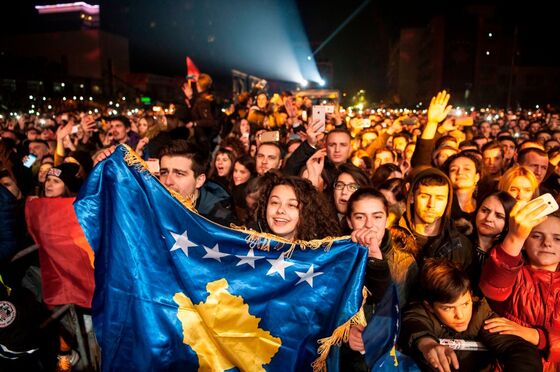 The discussion of the Serbia-Kosovo talks has focused on the land swap idea thanks to the Thaci team's tactical insistence that no other scenarios are on the table. That may be true for now, but in reality, other scenarios exist, and they're known in Pristina as well as in Belgrade.
Muharremi recently published a paper listing the options. Apart from the "two Germanys" solution, they include variations on the British-Irish arrangement and Italy's handling of German-speaking South Tyrol. In these options, the Serb-populated northern municipalities of Kosovo and Albanian-populated Presevo would enjoy considerable autonomy and at the same time bind Serbia and Kosovo together in a more peaceful relationship.
All these options should be on the table in case it turns out that Serbia is unwilling to grant Kosovo full recognition. There's no need to rush the negotiations, either. Even if Mogherini and the current European Commission can't chalk up a major diplomatic success before they leave office, there's still time to work through the options. The next commission, or the one after it, will be making the EU membership decisions, anyway, and a deal hastily put together by predecessors won't necessarily help.
It also makes sense to offer a menu of options to the foreign powers that have a say in the matter. Under what circumstances would Russia be likely to drop its opposition to Kosovo's UN membership? What guarantees does Germany require to accept that a Serbia-Kosovo deal won't set off another Balkan crisis? Will Spain recognize Kosovo if Serbia does or will it resent such an attempt to force its hand? What's the U.S. interest given its military alliance with the neighbors of both Serbia and Kosovo? None of these questions has an answer now.
Finally, no informed debate about a possible deal is taking place domestically in Serbia or in Kosovo. It's not a good idea to present both nations with a fait accompli, hoping they'll accept it out of desperation to join the EU. A decade after Kosovo declared independence, it's difficult to be patient. And yet a patient, structured negotiating process is exactly what's needed now. If EU membership is the happy ending for the countries scarred by the Balkan wars, no diplomatic blitzkrieg will bring it about. Most likely, it'll take an EU-style compromise that works for everyone, no matter how much everyone may dislike it.
This column does not necessarily reflect the opinion of the editorial board or Bloomberg LP and its owners.
Leonid Bershidsky is a Bloomberg Opinion columnist covering European politics and business. He was the founding editor of the Russian business daily Vedomosti and founded the opinion website Slon.ru.