Bond Traders Dash for Cash as Fed Hike Odds Soar
(Bloomberg Opinion) -- Forget all the talk about an escalating trade war damaging the U.S. economy or that the coming midterm elections threaten to throw the political system into disarray. Bond traders aren't buying any of it. In fact, they are loading up on super-safe cash-like instruments as bets on the Federal Reserve raising interest rates two more times before year-end reach a new high.
Demand at the U.S. Treasury's bill auctions this week were on the high side, especially for 52-week bills. The sale attracted bids for 3.76 times the $26 billion that was offered Tuesday, the highest so-called bid-to-cover ratio for that maturity since May 2016. This all makes sense. Because of something bond traders call duration, securities with the shortest maturities lose less of their value when rates rise than longer-term bonds do. Take the benchmark 10-year Treasury note, which has been pummeled over the last few weeks. Its yield is now on the cusp of breaching 3 percent for the first time since the start of August as futures traders are pricing in a total of 3.8 Fed rate hikes for 2018, up from 3.5 this time last month.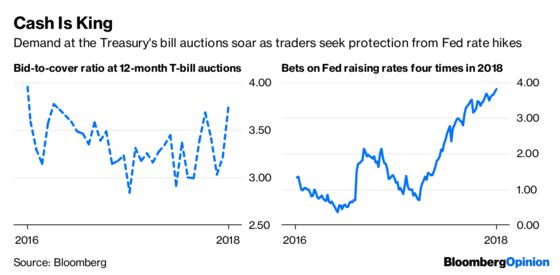 It's hard to bet against the economy and the Fed at the moment, as two reports on Tuesday made evident. First, the National Federation of Independent Business (NFIB) said its monthly index of sentiment soared to 108.8 for August, the highest since tracking began in 1974 and exceeding the prior peak in September 1983. Then, government data showed job openings rose in July to a fresh record, adding to signs of labor-market strength.
TOO GOOD TO BE TRUE?
Those two reports helped U.S stocks buck a global sell-off Tuesday. The S&P 500 Index opened lower before quickly reversing those losses to gain as much as 0.53 percent. But the jaw-dropping gains in the NFIB index, which has soared from 94.9 the month before Donald Trump was elected President, has many questioning whether the sentiment among small businesses is really so strong — and whether the index is prone to political bias. According to the economists at Renaissance Macro, history shows that the index tends to overestimate economic growth when a Republican is in the White House — like now — and underestimate it when a Democrat is in power. Bianco Research has also recently taken a hard look at the data series, finding the optimism in the NFIB index far exceeds broader surveys, such as the Business Roundtable CEO Survey, the ISM Purchasing Manager's Index and the Conference Board's Consumer Confidence Index. Bianco chalks up the difference to small business owners skewing heavily Republican. Or maybe it's because they are less exposed to the fallout from an escalating trade war and tariffs. The S&P Small Cap 600 Index has surged 15.6 percent this year, versus 8 percent for the S&P 500 Index, which is chock full of companies with international operations.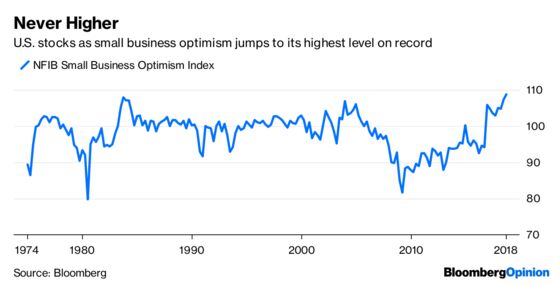 HURRICANE MAY EXPOSE HOUSING SOFT SPOT
Hurricane Florence is barreling toward the North Carolina coast, with landfall expected late Thursday or early Friday. Researchers are busy putting out reports on how hurricanes have little more than a small, temporary impact on the national economy. That may be true, but there are plenty of reasons to worry about the fallout from this storm, especially when it comes to the residential real estate market. On a combined basis, North Carolina, South Carolina, Virginia and Washington, D.C. account for about 13 percent of single-family building permits, according to Bloomberg Intelligence. Any slowdown in sales as a result of the Hurricane could show up in the national data. That wouldn't be a problem if housing was as strong as the rest of the economy, but it's not. Existing home sales slowed to their weakest pace since early 2016 as of July, while new home sales were at their lowest since last October. The National Association of Realtors said Monday that U.S. residential real estate is the least affordable since 2008. Housing may get even less affordable if the Fed does end up raising rates twice more this year. It's no wonder that homebuilder stocks are some of the worst performers this year, with the Bloomberg Americas Home Builders Index down some 21 percent.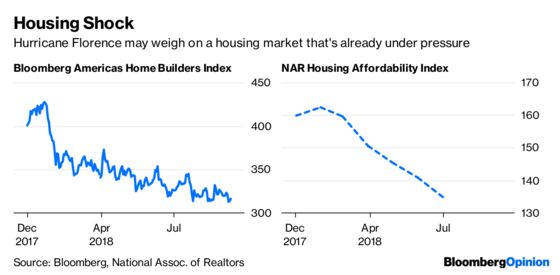 ENERGY TRADERS ARE ON EDGE  
The energy markets are starting to react to Hurricane Florence. Crude rose the most in a week, surging as much as 2.98 percent to $69.55 a barrel, as the storm threatened U.S. East Coast gasoline markets, according to Bloomberg News's Jessica Summers. East Coast motorists may see "dramatic" spikes in gasoline prices, according to AAA, as mass evacuations stretch supplies and Florence's heavy rains imperil major fuel pipelines. Gasoline for October delivery also jumped almost 3 percent, gaining to as high as $2.0165 a gallon on the Nymex. Utilities are planning how best to respond to widespread outages and the shutdown of at least a few of the region's nuclear reactors. Florence is a Category 4 storm with winds reaching 130 miles (210 kilometers) per hour, speeds that promise to snap electrical lines and close down nuclear plants near the coast, according to Bloomberg News's Christopher Martin and Jim Efstathiou Jr. Nuclear reactors must begin shutdown procedures when sustained winds of 73 miles per hour are expected, according to Sue Perkins-Grew at the Nuclear Energy Institute in Washington. "For a major hurricane like this, it could take anywhere from multiple days to several weeks to fully restore power," Meredith Archie, a spokeswoman for the Charlotte, North Carolina-based Duke Energy Corp., told Bloomberg News Monday.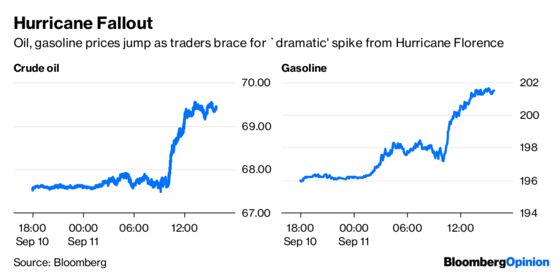 BRAZILIAN POLITICS HAMMER MARKETS
It was Brazil's turn in the emerging-market spotlight Tuesday. Its markets tumbled, exacerbating a global slump in developing-nation securities, as a poll showed left-wing candidates gaining support while those favored by investors are losing steam with less than a month to go until the presidential election. The real was the worst-performing major currency for most of the day Tuesday, weakening 1.53 percent in late trading. The benchmark Ibovespa index of equities slumped as much as 2.83 percent in its biggest slump in a month. Candidates on the left, who investors fear would backtrack on efforts to shore up Brazil's fiscal accounts, were the only ones who gained support at a level that exceeded the margin of error in a Datafolha poll released late Monday, according to Bloomberg News's Julia Leite and Vinícius Andrade. "There's no reason for optimism," Adeodato Volpi Netto, the head of capital markets at Eleven Financial Research, told Bloomberg News. Former Ceara state Governor Ciro Gomes, who has said he would expropriate oil fields and tax the rich to close Brazil's budget gap, rose to 13 percent support from 10 percent last month. Fernando Haddad, who's expected to replace ex-President Luiz Inacio Lula da Silva as the Workers' Party candidate, jumped to 9 percent from 4 percent. Brazilian markets have been volatile ahead of the country's most disputed election in decades, with a dozen candidates and widespread distrust of politicians and institutions after several corruption scandals.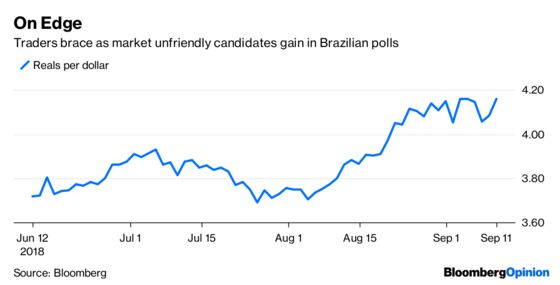 TEA LEAVES
The Fed on Wednesday will release its Beige Book report, which is a collection of anecdotes on the state of the economy from across its regional bank districts. This report should provide insight on the economic impacts from rising trade tensions, according to Bloomberg Economics. The July Beige Book noted that tariffs had created inflationary pressures and disrupted supply chains. Look for more commentary around these issues in the report Wednesday as trade tensions have risen since July and the outcome from Nafta negotiations remains uncertain, according to Bloomberg Economics. There may also be some insights into wages, which is getting a lot of attention after the government said Friday that average hourly earnings jumped 0.4 percent last month in the biggest gain since December.
This column does not necessarily reflect the opinion of the editorial board or Bloomberg LP and its owners.
Robert Burgess is an editor for Bloomberg Opinion. He is the former global executive editor in charge of financial markets for Bloomberg News. As managing editor, he led the company's news coverage of credit markets during the global financial crisis.