NIO Has the Electric-Car Look, But It's No Tesla
(Bloomberg Opinion) -- Hate to break it you, NIO Inc. is no Tesla. The Chinese electric-car company may have the trappings of the automaker of the future but ornaments won't be enough to turn it into a genuine contender.
A self-declared rival of Elon Musk's Tesla Inc., NIO has been on the road rallying global investors for an imminent listing in New York – just as Musk's troubles escalate. The public offering would value the electric-car maker at somewhere between $8 billion and $9 billion, an eye-popping sum for a company that doesn't actually manufacture its own vehicles.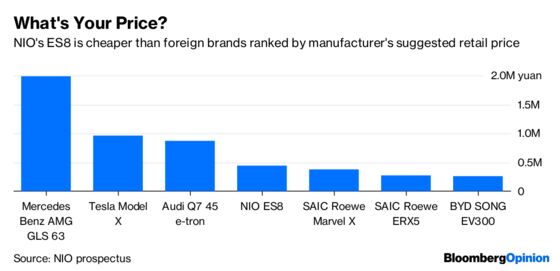 Just as Musk's vision catapulted the appeal of electric cars, entrepreneur William Li wants to do the same in China. Li aims to "reignite enthusiasm and passion towards automobiles," he wrote in the prospectus, seeking to create an all-encompassing "joyful lifestyle." (Unlike Musk, Li doesn't share his vision via Twitter or China's equivalent, Weibo.)
He's found partners in tech behemoth Tencent Holdings Ltd.; assisted driving leader Mobileye NV; the world's biggest battery maker, Contemporary Amperex Technology Co.; auto-parts suppliers Robert Bosch GmbH and Continental AG; and aluminum producer Novelis Inc.
NIO's sole model, the ES8, is decked out in Nappa leather, sports HEPA air filters and has an aerospace-grade aluminum alloy body. The first vehicle the company produced, an electric sports car that wasn't for commercial deployment, broke records last year at Germany's "Green Hell," one of the most daunting racetracks in the world.
Hillhouse Capital and Sequoia Capital are among private backers that have funded Li's vision. But with cash burn of more than $500 million in the first half, that's no longer enough.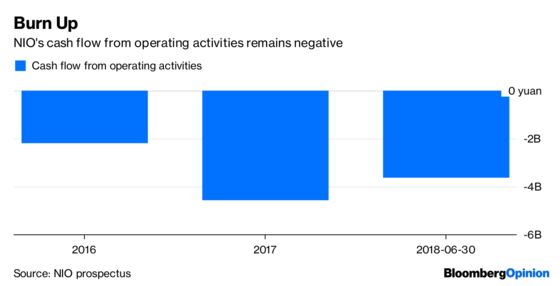 Under the fancy accessories, NIO doesn't make even make the dress. Its cars are manufactured by state-backed Anhui Jianghuai Automobile Group Corp., or JAC, at a new plant in Hefei, per the prospectus, under a five-year agreement signed in 2016. For the first three years, NIO pays per-car and foots the bill for the plant's operating losses.
NIO shelled out 100 million yuan ($15 million) for the second quarter and prepaid future losses for the third. That's probably why the company puts a car into production only after signing an agreement with a buyer. JAC, meanwhile, has its own ambitions, producing its first electric SUV with Volkswagen AG in May. NIO maintains it has "significant control" over manufacturing but added "there can be no assurance that we will successfully maintain quality standards."
NIO and JAC estimate annual production will be 50,000 cars this year and 100,000 for the next three. Between June 28 and Aug. 28, it produced 2,200, or an annual rate of about 13,000. NIO delivered 1,381 cars over that period. Granted, it has an order backlog of about 15,761 unfilled reservations; about 40 percent are backed by non-refundable deposits of 45,000 yuan each.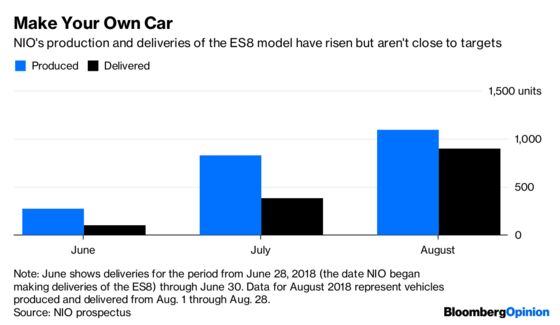 But here's the thing: NIO can't get its own electric-car manufacturing license until it has its own factory. The Shanghai government is building the company a plant, but even once that's up and running, a 
license isn't guaranteed
. The National Development and Reform Commission
hasn't handed out
one in three years.
The bar is high. A company has to be able to make 100,000 cars a year, among other requirements. For context, China's biggest automakers produced just over that number of electric cars last year.
With only a few other hopefuls having set up manufacturing partnerships, this is a licensing gray area. On the Ministry of Industry and Information Technology's website, JAC is listed as the manufacturer of the ES8, under NIO's brand. Latest draft regulations don't provide much clarity but they do note that new electric-car companies can manufacture vehicles only with their own trademarks and brands, according to lawyers at King & Wood Mallesons.
NIO does make some parts such as inverters and motors at plants in Changsha and Kunshan, but it isn't clear how much the company has invested in these. On its balance sheet, production facilities were about 9 percent of its construction in process. 
Having raised about 20 billion yuan through multiple financing rounds and borrowings in the past couple of years, the company continues to sink most of its money into research and development: Half goes into employee compensation, more than the amount spent on design and development.
Without an IPO, cash will be tight. NIO says it has about $600 million of capital expenditure needs over the next year (starting in July), roughly equal to its cash on hand as of June. Over the next three years, it plans to spend $1.7 billion. 
Around a quarter of NIO's targeted $1.3 billion of IPO funds are earmarked for manufacturing facilities, including the Shanghai plant. NIO will lease the factory from the city government and spend about $650 million on improvements. Most of the proceeds will go toward R&D. Another quarter will go on marketing expenses, including so-called NIO Houses – members-only social clubs.
Given Tesla's well-documented production troubles, NIO's transition from promise to manufacturing powerhouse may be far from smooth. For now, it remains a dressed-up auto-tech company and parts assembler with bold ambitions.
This column does not necessarily reflect the opinion of the editorial board or Bloomberg LP and its owners.
Anjani Trivedi is a Bloomberg Opinion columnist covering industrial companies in Asia. She previously worked for the Wall Street Journal.