Scared by the Posts We Read, Inspired by the Books We Don't Read
(Bloomberg Opinion) -- Your end-of-August-morning beach reads:
Be sure to check out our Masters in Business interview this weekend with Eldon Scott, president of UrbanSpace, a company specializing in creating artisan food halls and holiday gift venues. UrbanSpace was founded in 1972 in the U.K., and in New York in 1993. The firm is in the early stages of U.S expansion, looking at Chicago and the West Coast.
If You Strip Out Trump's Tax Cut, S&P 500 Profits Are Still Soaring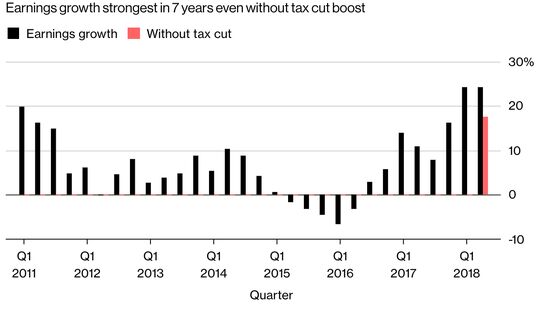 This column does not necessarily reflect the opinion of the editorial board or Bloomberg LP and its owners.
Barry Ritholtz is a Bloomberg Opinion columnist. He founded Ritholtz Wealth Management and was chief executive and director of equity research at FusionIQ, a quantitative research firm. He is the author of "Bailout Nation."