As August Winds Down, Investor Unease Winds Up: Robert Burgess
(Bloomberg Opinion) -- Barring a major disaster, the global stock market will end August in the black, marking a second straight month of gains. As of late Thursday, the MSCI All-Country World Index was up 0.86 percent, led higher by the biggest gain in U.S. equities since January. That said, there's a growing sense of unease that may prevent the rally from extending much further. 
State Street Global Markets came out this week with its monthly index of global institutional investor confidence. The measure has some authority because unlike survey-based gauges, it uses actual trades and covers 15 percent of the world's tradeable assets. What's concerning is that the State Street index tumbled in August to its lowest level since February 2017, dropping to 94.3 from 101.7 in July. Not only that, the index is now at a level that suggests investors are decreasing their long-term allocations to risky assets. Despite strong corporate earnings growth and still-low interest rates, investors can't shake the feeling that a budding global trade war will spiral out of control at the same time the political environment in places such as the U.S, Italy and Sweden become more unstable. Already, the Paris-based Organization for Economic Cooperation and Development said this week that international trade in merchandise by the world's biggest economies shrank in the second quarter for the first time since 2016.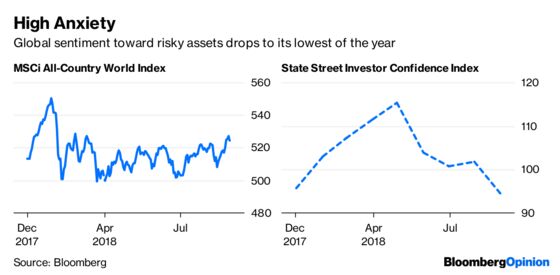 "After a few months of caution and measured risk appetite, global institutional investors have started to display risk-averse behavior as they navigate through elevated trade uncertainty and geopolitical turmoil," Kenneth Froot, a retired Harvard University finance professor who helped develop the index, said in a statement. If you find that to be a bit hyperbolic, consider that the drop in the State Street index was largely due to a big decline in sentiment in North America, which more than offset a gain in Europe. Asia was little changed.
BOND RECKONING AHEAD
The current quarter is two-thirds over, and so far it's been the quietest for the U.S. bond market since 1965. Since the start of July, yields on 10-year Treasury notes have swung in a range of just 21 basis points, according to Bloomberg News's Benjamin Purvis. A growing number of strategists suspect a breakout may be imminent. More than a few have suggested that volatility has been suppressed because of pending tax-law changes. The thinking is that companies with an unfunded defined-benefit pension liability can take a tax deduction at the old 35 percent corporate tax rate if they fund it before Sept. 15. Buying longer-term bonds and related securities allows companies to lock in the funding of their pension liabilities, which bolsters their creditworthiness in the eyes of ratings firms. After that date, the deduction rate drops to 21 percent and a big slug of demand for bonds could disappear. NatWest Markets Plc and Wells Fargo & Co. are among banks expecting a pickup in long-term yields once the tax incentive ends.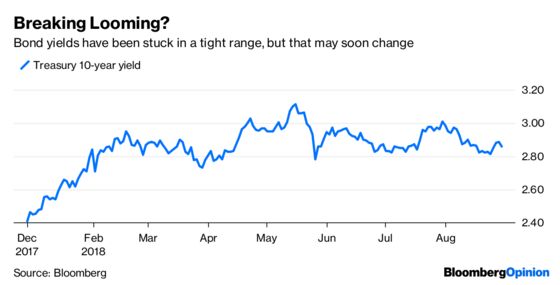 MEET THE  EM BRATS
Most everyone in financial markets knows that the acronym BRICs was coined in 2001 by then-Goldman Sachs Group Inc. chief economist Jim O'Neill to capture the growing influence of the emerging-market economies of Brazil, Russia, India and China. But how many have heard of BRATS? That's an acronym for Brazil, Russia, Argentina, Turkey and South Africa —  five impudent and unruly economies that are leading the MSCI EM Currency Index to its fifth straight monthly decline and the sixth monthly drop in the MSCI EM Index of equities this year. Argentina's peso has plunged 28.8 percent this month, while Turkey's lira has tumbled 26 percent. The currencies of the other Brats have also lost value, depreciating by 8.35 percent to 9.78 percent.  "Emerging markets are indeed vulnerable with the U.S. in a tightening phase, but investors are now more willing to reward the strongest and punish the fragile," Stephane Monier, the chief investment officer at Lombard Odier, told Bloomberg News. "This summer's crisis in Turkey has made that amply clear."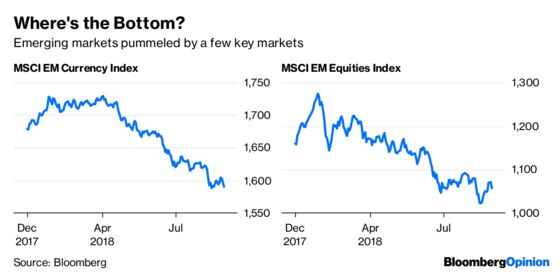 KRONA CRUMBLES
While most of the attention in the currency markets in August has been on emerging-market currencies, there's one developed-market currency that has tanked without a lot of fanfare: The Swedish krona is down 3.02 percent in August against its major peers as measured by Bloomberg Correlated-Weighted Indexes. That rivals the krona's 3.03 percent drop in January as the currency's biggest since early 2009. On top of that, the krona fell to its lowest level against the euro in nine years this week. Politics may be behind the krona's weakness. The country faces a historic election on Sept. 9 and polls show the nationalist, anti-immigration party — the Sweden Democrats — is poised to make major gains in parliament, with some surveys even suggesting it will overtake the ruling Social Democrats to become the country's biggest group, according to Bloomberg News's Love Liman. The party's ascent promises to make it more difficult for the two major blocs to form a viable government after the election.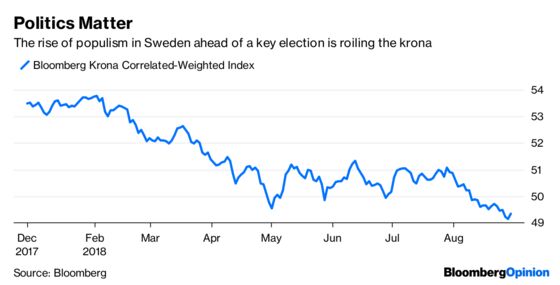 COMMODITIES CRATER
The Bloomberg Commodity Index of 22 raw materials ranging from oil to copper and soybeans is poised for its third straight monthly decline, dropping 2.08 percent so far in August. The weakness has been largely attributable to a stronger dollar, which makes buying commodities more expensive since they are traded in the U.S. currency. While the Bloomberg Dollar Spot Index is up for the year, its advance has slowed over the last three months, gaining just 0.72 percent versus a 7.83 percent drop in the Bloomberg Commodity Index. Perhaps a better explanation for the weakness in raw materials may be concerns over the strength of the global economy and the impact of a potential trade war. The Bloomberg gauge dipped as much as 0.53 percent Thursday after Bloomberg News reported that President Donald Trump wants to move ahead with a plan to impose tariffs on $200 billion in Chinese imports as soon as a public-comment period concludes next week. The earliest indicators for the economy in China, the world's biggest consumer of raw materials, show that the pace of expansion slowed for a fourth month in August.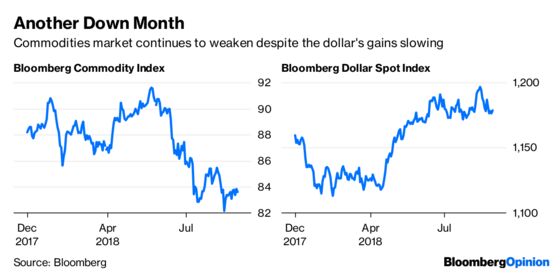 TEA LEAVES
August ends with a couple of high-level economic reports out of the euro zone on inflation and employment. The median estimate of economists surveyed by Bloomberg News is for consumer prices to have risen 2.1 percent in August from a year earlier, the same as in July, which was the highest since the end of 2012. The data should provide policy makers at the European Central Bank with more evidence that the economy is performing as they expect, David Powell, the senior euro-area economist for Bloomberg Economics in London, wrote in a research note Thursday. That's important because the ECB said in June that its asset purchases will drop to 15 billion euros ($17.5 billion) a month in the final three months of the year, from 30 billion euros at present. No bond-buying is planned for 2019, provided the data is broadly as expected. Also, the region's unemployment rate is seen edging down to 8.2 percent in July from 8.3 percent in June.
This column does not necessarily reflect the opinion of the editorial board or Bloomberg LP and its owners.
Robert Burgess is an editor for Bloomberg Opinion. He is the former global executive editor in charge of financial markets for Bloomberg News. As managing editor, he led the company's news coverage of credit markets during the global financial crisis.