Value Stocks Are Breaking Out. Hooray?
(Bloomberg Opinion) -- It's been a long time since value stocks were in favor. Just ask David Einhorn, whose main hedge fund lost 19 percent through the first seven months of 2018 in a misguided bet that investors would come to their senses and start scooping up stocks that were cheap and had actual earnings. Value last outperformed growth on a quarterly basis in the final three months of 2016. But suddenly, more strategists are saying a budding rally in value may finally be the real deal after years of false starts. 
Since July 20, the Russell 1000 Value Index has gained 2.45 percent, topping the 0.83 percent increase in the Russell 1000 Growth Index, whose smaller advance reflects some high-profile earnings setbacks at companies including Facebook Inc. and Netflix Inc. Of course, it will take a lot more than a couple of weeks of outperformance to declare value is back and erase a decade of underperformance.
However, the headwinds facing equities in general and the economy more broadly are only getting stronger, which should at least boost the appeal of stocks that have such defensive characteristics as relatively low price-to-earnings ratios and a solid history of steady dividend payouts. Some of the challenges facing equities include a Federal Reserve that is accelerating the pace at which it's withdrawing cash from the financial system, and the growing sense that the rising U.S. debt and deficits combined with escalating trade tensions will cause growth to slow. At $4.256 trillion, the Fed's balance sheet assets have shrunk by $190 billion this year.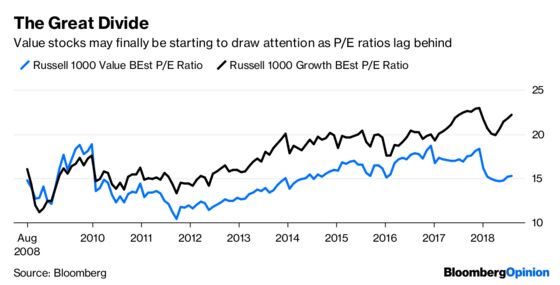 "The Fed basically tells you what to do," Jared Dillian, a Bloomberg Opinion contributor and editor of The Daily Dirtnap, recently wrote in the newsletter. "For most of the last 10 years, the Fed was telling you to take risk. Now it is telling you not to take risk." Rarely have value stocks looked more appealing on a relative basis, with the forward price-to-earnings ratio for the Russell 1000 Growth Index at about 22.1 times, compared with 15.3 times for the Russell 1000 Value Index.
BOND TEST
For many years, debt and deficits hardly mattered to markets — at least those in the U.S. But lately there's been a lot of hand-wringing over the trajectory of the U.S. budget deficit and increased borrowing. The bipartisan Congressional Budget Office is forecasting trillion-dollar deficits as a result of lost revenue from the Trump administration's tax overhaul. The amount of government debt outstanding, which has more than tripled since 2007 to $15 trillion, is now predicted to grow even more just as the Fed steps back. This week will provide a big test of investor demand as the Treasury Department auctions $78 billion of three-, 10- and 30-year bonds starting Tuesday. Though the bond apocalypse may be coming, it's unlikely to happen before Sept. 15. In a note to clients Monday, Cumberland Advisors Chairman and Chief Investment Officer David Kotok noted that one reason demand for bonds has held up, especially for longer-term maturities, may be because of pending tax-law changes. Kotok points out that companies with an unfunded defined-benefit pension liability can take a tax deduction at the old 35 percent corporate tax rate if they fund it before Sept. 15. After that date, the deduction rate drops to 21 percent. Buying longer-term bonds and related securities allows companies to lock in the funding of their pension liabilities, which bolsters their creditworthiness in the eyes of ratings firms. In that sense, perhaps the bond market's expiration date is Sept. 15.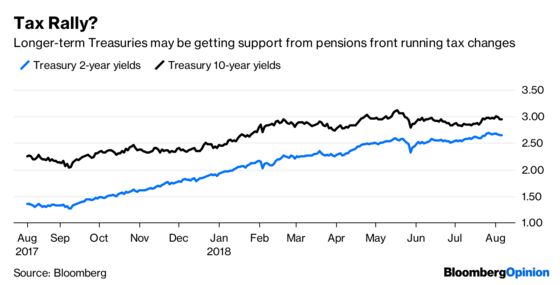 WHEAT HEAT
The extreme heat wave gripping much of the northern hemisphere is wreaking havoc with one key part of the commodities market. The price of wheat on the Chicago Board of Trade surged as much as 3.28 percent on Monday, bringing its gain to 21.5 percent since July 11. Extreme heat and unrelenting drought in major growers from France to Russia and the U.S. are trimming global harvests, spurring the first production deficit in six seasons, according to Bloomberg News. The weather has helped drive prices in Chicago to a three-year high and Paris futures to the most expensive since 2013. "The dramatic change in the fundamentals of wheat just in the last few months is stunning really," Louise Gartner, the owner of Spectrum Commodities, told Bloomberg News. "Europe is not going to be much of a player. It just opens the door for U.S. exports. And I think that supports the market well into the spring." Hedge funds and other large speculators are positioned for more gains, holding a net-long position of 52,932 futures and options as of July 31, according to U.S. Commodity Futures Trading Commission data released Friday. The holdings, which measure the difference between bets on a price decline and wagers on a rise, more than doubled from a week earlier. Short-only wagers fell for a fifth straight week to the lowest since July 2015, according to Bloomberg News.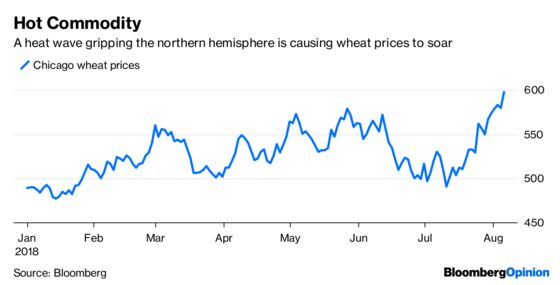 TURKEY ROASTED
If not for the rising hostilities between Turkey and the U.S., it would be a great time to visit. The collapse of the lira drove the Turkish currency to its cheapest level ever based on its real-effective exchange rate, according to data published early Monday by the central bank in Ankara. And that was before the lira slumped as much as 4.57 percent later in the day for its biggest drop since July 2016. At current exchange rates, one U.S. dollar buys 5.3087 liras, up from about 3.50 liras a year ago and 3 liras two years ago. The weakness this year in the lira specifically and Turkey's financial markets more broadly has come as President Recep Tayyip Erdogan tightened his grip on power and installed his son-in-law as the economy czar, and as the central bank failed to raise interest rates. Now, Turkey is facing off against the U.S., which sanctioned two Turkish government ministers last week over the detention of American pastor Andrew Brunson on terrorism and espionage charges in a showdown that could eventually see Washington levy economic penalties. Erdogan said Saturday that Turkey will respond in kind to the U.S. decision, fueling concerns of an escalation.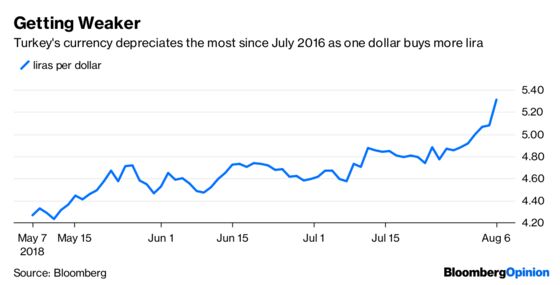 GOLD BUGS SCATTER
The price of gold dropped below $1,220 an ounce on Monday to its lowest since the start of 2017, and hardly anybody thinks there will be a rebound anytime soon. The latest government data show hedge funds and other large speculators increased net-short bets on the precious metal in the week ended July 31 to the most since at least 2006, according to Bloomberg News' Susanne Barton. The consensus seems to be that the dollar's strength is weighing on gold. Since the precious metal is traded in dollars, a rise on the greenback makes it more expensive to buy, therefore damping demand. And that's true, but there's more going on. Gold imports by India, second only to China in terms of inward shipments, may be little changed this year versus 2017, according to Bloomberg News's Swansy Afonso, citing the nation's top refiner of the metal. India's consumption of gold, almost all of which is imported, has been on a decline in recent years because of the government's efforts to curb its trade deficit and Prime Minister Narendra Modi's crackdown on so-called black money that's outside the official economy and has escaped taxation. Also, cash instruments are finally paying a competitive interest rate, while gold pays nothing. Rates on three-month Treasury bills rates topped 2 percent in recent weeks for the first time since 2008.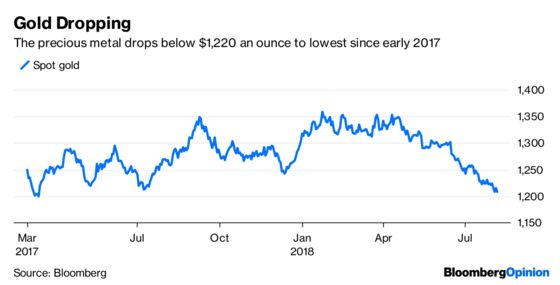 TEA LEAVES
If it seems like it's been nothing but a string of disappointing economic reports out of the euro zone, you're not imagining things. In fact, the region's economic data has consistently been undershooting estimates since early March, according to Citigroup Inc.'s economic surprise indexes. Tuesday brings a key data point with the release of German industrial production for June, which is set to confirm the picture of a soft patch extending into the second quarter, according to Bloomberg Intelligence economists. The median estimate of economists surveyed by Bloomberg is for a drop of 0.5 percent. On Monday, the Economy Ministry said that "uncertainty from trade policy played a role" in factory orders declining 4 percent in June amid a drop in demand from non-euro zone countries. The decrease was eight times what was forecast in a Bloomberg survey of economists, and the 0.8 percent tumble from a year ago was the first annual decline since July 2016. 
This column does not necessarily reflect the opinion of the editorial board or Bloomberg LP and its owners.
Robert Burgess is an editor for Bloomberg Opinion. He is the former global executive editor in charge of financial markets for Bloomberg News. As managing editor, he led the company's news coverage of credit markets during the global financial crisis.